Next step for Masahiro Tanaka: Adjusting to the adjustments
Yankees ace (yes, ace) Masahiro Tanaka is 6-0 with a 2.17 ERA and 66/7 K/BB so far. Can he keep it up?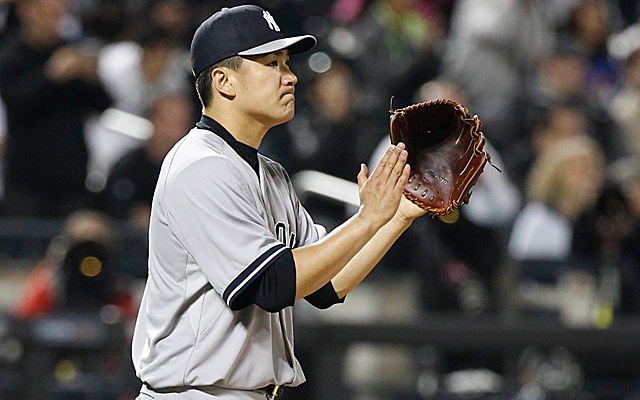 More MLB: Power Rankings | Expert Picks | Latest news & notes | Fantasy news
Yankees starter Masahiro Tanaka came to America for this Major League Baseball season with lots of questions to answer, and thus far we can basically answer every single one with, "dude, he is a freaking beast."
Through eight starts, Tanaka is 6-0 with a 2.17 ERA, 0.91 WHIP and 66 strikeouts against only seven walks in 58 innings. Those who have seen him pitch -- namely his fall-off-the-table splitter -- know that the numbers might not even do his stuff justice. He's flat-out nasty out there.
In fact, Tanaka has been one of the best pitchers in baseball to this point. No exaggeration, he really has.
So the next question is, can he continue to pitch like one of the best?
The big test is going to be how he continues to adjust. First of all, will the change in workload get to him? In Nippon Professional Baseball, he routinely piled up huge pitch counts -- by our standards, that is -- but also only pitched once a week, as is customary there. In MLB, he's got to go once every five days (and the Yankees would probably love to pitch him every other game, considering the state of their rotation, but I digress ... ). He's transitioned superbly so far, but he wouldn't be tired through eight starts anyway.
The other thing to fight through will be to adjust to how teams adjust to him.
MLB teams scout like few can comprehend. They watch players in person, recording every single little detail imaginable, while also breaking down hours of video. Even if they saw lots of video from NPB, no one could be sure how he'd work MLB hitters. There's also no way to have a hitter get a feel for the pitcher until he digs in the batter's box and sees his stuff first-hand. This is why, generally and broadly speaking, the first time a batter sees a pitcher, the advantage stands with the pitcher.
On that note, Tanaka hasn't faced any team more than once yet this season and no batter has seen him more than four times. Considering a pitcher of Tanaka's ability and polish, it's not that surprising he's been good so far*. Once he starts seeing teams a second or third time and once players start racking upwards of 10 plate appearances against him, they'll have a better feel for his stuff and maybe some more success.
*Still, it is surprising just how good he's been
For example, here's a comparison between Tanaka and Yu Darvish through eight MLB starts:
First eight MLB starts
Name
W-L
ERA
WHIP
K/BB
IP
Masahiro Tanaka
6-0
2.17
0.91
66/7
58
Yu Darvish
6-1
2.60
1.33
58/26
52
The obvious difference is the walk rate and let me use that as the jumping off point for a quick aside. I'm not comparing Tanaka and Darvish as anything but two stud pitchers who were transitioning to MLB from NPB. Their stuff is different. Their approach is different. Their physical build is way different. These are two unique pitchers.
What they do have in common, again, is that they each got off to hot start in their transition to MLB from NPB. And when Darvish was faced with the adjustments as teams were more familiar with him, this is what happened in his next 13 starts:
5-7, 5.82 ERA, 1.54 WHIP, 96 K, 48 BB, 82 IP
Given that Darvish is so talented and baseball is a game of constant adjustments, he finished his rookie season by going 5-1 with a 2.35 ERA in his final eight starts. He's been one of baseball's most dominant pitchers since. Consider that middle 13 starts his rookie season as the adjustment period where hitters become familiar with his stuff and he had to re-adjust to the adjustments.
It's entirely possible something like this will happen to Tanaka.
I would argue, though, that Tanaka's impeccable control and command compared to Darvish leaves him much less vulnerable to such a drastic cold spell. Tanaka's down period this season, and I do expect him to have one, might well be a stretch of around a dozen games where he has an ERA in the high 3.00s.
Once he gets through that, and he will, watch out. He's been everything advertised and more.
Now, about that Yankees pitching him every other day thing ...
Seager missed the NLCS with a back injury

The Cubs foundation is still strong, but Theo Epstein and company have work to do

Turner and Taylor are the third set of co-MVPs in LCS history
Stylistically, the Dodgers seem to match up better against the Yankees and here is why

The Dodgers advance to the World Series for the first time since 1988

Hernandez also set a new LCS record with 7 RBI