Nine baseball reasons to be thankful on Thanksgiving
It's Thanksgiving, so let's talk about what we're thankful for. No, this isn't a lame list. We're talking about cool, baseball-type things. Dive in.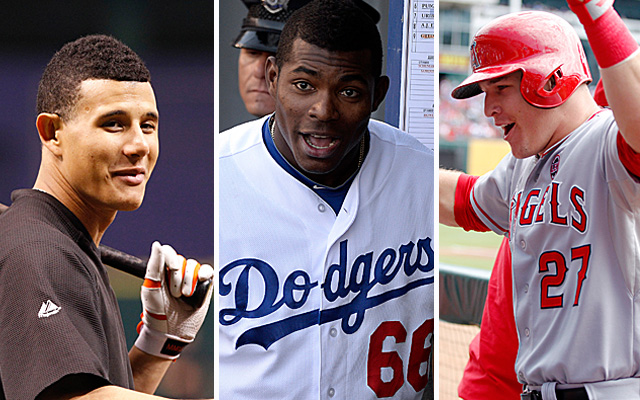 Oh, hello, Thanksgiving. How I missed thee. With each passing year, I stumble upon a large number of things for which to be thankful and this year is no different. In this space, though, we're going to limit the scope of our giving thanks to baseball only.
Yes, there are some annoying things happening in regards to baseball right now, front and center is any talk about PEDs. I'm so unbelievably over it, but here's the thing: The positives far outweigh the negatives. Baseball is flourishing and anyone who says otherwise just isn't paying attention. Being that it's Thanksgiving, we're going to focus on the positives, too.
So I'm going to list the nine things I'm most thankful for in baseball in 2013. Why nine?
Seriously, if you have to ask that question, you shouldn't be here. This is a baseball space, after all.
1. October
It actually came a little early this year, as the Texas Rangers and Tampa Bay Rays squared off in a one-game playoff to get into the wild-card round, with David Price putting forth a complete-game effort to get his team into October.
What else? Oh, so much goodness ...
Rockin' PNC Park, Pittsburgh Pirates advance for first time since the elder George Bush was president, the Rays using nine pitchers in nine innings after Jose Lobaton 's walkoff homer and David Ortiz getting hot early.
There was Max Scherzer 's weird relief outing on short rest, Sonny Gray announcing his presence with authority and Justin Verlander reminded us just who he is in October.
How about the Grant Balfour and Victor Martinez shouting match?
Michael Wacha ? Michael Wacha.
The lasting image of the NLDS has to be Juan Uribe 's clutch homer with Craig Kimbrel helplessly watching from the bullpen.
We can't forget about Carlos Beltran , postseason hero, either.
How about that ALCS? The extended scoreless -- and even hitless -- stretches and two grand slams. How about the Mickey Mouse NLCS? Yasiel Puig 's unbridled enthusiasm, Adrian Gonzalez embracing the Mickey Mouse moniker and Wacha besting Clayton Kershaw ... twice.
And then the outstanding World Series, which provided some unbelievably weird moments. The overturned call at second base, the Boston Red Sox throwing errors, the walkoff obstruction call, the game-ending pickoff play, more Wacha in Game 2, the redemption of John Lackey and, of course, Big Freaking Papi, who hit .688/.760/.1.188 in the World Series.
I've said it many times before, but I heart you, playoff baseball.
2. The young talent
The following studs were age-24-or-young this season: Bryce Harper , Manny Machado , Yasiel Puig, Freddie Freeman , Jason Heyward , Starling Marte , Jean Segura , Elvis Andrus , Wil Myers , Giancarlo Stanton , Andrelton Simmons , Salvador Perez and many more.
Oh wait, I forgot the pitchers: Jose Fernandez , Matt Harvey , Chris Sale , Stephen Strasburg , Madison Bumgarner , Michael Wacha, Gerrit Cole , Patrick Corbin , Trevor Rosenthal , Addison Reed , Cody Allen and many more.
Did I forget someone? Well, surely many fans think I neglected to include a player from their respective favorite team. That's fine. The game is in great hands with an unreal amount of young talent. But I most certainly didn't forget about Mike Trout .
We can do almost anything with Trout's numbers through his age-21 season to make him look like an all-time great to this point. Here's a very simple one. Trout's OPS+ is 166. That is his on-base percentage plus slugging percentage have been 66 percent better than league average thus far in his career.
The players with an OPS+ of at least 150 and at least 300 games played through their age-21 season? From highest OPS+ to lowest: Ted Williams, Mike Trout, Stan Musial, Ty Cobb, Jimmie Foxx, Albert Pujols , Eddie Mathews, Rogers Hornsby, Tris Speaker.
Yeah, the kid is decent.
3. Miggy's bat
Since we can't mention one without the other -- something I'm decidedly not thankful for -- let's follow Trout talk with some talk about Miguel Cabrera . Miggy has led the majors in batting average for three straight years, on-base percentage two of the last three years and slugging percentage this past season. He was actually far better with the bat this season but probably didn't get as much recognition because Chris Davis topped him in homers and RBI. Plus, Cabrera played all of September hurt. In looking at the rate stats, though, this was every bit the best season of Cabrera's career at the plate. And, boy, is that saying something about the future Hall of Famer.
Remember this GIF of his plate coverage? These were all home runs:
Getting to watch a Hall of Fame player in his prime put up his best season ever? Yeah, I'm pretty thankful for that.
4. The ballparks
Other sports get symmetrical stadiums with little character on the playing surface itself. Baseball stadiums are unique cathedrals with ivy, green monsters, giant apples, waterfalls, exploding scoreboards, home runs going into rivers/coves and, yes, weird sculptures. Even if you don't like some particular features, we've all got to agree baseball venues are far and away the best in sports.
I mean, c'mon, there aren't NFL stadiums like this: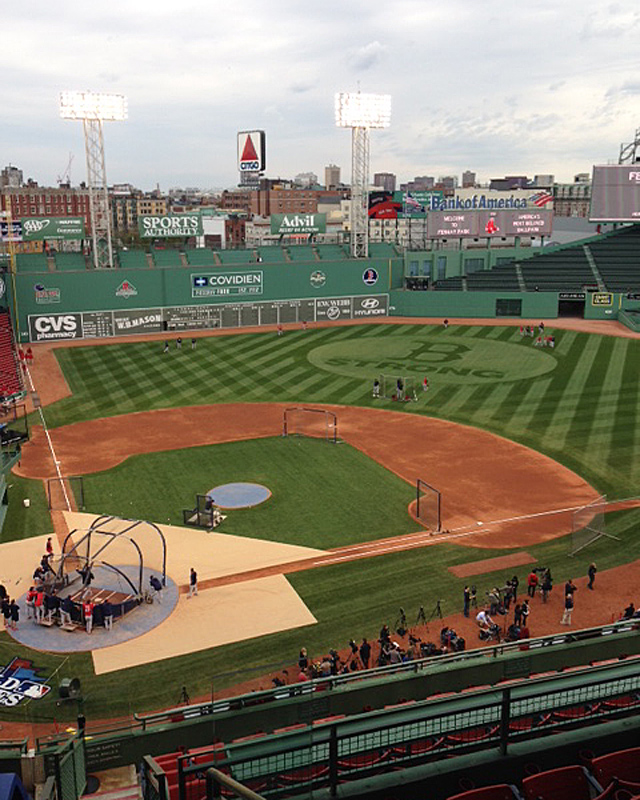 Please, baseball stadiums, never change. I'm very thankful for you.
5. The power arms
Among pitchers with at least 30 innings pitched last season, 36 averaged at least 95.0 miles per hour with their fastball. Six more were at 94.9 mph. The fireballers atop the list? Aroldis Chapman , Kelvin Herrera , Nate Jones , Trevor Rosenthal and Craig Kimbrel.
You like seeing the radar gun hit triple digits? I do. I'm thankful that it actually happens a decent amount of the time now.
6. The slick defense
During the so-called steroid era, there was still good defense being played, sure, but overall the emphasis was mostly on just stockpiling sluggers and power arms. Just as the A's identified a market inefficiency (OBP) in the early 2000s, the Rays followed suit mid-decade and started to emphasize defense. The market has followed suit and what do we get now?
Andrelton Simmons, Manny Machado, Adrian Beltre , Carlos Gomez , Gerardo Parra , Alcides Escobar , Juan Lagares , Yunel Escobar , Brandon Phillips , Darwin Barney and on and on and on. It's a leather-lovers paradise.
Range us home, Andrelton:
7. The Hall of Fame
While I'm most decidedly not thankful for what Hall of Fame arguments inspire -- that is, sniping at those who simply have a difference of opinion as being either stupid, a bad person or both -- let us look deeper as to why people get that much into the Hall of Fame arguments. They care deeply. No other Hall of Fame inspires such passion, such venom and such an unbelievable amount of homework in order to "prove" whether a certain player belongs in or out of Cooperstown. People don't spend so much time and energy on things they don't care about.
Thus, the Baseball Hall of Fame is held to the highest of standards.
For that, I'm always thankful.
8. The stats
There's been a growing divide for years in terms of what I'll call the old-school and new-school stat crowds. Much like with the Hall of Fame, the mud-slinging and name-calling is abhorrent. There's no reason for it and it actually diminishes one's stance to resort to such tactics.
But, again, let us realize where both sides are coming from.
The old-school stat people love baseball tradition. They love the baseball stats they grew up with and feel very comfortable with them. They don't want to change how they view their beloved game and wish everyone was still on their side, so it would still be the same game to them. Bottom line: They love baseball.
The new-school stat people love baseball so much that they want to find more ways to measure performance, hoping to come up with something more accurate than the traditional, "old school," stats. They study the game and the numbers in order to help gain a better understanding of said game. If they were just math geeks who didn't love the game, they wouldn't have chosen baseball and would instead concentrate on a different field. But they have chosen baseball. Bottom line: They love baseball.
What I see is two particular crowds of people who love baseball. I'm thankful for that.
9. Baseball
It's everything listed above and then some. There are the substitution rules, where players are done for the rest of the game if they come out. Do I use my best reliever now to get out of a jam, knowing I might not get to use him again the rest of the game? Do I save my best reliever and chance losing the lead now? What about a player tweaking his ankle early in the game? Do you leave him in, hoping he can play through it? Do you take him out, knowing in two innings he might feel good enough to play? No other major team sport has to deal with that decision.
There's the batting order, where you don't get to choose who gets the biggest at-bat of the game like you would calling a play for your best player in basketball, for example.
Fans showing up early for batting practice to get a ball! C'mon. No one else has that.
The crushed brick, lawn-mown logos in the outfield grass, being outside in the middle of the summer, the traditions -- like singing the seventh-inning stretch -- and more. It's everything.
Thank you for being you, baseball, on this Thanksgiving day.