Nine players selected in major-league phase of Rule 5 draft
Here are the results of the MLB phase of the 2013 Rule 5 draft.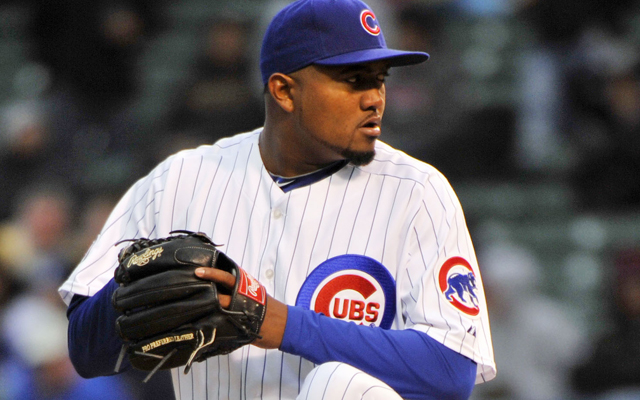 MORE: FA tracker: position players | FA tracker: pitchers | Winter Meetings updates
ORLANDO - It's the last day of the annual Winter Meetings, which means it's time for the Rule 5 draft.
For those unfamiliar, the Rule 5 draft gives teams the chance to draft a players from other organizations who are not on the 40-man roster. Said drafted player then must make the major-league team out of camp and stay with the MLB club or be returned to the previous team. Well, it's more complicated than that, with waivers and options coming into play, but that's the basic gist of it.
Anyway, some big-name players have been selected in the recent history of the Rule 5 draft, such as Josh Hamilton , Johan Santana and Dan Uggla . Overall, though, most of the names end up being largely irrelevant in the grand scheme of things.
For example, here are a few of the guys who were taken in the Rule 5 draft last season: Hector Rondon , Josh Fields , Angel Sanchez , T.J. McFarland and Nate Freiman .
Here are the nine players taken in the major-league phase of the Rule 5 draft this time around, listed with their position and new team:
[Note: The pitchers were all relievers this past season unless otherwise noted]
Patrick Schuster, P, San Diego Padres : He is taken by the Houston Astros from the Arizona Diamondbacks but sent to the Padres to complete a trade that sends pitcher Anthony Bass to Houston. The 23-year-old lefty had a 1.83 ERA, 1.08 WHIP and 45 strikeouts in 44 1/3 innings last year in High-A.
Adrian Nieto, C, Chicago White Sox : The Sox grab him from the Washington Nationals . The 24-year-old switch hitter hit .285/.373/.449 with 29 doubles, 11 homers and 53 RBI in High-A last year.
Kevin Munson, P, Philadelphia Phillies : From Arizona. The 24-year-old right hander had a 4.12 ERA, 1.17 WHIP and 66 strikeouts in 54 2/3 innings across Double-A and Triple-A last season.
Thomas Kahnle, P, Colorado Rockies : From the New York Yankees . The 24-year-old right hander had a 2.85 ERA, 1.38 WHIP and 74 strikeouts in 60 innings in Double-A last season.
Brian Moran, P, Toronto Blue Jays : From the Seattle Mariners . The 25-year-old left hander had a 3.45 ERA, 1.44 WHIP and 85 strikeouts in 62 2/3 innings in Triple-A in 2013.
Seth Rosin, P, New York Mets : By way of the Phillies. The 25-year-old right hander was mostly a starter last year. He went 9-6 with a 4.33 ERA, 1.22 WHIP and 96 strikeouts in 126 2/3 innings.
Wei-Chung Wang, P, Milwaukee Brewers : From the Pittsburgh Pirates . He started 11 of his 12 appearances, going 1-3 with a 3.23 ERA, 0.87 WHIP and 42 strikeouts in 47 1/3 innings -- but this came in Rookie Ball and was his first season in the minors. Making the big-league squad would be quite the leap.
Marcos Mateo, P, Diamondbacks: Mateo comes from the Chicago Cubs and the 29-year-old righty actually saw some time in the majors, though it was back in 2010-11. He appeared in 23 games for the Cubs in 2011, putting together a 4.30 ERA, 1.48 WHIP and 25 strikeouts in 23 innings. Across Rookie Ball, Double-A and Triple-A last season, Mateo had a 1.74 ERA, 1.19 WHIP and 30 strikeouts in 31 innings. He probably qualifies as the biggest name to move here. 
Michael Almanzar, 3B, Baltimore Orioles : By way of the Boston Red Sox . He's 23 and is coming off a season in which he hit .268/.328/.432 with 29 doubles, 16 homers, 81 RBI and 13 stolen bases in Double-A.
There's also a minor-league phase of the Rule 5 draft, in which Russell Wilson (yes, that Russell Wilson) was selected by the Rangers.
Keep it locked right here for everything you need to know about the world of baseball Tues...

There have been several racially charged incidents at Fenway Park this year

Washington's right fielders have sputtered offensively since Harper went down
The good news? Wichita still has a chance to win the series Tuesday night

Soon more home runs will have been hit in 2017 than in any other season in MLB history

Ferrell somehow avoided going to the ground