NL Cy Young Watch
As we continue our look this week at the races for individual awards, let's hit the National League Cy Young race, which has a shot to provide history and includes lots of guys from our nation's capital.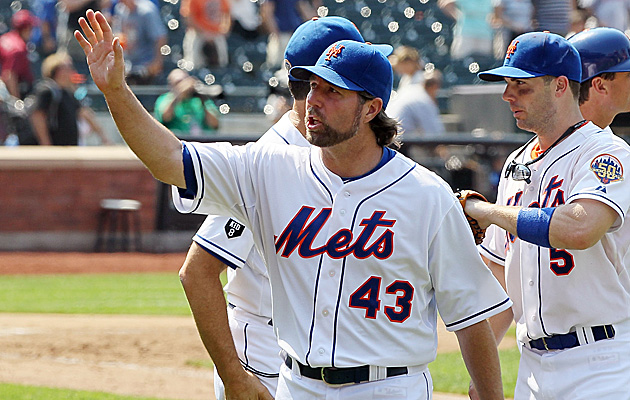 With just over seven weeks left, R.A. Dickey has a shot at history. (Getty Images)
As we continue our look this week at the races for individual awards, let's hit the National League Cy Young race, which has a shot to provide history and includes lots of guys from our nation's capital. Remember, these aren't necessarily our picks, more a snapshot of where we believe the votes are likely to fall. 
FRONTRUNNER
1. R.A. Dickey, Mets
And this would be history. No knuckleballer has ever won a Cy Young, but Dickey has a real, legitimate shot and it's not because of a gimmick or that he has a great story. It's because there's a good argument to be made that he's been the best pitcher in the league this season. He is 15-3 with a 2.72 ERA, 1.00 WHIP and 166 strikeouts in 162 1/3 innings pitched -- leading or tied for the NL lead in wins, complete games, shutouts, strikeouts and WHIP.
ALSO IN THE MIX
2. Johnny Cueto, Reds
Tony La Russa doesn't get to pick the Cy Young winner, so Cueto has that going for him. He's also 15-6 with a 2.45 ERA, 1.16 WHIP and 127 strikeouts in 161 2/3 innings. He has to make half his starts in a notoriously hitter-friendly yard. Voters don't traditionally favor playing for a winning team as much in Cy Young as they do in MVP, but it still doesn't hurt that Cueto's Reds are in first.
3. Stephen Strasburg, Nationals
The innings limit will likely prevent him from staying in the top three, or even top five, but he has to sit here at this point. Strasburg is the anchor of the best team in baseball's rotation. He's 13-5 with a 2.90 ERA, 1.12 WHIP and an NL-best (tied with Dickey) 166 strikeouts. Again, though, due to what'll end up a lack of workload, he's only going to go down from here. I'm betting 10 years from now it won't matter, because he'll have more than one Cy Young by then.
THE CLOSERS
4. Aroldis Chapman, Reds
He's only allowed one earned run against the National League all season, good for a 0.17 ERA and has struck out 106 hitters in 57 total innings. Plus, the majority of his work comes in "high-leverage" situations. On the flip-side, can we just throw out his stats against the AL? And can we ignore that he's only impacted 57 innings this season? Those questions will only intensify if Chapman keeps toying with the NL the rest of the way.
5. Craig Kimbrel, Braves
If we include Chapman, Kimbrel needs to be in the mix, too, as he's almost as dominant. The 24-year-old righty has an identical ERA to Chapman (1.26) to go with a nasty 0.65 WHIP and 75 strikeouts. He's closed down 31 of 33 save chances. Of course, the same workload question will come up with Kimbrel. Braves pitchers have thrown over 1,000 innings this season and Kimbrel has only worked 43 of them. Even in high-leverage situations, that's pretty small.
DON'T FORGET ABOUT
6. Jordan Zimmermann, Nationals
Here's my sleeper pick. When Strasburg is shut down, Zimmermann takes over as the top half of a 1-2 punch fronting the Nats' rotation (the bottom half is the guy listed next). Zimmermann leads the NL with a 2.35 ERA and sports a nice 1.06 WHIP in 145 1/3 innings. One issue: His record is 9-6 right now. Personally, I hate relying upon that archaic measure, but many voters don't. In recent years, we've seen some give when it comes to not having a great win-loss record (Felix Hernandez in 2009), but when you see Dickey's 15-3 against Zimmermann's 9-6, I'd say right now that alone would sway many people. If Zimmermann can get "hot" in the W-L category, he'll have a good shot. 
7. Gio Gonzalez, Nationals
The standard stats: 15-6, 3.29 ERA, 1.14 WHIP, 158 K, 147 2/3 IP. Impressive. Still, Gonzalez's true value this season has been his ability to prevent opposing clubs from hits and home runs, as both his hit rate and home run rate are sparkling (he leads the NL in the former and the majors in the latter). At this point in the season, though, being the third-best pitcher on his team hurts his chances.
8. A.J. Burnett, Pirates
That discussion above on win-loss record? Yeah, repeat it here. Burnett is 14-4 and clearly the ace of the upstart Pirates. What if he gets to, say, 22-5? He may well win this thing, that's what. And wouldn't that be something?
He's not having the season he did last year, but it would be foolish to ignore him. First of all, his numbers on their own deserve mention here. He's 10-6 with a 2.88 ERA, 1.03 WHIP and 157 strikeouts in 162 2/3 innings. Secondly, he's bound to get insanely hot down the stretch and thrust himself into frontrunner territory. Ignore this guy at your peril (the same could be said for white-hot Cole Hamels now, too).
10. Ryan Vogelsong, Giants
He was much higher on the list until his implosion Monday night against the Nationals. Still, one start does not a season make. Vogelsong has still had an excellent campaign. He is 10-6 with a 2.72 ERA, 1.17 WHIP and 110 strikeouts in 145 2/3 innings. As an added bonus, for purely entertainment purposes, we would have ranked him fourth preseason on the Giants staff in terms of best shot to win Cy Young, right?
For more baseball news, rumors and analysis, follow @EyeOnBaseball on Twitter, subscribe to the RSS feed and "like" us on Facebook.
A beardless Wilson says that he tried to outrun the police on the second day he had his driver's...

The Diamondbacks outfielder was not impaired, he was just going way too fast

MLB can unilaterally implement rule changes, which will also include limits on mound visit...
If the MLBPA wants to repair MLB's salary structure, it should push for more money for young...

Fans aren't happy Gerrit Cole and Andrew McCutchen have been traded away

Acuna is arguably the best prospect in baseball