NL Cy Young Watch: It's Clayton Kershaw and everyone else
The race for the NL Cy Young really isn't a race at all. Clayton Kershaw has the award in the bag already.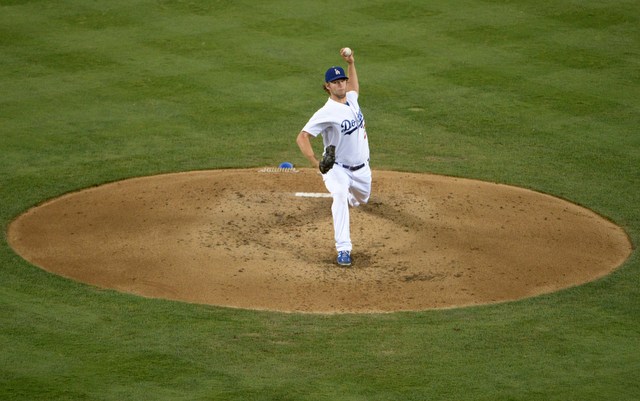 Our bi-weekly look at the various major award races continues today with the National League Cy Young. This isn't even a race. It's over. The real race is for second place right now.
Clayton Kershaw , Los Angeles Dodgers : At this point, there is pretty much nothing that can happen that would take the NL Cy Young Award away from Kershaw. The southpaw leads baseball in WAR (7.5), ERA (1.94), WHIP (0.93) and innings (223) while leading the NL in strikeouts (214). At age 25 -- seriously, he doesn't turn 26 until March -- Kershaw is about to lead MLB in ERA for the third consecutive season. He won the Cy Young in 2011, finished second in the voting in 2012, and will win it again in 2013. This is the best pitcher in the world, folks.
Jose Fernandez , Miami Marlins : Fernandez is absolutely fascinating. At 20 years old and with zero career innings at the Double-A and Triple-A levels, he made the Miami rotation out of spring training and will finish the season second to Kershaw in ERA (2.19) and WAR (6.5). He's first in the league in hit rate (5.8 H/9), second in strikeout rate (9.7 K/9) and third in WHIP (0.98). The Marlins shut Fernandez down last week in order to protect his precious right arm, which makes you wonder how much Cy Young love he will get with only 172 2/3 innings pitched.
Matt Harvey , New York Mets : An elbow injury ended Harvey's season a few weeks ago, but he remains in the Cy Young race thanks to his overwhelming dominance. He will finish third in the league in ERA (2.27), second in WHIP (0.93), third in strikeout rate (9.6 K/9), second in K/BB ratio (6.16), and first in home run rate (0.4 HR/9). Harvey was limited to 178 1/3 innings due to the injury.
Adam Wainwright , St. Louis Cardinals : Some recent struggles against the Reds have hurt Wainwright's still great Cy Young case. He's second in the league with 16 wins and has top ten marks in ERA (2.96), WHIP (1.07), WAR (5.7) and innings (221 2/3). What Wainwright doesn't have is the ability to create buzz like Kershaw, Fernandez or Harvey. Don't get me wrong, he's an excellent pitcher, but it's almost as if he's so good he's boring.
Madison Bumgarner , San Francisco Giants : MadBum has been a bright spot in an otherwise dismal year for the defending World Champs. A 12-9 record is nothing to write home about, but a 2.83 ERA in 194 1/3 innings could get him a few down-ballot votes.
Patrick Corbin , Arizona Diamondbacks : Corbin has hit a wall of late and seen his ERA rise from 2.45 to 3.17 over his last five starts. He was a serious Cy Young contender for most of the summer, but not anymore.
Mat Latos , Cincinnati Reds : With Johnny Cueto on and off the DL all season, Latos merged as Cincinnati's ace. He's got a 14-6 record with a 3.14 ERA in 197 2/3 innings. He could wind up with more second place votes than Harvey or Fernandez if the voters dock them for small-ish workloads.
Cliff Lee , Philadelphia Phillies : Like Wainwright, Lee is so good he's boring. Fourteen wins? Sub-3.00 ERA? WHIP near 1.00? Best K/BB ratio in baseball? Two-hundred innings? Checks across the board. Yawn.
Jordan Zimmermann , Washington Nationals : Zimmermann will grab some Cy Young votes because he leads the NL with 18 wins, but otherwise a 3.33 ERA and 1.13 WHIP lag behind the other serious contenders.
Several players called for the netting to be extended down the base lines following Wednesday's...

Maria made landfall as a Category 4 on Wednesday

The players are trying to do their job and don't want to see anyone hurt
The child is receiving medical attention at an area hospital, the Yankees said in a statem...

Brantley has not played since August 8 due to an ankle injury

Plus the Red Sox can lock down a postseason spot and all you need to know from the world of...