NL Cy Young Watch: Kershaw in control
Let's check in on the NL Cy Young race and see who's capable of mounting a stretch drive challenge against Clayton Kershaw of the Dodgers.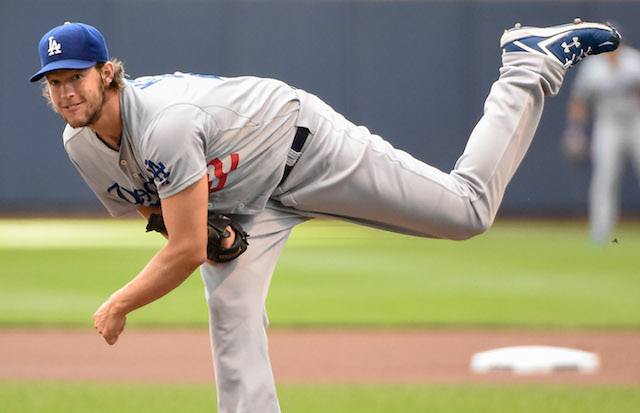 NL MVP Watch | AL MVP Watch | AL Cy Young Watch
Let us continue with our Awards Watch series and check in on the current status of the National League Cy Young race.
Before we run down the leading candidates, please keep in mind that these are predictions based on the season to date and not statements of who we believe deserves to win. In other words, the driver here is how we think the BBWAA will vote for the award in question when the time comes. Of course, there's plenty of season left for things to change ...
[Players listed alphabetically within categories]
Since we named Mr. Kershaw as an NL MVP frontrunner, it's safe to assume that he's also an NL Cy Young frontrunner. And what a frontrunner he is. His 1.78 ERA leads the majors, and he also paces the bigs in ERA+ and complete games. As well, Kershaw has struck out 163 batters against just 19 walks. Need more? Opposing hitters are managing a punchless line of .201/.233/.296 against him, and in 19 trips to the mound he has logged 17 quality starts. His average start takes him into the eighth inning. Kershaw of course missed roughly a month early in the season because of a back injury, but the brilliance of his numbers is enough to overwhelm any such "body of work" concerns. If for some reason you pay attention to pitcher win-loss records, then know that Kershaw is on pace to go 19-3. 
Cueto's fastball has perhaps been the most valuable pitch in baseball this season, and he has ridden it to much success. He leads the NL with 25 starts and 179 2/3 innings pitched, he has struck almost four times as many as he's walked, and he has done it all despite pitching the majority of his innings in homer-friendly GABP. Just three times all season has Cueto given up more than three runs in a start. 
The Cards' ace boasts an ERA of 2.34 (156 ERA+), and he has allowed just two unearned runs in 169 innings. Also impressive is that Wainwright has coughed up just six homers on the season. Wainwright's sinker-cutter-curve approach probably has something to do with that. He has gone at least seven innings in all but five starts this year. 
Hamels is definitely a long shot given the the strength of the résumés above him. However, the lefty's having a nice "Kershaw Light" kind of season. Like Kershaw, he missed time to injury earlier in the year, and also like Kershaw he's keeping runs off the board: 2.37 ERA and just four unearned runs in 144 1/3 frames of work. He's also striking out a batter per inning, and he has given up two runs or fewer in 13 of 21 starts. While those of a traditional mindset might hold his .500 record against him, there has been -- thankfully, belatedly -- a drift away from such considerations in recent years. Besides, it's no secret that Hamels toils for a lousy team. All that said, he has very little chance of overtaking Kershaw/Cueto/Wainwright. 
Where might the Orioles third baseman land?

Kinsler will slot in at second base for the Angels

The Marlins got a better return for Ozuna than Stanton or Gordon
The two teams are going about things in very different ways

The Marlins are indeed in teardown mode under new ownership

The Marlins still have more attractive pieces