NL Cy Young Watch
How does the NL Cy Young race look now, a few weeks after we last checked in?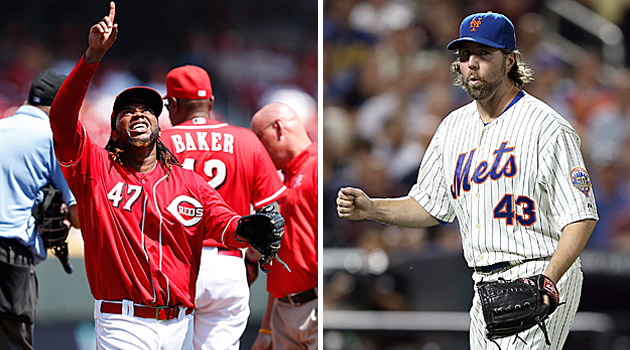 Though it's not a two-horse race, there are two clear frontrunners for the NL Cy Young right now (Getty Images)
Just as we'll be doing with all the major awards this week, Monday, Eye on Baseball broke down where the respective MVP races stand. Now, it's time for the NL Cy Young, in terms of the frontrunners and how the stock of the other contenders is moving compared to last time we did this. Also note: These aren't our picks. We're trying to size up how the voting might fall, based upon how voters generally choose winners. Also note that these aren't rankings (aside from the top two).
Frontrunners
Johnny Cueto, Reds: The All-Star snub has moved into position to thwart a knuckleballer's run at history. Cueto is 16-6 with a 2.47 ERA, 1.14 WHIP and 139 strikeouts in 174 2/3 innings. He leads the NL in ERA and wins. If he's deadlocked with Dickey -- which seems like a good bet right now -- playing for a first-place club may swing the voting in Cueto's favor.
R.A. Dickey, Mets: His numbers are very similar (better in some spots) to Cueto's. Dickey is 16-4 with a 2.76 ERA, 1.02 WHIP and 183 strikeouts in 182 1/3 innings. Will playing for a bad team lose Dickey points? Cy Young voting hasn't historically punished pitchers for bad teams as much as MVP voting does, but it's still possible it could hurt.
More from Eye on Baseball
Stock Rising
Clayton Kershaw, Dodgers: The defending champ here is 5-1 with a 1.94 ERA and 47 strikeouts (against only six walks) in 46 1/3 innings during his last six starts. What if he keeps pitching like this and the Dodgers win the NL West?
Kyle Lohse, Cardinals: He hasn't lost a game since June 15 and now sits at 14-2 with a 2.64 ERA and 1.08 WHIP.
Madison Bumgarner, Giants: Since the All-Star break, the 23-year-old lefty sports a 2.31 ERA. Overall, he is 14-8 with a 2.93 ERA, 1.02 WHIP and 165 strikeouts in 178 innings.
Cole Hamels, Phillies: In his past four starts, Hamels is 3-0 with a 1.71 ERA, a span that includes back-to-back shutouts. His full season numbers are very good, too, at 14-6 with a 2.99 ERA, 1.12 WHIP and 172 strikeouts in 177 1/3 innings.
Matt Cain, Giants: After a brief rough patch, Cain is back on track. He's won his last three starts with a 1.61 ERA. In that stretch he has struck out 17 while walking only one. The overall line: 13-5 with a 2.83 ERA, 1.01 WHIP and 159 strikeouts in 174 2/3 innings. Don't forget about that perfect game, either.
Status Quo
Stephen Strasburg, Nationals: He's been lights out in August (4-0, 1.50 ERA, 29 K in 24 IP). His status remains the same because he throws less innings per start than most of the pitchers in the running and will have three or four outings taken away via Operation Shutdown.
Aroldis Chapman, Craig Kimbrel, Joel Hanrahan: We'll throw Hanrahan in here with Kimbrel and Chapman, but it's really the same thing we said last time around. We have dominance here (they're listed in order of dominance, too), but it's in very small samples of the respective seasons of the three ballclubs. The voters will have to decide if any of these three is dominant enough in a small amount of innings to warrant strong consideration, but recent history isn't on the side of the closers. Since Dennis Eckersley won a Cy Young in 1992, only one closer has won the award, and it was Eric Gagne when he was superhuman in 2003.
Gio Gonzalez, Nationals: The gaudy win total (16, tied for best in the majors) gets Gonzalez in the discussion, but his ERA (3.28) hurts him a bit. Still, 168 strikeouts in 159 1/3 innings and playing for the best team in the NL means he's a definite contender here.
Stock Falling
Jordan Zimmermann, Nationals: Since we last checked in, Zimmermann is 0-2 with a 5.17 ERA. Overall, he has good numbers, but with a 9-8 record and appearing the third-best pitcher on his own team, things aren't looking good for Zimmermann here.
Ryan Vogelsong, Giants: Again, he has good overall numbers, but this is a very crowded field and he is 1-2 with a 10.50 ERA in his last three starts. He's gone from an NL-best 2.27 ERA to sitting right in the midst of most Cy Young contenders at 2.90.
A.J. Burnett, Pirates: The great win-loss record (15-5) gets him in the discussion, but his rate stats -- such as a 3.67 ERA -- are worse than a few guys with similar records.
For more baseball news, rumors and analysis, follow @EyeOnBaseball on Twitter, subscribe to the RSS feed and "like" us on Facebook.
From 1 to 25, the L.A. Dodgers have the squad to overcome the pitfalls of October baseball

After Tuesday night's win over the Cubs, the Dodgers are now 6-0 in the 2017 playoffs

The 2017 World Series begins Oct. 24
Los Angeles beat Chicago once more in Game 3 of the NLCS in Chicago

The Astros will need Dallas Keuchel and Justin Verlander to take the pressure off in Games...

Judge and Sanchez played huge roles in the Game 4 comeback