NL Manager of the Year Watch: It's Dusty and Davey with Bochy lurking
The National League Manager of the Year race is down to two veteran managers, the Nationals' Davey Johnson and the Reds' Dusty Baker.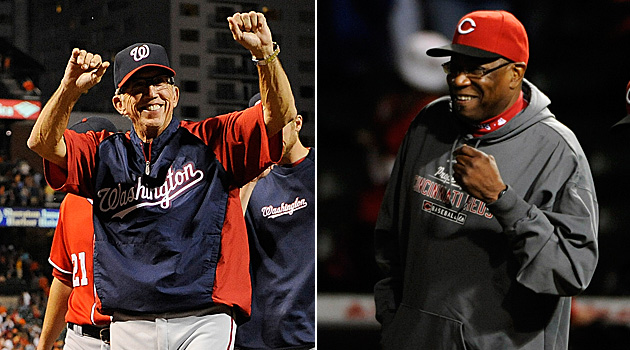 Davey Johnson and Dusty Baker appear the frontrunners for NL Manager of the Year, but there's another man in the race. (Getty Images)
This is our final look at the National League Manager of the Year race before the regular season concludes -- and it'll be over one week from right now.
As always, these aren't necessarily our picks nor can they be accurately researched, as no members of the BBWAA voting body are permitted to reveal how they are leaning. What we do know is this award is traditionally given to the manager who most exceeds expectations and/or overcomes adversity during the season in terms of injuries, player turnover, etc.
We also know each voter casts a ballot with first-, second- and third-place votes.
Knowing all that, there are really only three legitimate candidates to win this award. Others might accrue some votes, but these three are the only ones with a chance to win.
Frontrunners
Dusty Baker, Reds: Not much the Reds have done this year has backfired, and they have a shot at the best record in baseball despite having played without Joey Votto for about six weeks. Baker deserves tons of credit for this team's success. Yet, I think he'll finish second.
Davey Johnson, Nationals: My guess is Johnson is your winner. The Nationals came into the season having never had a winning season. Johnson had to be heavily reliant on young players, and there was an innings limit on his ace. And here they are, locked in a battle with the Reds for the best record in baseball.
Also in the mix
Bruce Bochy, Giants: I went back and forth on whether to include Bochy with the frontrunners, but I feel like he finishes in third place. Still, let us not discount that the Giants bounced back from a major disappointment in 2011. They also have overcome a terrible off-year from Tim Lincecum and lost an MVP candidate due to a PED suspension in mid-August. And they still won the NL West with ease. Some years, Bochy would cruise to the award.
Might receive a vote or two: Bud Black, Padres; Fredi Gonzalez, Braves; Mike Matheny, Cardinals; Ron Roenicke, Brewers.
For more baseball news, rumors and analysis, follow @EyeOnBaseball on Twitter, subscribe to the RSS feed and "like" us on Facebook.
The Yankees are still looking for rotation help

The Rangers' lefty and wife Heidi have done a very good deed

Will J.D. Martinez be Boston's next target?
Could catcher J.T. Realmuto be the next Miami player to be traded?

If the slow-play for Martinez, Hosmer and Arrieta sounds familiar, it should

The Nats will host the All-Star Game in 2018