NL Managerial Hot Seat
Who is on the hot seat now or may be by the end of the season? Here's a look at the National League skippers, with varying degrees of heat on each respective seat.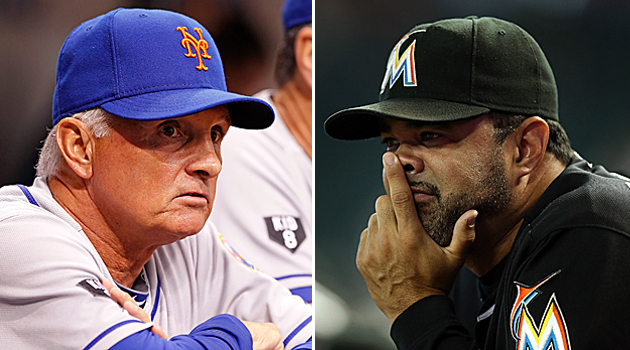 Are Collins and Guillen under fire with a month of play left? (Getty Images)
Thursday we checked in on the top candidates for Manager of the Year in each respective league. We're now here to do the opposite. Who is on the hot seat now or may be by the end of the season?
Here's a look at the National League skippers who may be on the hot seat, with varying degrees of heat on each respective seat. Please note this is speculative and for discussion purposes.
Lukewarm
Kirk Gibson, Diamondbacks: The 2011 NL West champions returned largely intact, and at this rate -- with the Padres playing great baseball -- the D-Backs could be looking at a fourth-place finish. It's difficult to see Gibby canned after last season, but this season has been a complete flop.
More from Eye on Baseball
Charlie Manuel, Phillies: He's the most decorated Phillies manager of all-time and this season's disappointment has not really been his fault. Sometimes, though, general managers use seasons that fall well short of expectations as an excuse to get some new blood in the dugout.
Dale Sveum, Cubs: The chances of Sveum getting canned are extremely slim, because the Cubs' front office made this hire for the long haul and had no illusions of contending this season (or next, for that matter) during the complete rebuild. Still, any time a club looks like it's going to lose 100 games, we cannot dismiss the possibility of a firing.
Jim Tracy, Rockies: The front office has continued to support Tracy and given him the managerial job "indefinitely," so it's doubtful he's going anywhere. With a last place finish and a front office that has already been shaken up, however, we can't assume Tracy is 100 percent safe.
Toasty
Terry Collins, Mets: The Mets are 15-31 since July 7 and while they've had some injuries, they haven't had Blue Jays-level injuries. The roster construction and payroll situation are in decent enough shape that the Mets will likely have hope of competing in the 2013. Considering the flop in the second half and the front office maybe feeling a renewed hope for next season, Collins has to be feeling the heat. Even if it's only like having left his car seat warmer on high for a bit too long, he's feeling something.
Ozzie Guillen, Marlins: Marlins' brass went to great lengths to finally pry Guillen away from the White Sox, so pulling the plug after one season would be a bit of a surprise. This one season, however, has been an unmitigated disaster both on and off the field for Guillen and his Marlins. If upper management feels a drastic organizational change is needed, firing Guillen would surely be on the table.
*Fredi Gonzalez, Braves: This comes with an asterisk, because as things stand right now, the Braves are comfortably in the playoffs and there's no chance Gonzalez loses his job. Just keep in mind, though, the Braves' historic collapse last season. If they collapsed again -- and it would be far less historic, as their spot is 3.5 games safe -- Gonzalez would almost certainly get the ax. So how worried would you be with a 3.5 game lead? I'm guessing it crosses his mind from time to time.
Scorching
None. Out of 16 teams in the National League, it does not appear there is a single manager that is completely under fire in the eyes of his bosses, now that the Astros have already fired Brad Mills. We could list Tony DeFrancesco here, as there's no way he gets that Astros job, but he's only an interim manager anyway.
As things stand now, my guess is Collins is the most likely to be fired. We have a month left, though, so lots can change.
For more baseball news, rumors and analysis, follow @EyeOnBaseball on Twitter, subscribe to the RSS feed and "like" us on Facebook.
Keep tabs on the top 50 free agents right here

Your one-stop shop for all things MLB Winter Meetings-related

The Angels knew about the first-degree sprain and still wanted to sign the potential ace, of...
The run on relievers continues with two more signings

The Yankees added Giancarlo Stanton in a blockbuster trade, though they now have openings at...

Smyly is currently on the mend from Tommy John surgery