NL MVP Watch: Andrew McCutchen remains the favorite
There is a favorite for the NL MVP Award at the moment, but this race is far from over.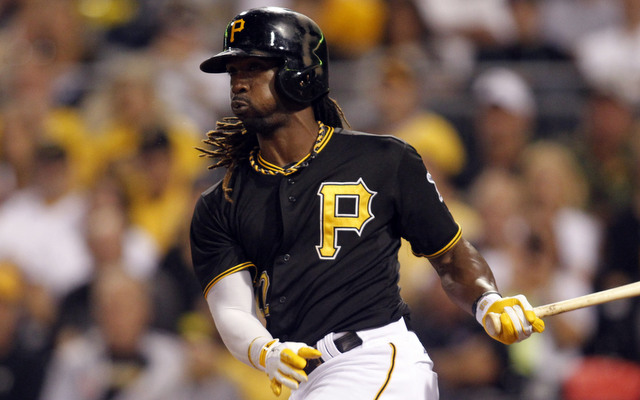 More MLB: Scoreboard | Standings | Probable Pitchers | Sortable Stats | Odds
With less than two weeks left in the season, it's time for another installment of our bi-weekly awards watch series. We start with the NL MVP Award, which at this point has a front-runner but not an overwhelming favorite. Things could easily change before the regular season ends.
Obligatory reminder: This is not who we think should win each award, it's who is likely to win based on voter tendencies and that sort of stuff.
Andrew McCutchen, Pirates: The MVP is McCutchen's to lose at this point, even if the Pirates don't win the NL Central and have to settle for a wild-card spot. He has a comfortable league lead in WAR (7.7 WAR) and a narrow lead in OPS+ (160) while ranking second in the NL in hits (177), third in both batting average (.324) and on-base percentage (.404), fifth in runs (91) and seventh in slugging percentage (.515). He's the best player on the best story in the league, and, most importantly, one of the best teams in the league.
Clayton Kershaw, Dodgers: Kershaw was right there with McCutchen for a few weeks, but he has been merely pretty good and not superhuman of late. The Dodgers are also taking advantage of their big division lead by giving their ace some extra rest down the stretch, so he won't be able to fatten up his 14-9 record or league-leading innings (223) and strikeouts (214 totals) totals all that much. Kershaw's got a very good case, just not as good as McCutchen's.
Yadier Molina, Cardinals: Some nagging injuries have taken Molina out of the batting title race (.317) as well as super-serious MVP consideration. He's still top ten in the league in average and WAR (5.2) while remaining the top defensive backstop in the game. Had Molina stayed on the field a little bit more, not only would his MVP case be a little stronger, but the Cardinals would probably be in first place in the NL Central rather than tied for first with Pittsburgh.
Paul Goldschmidt, Diamondbacks: Goldschmidt's case is hurt by the rest of his team as Arizona is just a few days away from being eliminated from playoff contention. Had they made a better run at a wild-card spot, he'd be right up there with McCutchen as the favorite. Goldschmidt is fifth in the NL in WAR (5.9) but first in RBI (116), first in total bases (302), first in OPS (.951), tied for first in home runs (33), second in OPS+ (159), second in slugging (.548), third in walks (95), third in on-base percentage (.403), third in runs scored (95), and third in extra-base hits (67). The guy's a monster.
Matt Carpenter, Cardinals: Carpenter leads the NL in hits (185), runs (116) and extra-base hits (68) while ranking top ten in batting average (.321), on-base percentage (.391) and OPS+ (142). He's also handled the transition to second base very well.
Shin-Soo Choo, Reds: I'm not sure there was a better pickup made last offseason than the Reds bringing in Choo. He's second in the league in on-base percentage (.424) and runs (102) while ranking seventh in OPS+ (144). Choo's center field defense, while admirable, is the knock again him.
Joey Votto, Reds: They don't pay him to walk, but he does it anyway. Votto leads the league in walks (120), times on base (293) and on-base percentage (.433) while ranking among the league top ten in just about every other meaningful offensive category. He's so good that people don't even seem to pay attention to how good he is anymore.
A beardless Wilson says that he tried to outrun the police on the second day he had his driver's...

The Diamondbacks outfielder was not impaired, he was just going way too fast

MLB can unilaterally implement rule changes, which will also include limits on mound visit...
If the MLBPA wants to repair MLB's salary structure, it should push for more money for young...

Fans aren't happy Gerrit Cole and Andrew McCutchen have been traded away

Acuna is arguably the best prospect in baseball