NL MVP Watch: Andrew McCutchen takes charge
It's time to check the temp on the various awards races around baseball. Let's kick it off with a look at the MVP race in the senior circuit.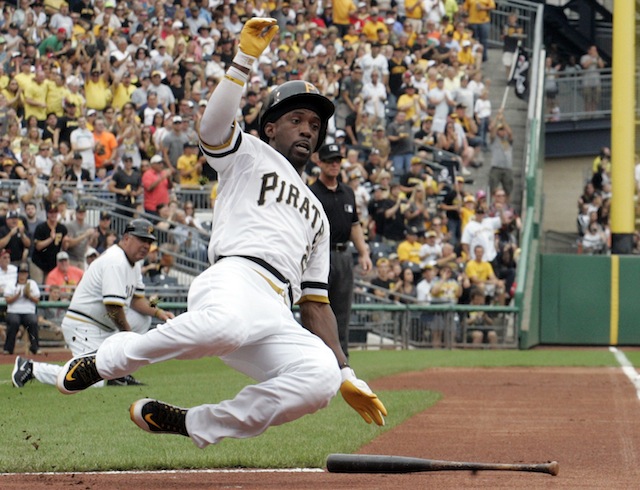 AL MVP Watch: It's Miguel Cabrera's award to lose
Let us carry on with our Awards Watch series and check in on the current status of the National League Most Valuable Player race.
Before we run down the leading candidates, please keep in mind that these are predictions based on the season to date and not statements of who deserves to win. In other words, the driver here is how we think the BBWAA will vote for NL MVP when the time comes. Of course, there's plenty of season left for things to change ...
[Players listed alphabetically within categories]
Andrew McCutchen, Pirates

There's not a clear standout candidate in the NL, so the nod goes to McCutchen for his broad-based excellence. He's batting .315/.391/.507, playing plus defense in center and stealing bases at a 26-for-33 clip. Throw in the power of the story with regard to McCutchen's upstart Pirates, and you have your odds-on favorite. For the moment.
Paul Goldschmidt, Diamondbacks

Goldschmidt leads the NL in RBI and is tied for the lead in homers. That plus playing on a contender will earn him some support. He's also showing signs of rebounding from a recent mini-slump. However, it may take a D-Backs playoff berth in order for Goldschmidt to overcome the competition.  
Clayton Kershaw, Dodgers

Kershaw's all but a lock for the NL Cy Young Award, and he's gaining traction as an MVP candidate. How's that? Well, Kershaw presently leads the majors in innings, ERA, ERA+ and WHIP. He also boasts a K/BB ratio of 4.55, and he has a quality-start percentage of 85. Kershaw's relatively modest win total (12 at present) may hurt him with some voters, but there's also evidence that we're belatedly moving beyond such things when it comes to casting award ballots.

Yadier Molina, Cardinals

There's no disputing Molina's excellence behind and at the plate. His recent DL stint and the resulting loss of plate appearances drops just him a bit, but he could easily return to front-runner status in a matter of days. A strong finish could make Molina the favorite, particularly if the Cardinals win the tough NL Central.
Carlos Gomez, Brewers

Gomez, an elite defensive center fielder and asset on the bases, is batting .288/.339/.519 (131 OPS+). That's exceptional production for any player, let alone one like Gomez, who does so many other things well. On the downside, the Brewers aren't relevant, and he has been struggling badly thus far in August.
Matt Carpenter, Cardinals

He has capably manned second base in his first season at the position, and he's batting .312/.383/.476 with a league-leading 41 doubles and 149 hits. Carpenter's a long-shot, to be sure, but there's no assailing his excellence in 2013.

Justin Upton, Braves

After a hot start, Upton disappeared for much of the season, but he's hitting once again: a respectable July followed by a .350/.443/.767 line thus far in August. Upton has some work to do to lift his overall numbers into MVP territory, but a hot finish for both player and team could put him in the running.
The Mets didn't want to trade a young outfielder for an older one

Josh Harrison doesn't sound pleased Gerrit Cole and Andrew McCutchen have been traded away

The team's media contracts expire following the 2019 season
San Francisco could use more help in the outfield and at the back of the rotation

The White Sox, Athletics, Orioles and Marlins are the holdouts after the Blue Jays and Angels...

Molina's deal expires after the 2020 season