NL MVP Watch: Is Clayton Kershaw taking the lead?
Let's take a look at where the current field for NL MVP stands, with the reigning MVP and a certain left-handed pitcher at the top.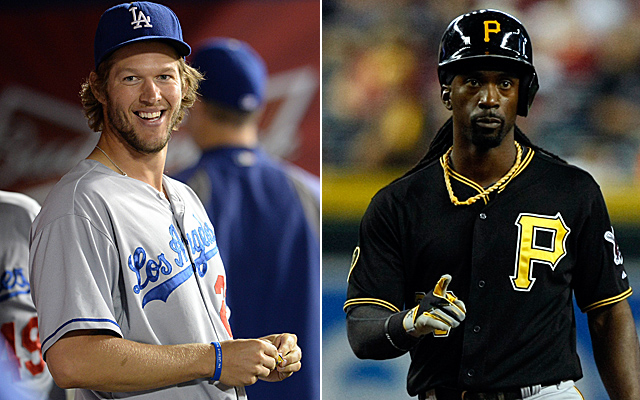 AL MVP Watch: Trout at the top
We're getting up on the homestretch of the 2014 major-league season, so let's take a look at where some of the postseason hardware appears headed at this moment.
As we've done in the past in this very space, these snapshots of where the individual awards races currently stand aren't how we would vote and are instead predictions of what would happen, given the recent history of the BBWAA voting body.
Now let's take a look at what could well end up being a very wide-open National League Most Valuable Player field.
[Players listed alphabetically within categories]
Clayton Kershaw , Los Angeles Dodgers
Despite missing several starts due to injury, Kershaw still has a real shot at this thing. We saw what had to happen for a pitcher to win the MVP in 2011, when Justin Verlander did it. He needs a great record (Kershaw is 14-2) with huge traditional stats elsewhere (Kershaw leads the majors with a 1.78 ERA and five complete games. He also has 163 strikeouts and just 19 walks in 136 1/3 innings pitched) and must pitch for a playoff team (the Dodgers appear headed that way). He also needs the position-player field to lack a glaring candidate on a playoff team and we might well be headed that way, considering the injury to ...
Andrew McCutchen , Pittsburgh Pirates
If the vote were held right now, McCutchen may take home the honor because the voting body values position players over pitchers (and I would say rightfully so, due to how many games each impacts). McCutchen's rib injury is a huge factor moving forward, of course. The reigning NL MVP has either similar or better numbers across the board and the Pirates hold the top wild-card spot, just as they did last year. How long he's out and how well he performs upon his return are what will determine his fate in this race.
Carlos Gomez , Milwaukee Brewers
Go-Go is a do-everything man for the best team in the powerful NL Central. He plays outstanding defense in center while boasting a power-speed combo (26 doubles, four triples, 18 homers, 27 steals). I love his .351 on-base percentage, but I wonder if the .289 average isn't high enough for some voters?
Jonathan Lucroy , Brewers
Through June, he would have been my pick to win this thing, but he has faltered a bit. Not terribly, as he's still hitting .306/.373/.487 with 38 doubles, 12 homers and 53 RBI overall. This coming from catcher, where he is an excellent receiver and works well with the Brewers' pitching staff.
Yasiel Puig , Dodgers
The Cuban phenom is hitting .313/.397/.528 with 31 doubles, nine triples, 13 homers, 55 RBI, seven steals and 66 runs. He has also transitioned well to center field, helping to at least alleviate some of the outfield mess in LA. He's the most reliable position player on the best team in the NL. I think he would be clearly behind Kershaw, though, so he's probably more "top-five contender" than legit contender to win.
Giancarlo Stanton , Miami Marlins
I'll again turn to the 2011 AL MVP vote to note why Stanton isn't among the "frontrunners." That season, Jose Bautista hit .302 with an MLB-best 43 homers and 1.056 OPS, but he finished third as the Blue Jays were 81-81. Stanton is an all-around beast and leads the majors with 31 homers. He leads the NL in RBI. His Marlins are 58-60. He looks destined for a Bautista-like punishment for his teammates not being as good as Kershaw's. My annual rant on this voting method can take place at a later date.
Troy Tulowitzki , Colorado Rockies
He still leads the majors in the three mainstream rate stats (Avg., OBP, SLG), but he has only played in 91 games, is still on the DL and the Rockies are the worst team in the NL. His stock will only fall from here.
Freddie Freeman , Atlanta Braves
Maybe Jason Heyward or Justin Upton hop over him, but for now I think the Braves player that would get noticed in the voting is Freeman.
Paul Goldschmidt , Arizona Diamondbacks
He's going to fall off before next time we do this, due to his season-ending injury. If the voting were held now, though, he would garner a few lower-tier votes (remember, voters rank 10 players on their ballots).
Josh Harrison , Pirates
He's becoming their heart and soul, doing everything asked of him in the batter's box, on the bases and on defense -- including playing almost anywhere on the diamond. If McCutchen is out for a while and the Pirates hang around, I'll predict Harrison's stock skyrockets. He's the one to watch here.
Hunter Pence , San Francisco Giants
Through all the ups and downs, Pence has been the steadying presence for the Giants. If they can make the playoffs, he'll get some support.
Anthony Rendon , Washington Nationals
He's the most valuable position player on a first-place team. He's a very good hitter who leads the NL in runs, is 12 of 13 in stolen bases and has provided good defense at both second and third as the Nats deal with Ryan Zimmerman  issues. I think he'll end up on top of this group, unless Harrison goes nuts in my above hypothetical.
Anthony Rizzo , Chicago Cubs
He's not winning, but he's having a great season and his 25 homers trail only Stanton in the NL.