NL Rookie of the Year Watch: And then there were two
By the looks of things, the NL Rookie of the Year Award will be going to Jose Fernandez or Yasiel Puig.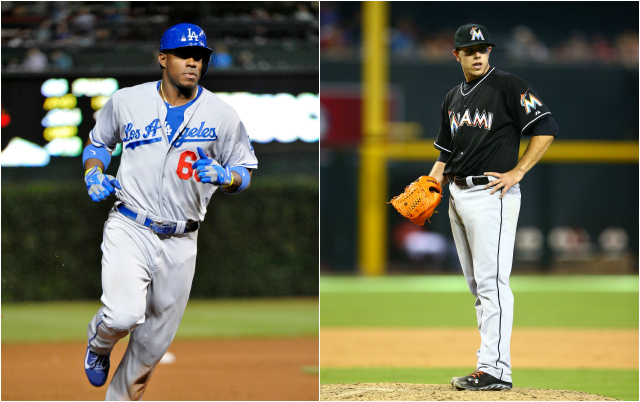 Awards Watch: NL MVP | AL MVP | NL Cy Young | AL Cy Young | AL Rookie
As we soldier on with our Awards Watch series, let's check in on the race for National League Rookie of the Year.
By way of reminder, here's the official MLB definition of a rookie ...
A player shall be considered a rookie unless, during a previous season or seasons, he has (a) exceeded 130 at-bats or 50 innings pitched in the Major Leagues; or (b) accumulated more than 45 days on the active roster of a Major League club or clubs during the period of 25-player limit (excluding time in the military service and time on the disabled list).
Before we run down the leading candidates, please keep in mind that these are predictions based on the season to date and not statements of who deserves to win. In other words, the driver here is how we think the BBWAA will vote for NL Rookie of the Year when the time comes. Of course, there's plenty of season left for things to change ...
[Players listed alphabetically within categories]
Jose Fernandez, Marlins: Consider the overall numbers: 145 2/3 IP, 2.41 ERA (3rd in the NL), 162 ERA+ (2nd in the NL), 157 K. Fernandez was somewhat spotty over the first five starts of his career, which occurred in April, but check out his monthly ERAs since then: 3.18, 1.67, 2.06, 1.04. That's rare consistency for a pitcher of Fernandez's age, which, in case you've forgotten, is just 21. That he's managed a 9-5 record while toiling for the last-place Marlins will also likely appeal to some voters. 

Yasiel Puig, Dodgers: The numbers remain deeply impressive: .352/.412/.567 with 12 homers and 16 doubles in 68 games. That's to say nothing of that boat-load of highlight-reel catches and throws in the outfield. Also in his favor is the fact that the Dodgers are 46-18 when he's in the starting lineup. What's working against Puig? A drop-off from his otherworldly June numbers, and the perception -- in part media-driven to be sure -- that Puig is too much of a loose cannon on the field and off it. Unfortunately, "Puig Fatigue" could play a role in the balloting. 
Shelby Miller, Cardinals: Miller's overall numbers hold up well: 24 starts, 2.98 ERA, 1.18 WHIP, 3.54 K/BB ratio. What's hurting him lately, though, is that he hasn't made it out of the sixth inning in any start since June 1. Miller, 22, is having a strong campaign, but his overall body of work can't compare to Fernandez's.
Hyun-Jin Ryu, Dodgers: Ryu boasts a 121 ERA+, and he's the only pitcher on this list who's on pace to reach 200 innings this season. As well, Ryu isn't a bad hitter as pitchers go. Again, though, he's not on Fernandez's level.  
Julio Teheran, Braves: He's got a sub-3.00 ERA, and only once in his last six starts has he allowed more than one run. As well, Teheran's league-leading 13 hit batsmen suggest he's not shy about pitching inside. You can make a compelling case that he's the best rookie pitcher not named Jose Fernandez, but the reality is that he's not named Jose Fernandez.
Colon wants to break a Dennis Martinez record

The Twins have been rumored to be interested in Darvish all winter

Rolen is one of the best third basemen of all time, but you wouldn't know it based on this...
Neither Josh Donaldson nor Brian Dozier have talked about a new contract extension

Francisco leads the Dominican Winter League with seven home runs

Thome deserves enshrinement and here's why the case against him does not hold up