NL Rookie of the Year Watch: Still a two-horse race
The NL Rookie of the Year race is down to two players and still wide open with less than four weeks to go.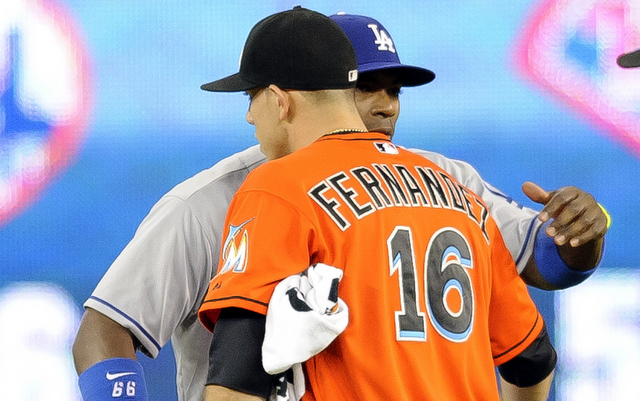 Awards Watch: NL MVP | AL MVP | NL Cy Young | AL Cy Young | AL Rookie
Our look at the various awards races continues today with the NL Rookie of the Year. Not a whole lot has changed since our last update, at least in the sense that there is still no obvious front-runner. It's a two-horse race, clearly, but good luck picking between the two. Right now, there is no wrong answer.
Obligatory reminder: This is not who we think should win the award, it's who we think will receive the most support. Pretty important difference there.
Jose Fernandez , Miami Marlins : The 21-year-old Fernandez isn't just a Rookie of the Year candidate, he's a Cy Young candidate. He's gone 10-6 for the woeful Marlins with a stellar 2.33 ERA (169 ERA+) and 1.00 WHIP while leading the league in hit (6.0 H/9) and strikeout (9.8 K/9) rates. Miami intends to shut Fernandez down after two more starts and 12 more innings, meaning his season will end within the next week. Does that hurt his Rookie of the Year case? Twenty-eight starts and 170-ish innings is still a pretty big workload, and those are incredibly high quality innings.
Yasiel Puig , Los Angeles Dodgers : Despite all the talk about his immaturity and poor fundamentals, Puig is hitting .350/.409/.562 (172 OPS+) with 19 doubles, 14 home runs and 10 stolen bases in 81 games while playing strong outfield defense. He's had a huge impact on a first place team that didn't really hit its stride until he showed up. If voters are going to dock Fernandez for being shut down and having his season cut short, they should similarly penalize Puig for being called up late. It's only fair. Like Fernandez being a fringe Cy Young candidate, Puig is a fringe MVP candidate.
Shelby Miller , St. Louis Cardinals : Miller has been slightly less awesome than Fernandez. He's gone 12-9 for the high-power Cardinals while posting a strong 3.19 ERA (116 ERA+) and 1.21 WHIP. His strikeout rate (9.4 K/9) is comparable to the Miami right-hander as well. Miller has thrown 149 2/3 innings across 27 starts so far and there has not been any word about plans to shut him down. In most years, he would have been a shoo-in for the award.
Hyun-Jin Ryu , Dodgers: Like Miller, Ryu has been just a bit less effective than Fernandez. He has a 13-5 record with a 3.05 ERA (118 ERA+) and 1.22 WHIP in 26 starts and 167 innings for Los Angeles, but his strikeout rate (7.5 K/9) lags behind the two young right-handers. At age 26 and with a little short of a decade of experience in Korea, Ryu could be at a disadvantage in the voting.
Julio Teheran , Atlanta Braves : Teheran still qualifies as a rookie despite receiving cups of coffee in each of the last two seasons. The 22-year-old has been arguably the best pitcher on the Atlanta staff, going 11-7 with a 3.01 ERA (129 ERA+) and 1.20 WHIP. He also has a strong strikeout rate (8.3 K/9), but like Fernandez, Teheran will have workload monitored in the coming weeks. He's thrown 161 1/3 innings across 26 starts so far.
Tony Cingrani , Cincinnati Reds : A 2.97 ERA (142 ERA+) and 10.3 K/9 in 97 2/3 innings is an excellent rookie campaign, but not really enough to garner serious consideration for this year's award.
Evan Gattis , Braves: Has fallen off a bit after a great start. Hitting .247/.304/.487 (111 OPS+) with 16 home runs and a great background story might nab him some down-ballot votes.
Didi Gregorius , Arizona Diamondbacks : Strong defense and a .261/.333/.374 (95 OPS+) batting line from the shortstop position makes a nice young player you can dream about going forward, but not a realistic Rookie of the Year candidate.
Jedd Gyorko , San Diego Padres : Sixteen homers and a .244/.289/.426 (103 OPS+) batting line isn't enough to draw consideration for the award.
Juan Lagares , New York Mets : Outside of Fernandez and Puig, Lagares might be the most fun to watch player in this year's NL Rookie of the Year class because of his elite center field defense. He can really go get the ball. Unfortunately, a .268/.305/.393 (96 OPS+) with four homers and five stolen bases won't cut it.
The Yankees punched their ticket to the playoffs with a win over the Blue Jays on Saturday

Sabathia's stance seems to be an increasingly popular one among athletes

Plus the A's have hope and all the rest of the day's action
Matt Chapman and Matt Olson give the A's hope

Despite an awful month, the Dodgers are again NL West champions

The record of 38 previously belonged to Hall of Famer Frank Robinson