NL West could be Trade Central at the deadline
All five NL West teams have hopes to win the division, and all five might be in the market to improve their rotations.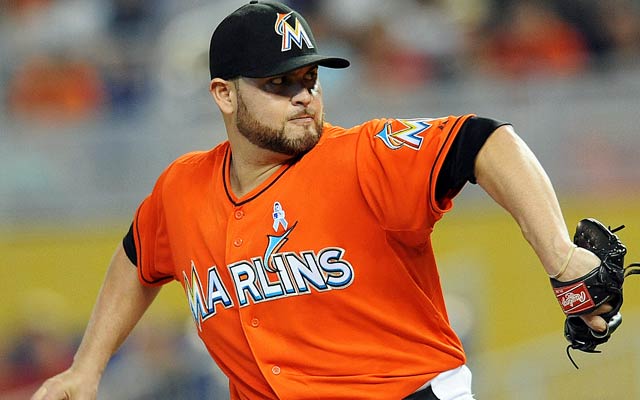 The NL West in many ways has been baseball's most fascinating division this year. And it should stay that way through the trade deadline, as all five teams are likely to be buyers.
And, as fate would have it, all five teams are likely to be shopping for the very same commodity.
"The NL West is going to be Trade Central," one general manager from another division surmised. "That's where the action's going to be. Every team thinks they can win it."
And there's a good reason for that. All of them can.
That even includes the slow-out-of-the-gate, banged-up, $220 million Dodgers, who won't give up easily, as well as all four teams still well above them in the standings.
One interesting thing about the quirky quintet: All five are expected to be looking for starting pitching, though some need it more than others.
Oddly, the last-place Dodgers actually have performed best from a rotation standpoint, as they have compiled the fifth-best starters ERA in the NL (3.51) while the other four teams all somehow manage to squeeze into the bottom third for rotation performance, with ERAs between 4.13 and 4.53.
Marlins veteran right-hander Ricky Nolasco looks like he has a very good chance to wind up in the division, even more so since the Californian is a well-known dominator at AT&T Park of the world champion Giants. Nolasco is 5-3 with a 2.09 ERA vs. the Giants and even better (4-0 with a 1.47 ERA) at AT&T.
Acquiring Nolasco would aid the Giants because it would prevent any of the other four teams from landing the noted Giant killer. But expect one or more of the others to be in play for the solid mid-rotation starter, whose $11 million salary always has looked out of place on the Marlins' balance sheet.
The Giants have discussed Matt Garza and Bud Norris (two more Californians) internally, as well as Nolasco and probably a few others. But the unusual thing is, that's exactly whom their competitors are talking about, too.
Phillies left-hander Cliff Lee, an ace who could transform a rotation, remains an intriguing trade possibility but less likely to be dealt than the others. Jake Peavy, who has been traded once before while on the disabled list, could see it happen again -- though he might be back from his broken rib in mid-to-late July.
The overall starter market could be quite thin, since few teams are committed to selling. So the competition for Nolasco, Garza and Norris could be hotter than you might think. But some other viable, or better, starters who could be in play include Yovani Gallardo, Scott Feldman, Kevin Correia, Kevin Slowey, Lucas Harrell and Joe Saunders.
Here's a closer look at the needs of the fun fivesome out west (with starters' W-L record, ERA in parentheses):
1. Diamondbacks (22-24, 4.13): While the D-Backs have a seeming slew of talented young starters, one or more of their kids might need a year or two more seasoning. That record and ERA (good for 11th in the league) might not seem terrible, but when you consider that their original No. 5 starter, Patrick Corbin, is 9-0 with a 2.19 ERA, it's a bit disappointing. Top prospects Tyler Skaggs and Randall Delgado are among the kids in a rotating rookie spot. But a few veterans aren't having their best seasons, including Ian Kennedy (3-4, 5.21), Trevor Cahill (3-8, 3.92) and Wade Miley (4-6, 4.70). Adding to the woes, Kennedy missed a start recently.
2. Rockies (28-23, 4.41): Everyone needs to be graded on a curve in Colorado. That said, they still could use anther starter. Jorge De La Rosa, Jhoulys Chacin and Juan Nicasio form a young, better-than-you-think trio, while hard-throwing kid Tyler Chatwood (4-1, 2.22) is off to a nice start. But the Rockies know they need reinforcements in Coors, maybe in the pen as well. (Update: The Rox are in the mix for Nolasco, word is.)
2. Padres (27-23, 4.53): The surprising Padres have a very deep group of position players and their usual fine bullpen, leaving the rotation as the obvious area of need. Eric Stults, Andrew Cashner and Jason Marquis all have been serviceable or better, but Edinson Volquez hasn't been great (5-6, 5.67) and Clayton Richard is out. The rest of their obvious rotation need was covered here in depth on Monday. (Update: The Padres are looking at Nolasco and Garza, among others, sources say.)
4. Giants (24-26, 4.47): Rookie Mike Kickham, who got roughed up his first start, was starting in place of surprising-but-injured Chad Gaudin on Tuesday night. The pen is probably the world champs' first priority but, truth be told, Barry Zito, Tim Lincecum and even Matt Cain have only been average, with the name trio all toting ERAs in the mid 4s. Lincecum was so brilliant in the bullpen last October, you have to wonder if that ever becomes a regular-season possibility.
5. Dodgers (19-25, 3.51): When spring began, it would be hard to imagine the Dodgers needing a starting pitcher. They began things with eight viable starters, but now only four are active and under their employ. While they have an excellent front three of Clayton Kershaw, Zack Greinke and Hyun-Jin Ryu -- and Chris Capuano has been serviceable -- they probably could use one more starter, especially with Josh Beckett and Ted Lilly on the disabled list. Like their rival Giants, they could also be in the market for pen help.
Boston wants to add two big bats to their lineup, not just one

Even more relievers signed on the final day of the Winter Meetings

Keep tabs on the top 50 free agents right here
The league is not happy Ohtani's medical information leaked

Kansas City and Baltimore were quite busy at the Rule 5 Draft

Piscotty's mother was diagnosed with ALS earlier this year