NLCS Game 1 Dodgers-Cardinals starting lineups
Here's how managers Don Mattingly and Mike Matheny have filled out the lineup cards for the NLCS opener in St. Louis.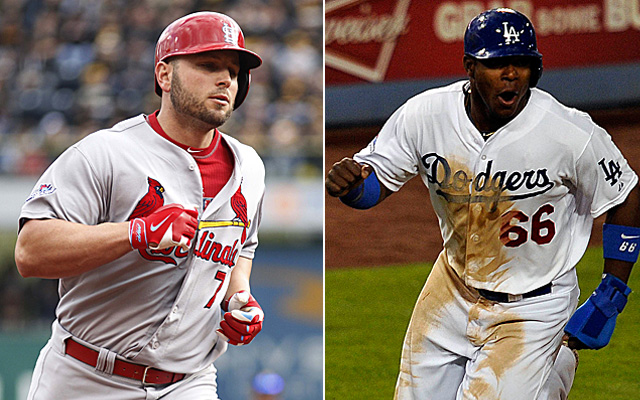 MORE: Dodgers-Cardinals: Who's got the edge? | Game 1 pitching preview
ST. LOUIS -- As our own Danny Knobler has already written, the big lineup-related story from Game 1 is that Andre Either will be manning center for the Dodgers for the first time since Sept. 13. Given that bothersome left ankle of his, Ethier's mobility in the field will be something to watch. 
Now the full lineups ... 
Visiting Dodgers
1. Carl Crawford, LF
2. Mark Ellis, 2B
3. Hanley Ramirez, SS
4. Adrian Gonzalez, 1B
5. Yasiel Puig, RF
6. Juan Uribe, 3B
7. Andre Ethier, CF
8. A.J. Ellis, C
9. Zack Greinke, SP 
1. Matt Carpenter, 2B
2. Carlos Beltran, RF
3. Matt Holliday, LF
4. Matt Adams, 1B
5. Yadier Molina, C
6. Jon Jay, CF
7. David Freese, 3B
8. Pete Kozma, SS
9.  Joe Kelly, SP
This would undoubtedly be the worst trade in Miami Marlins history

The Pirates recently shipped Gerrit Cole and Andrew McCutchen to Houston and San Francisco,...

Surely, Martinez and his agent are holding out for more
The reliever had a very good 2017 season with the NL Central champs

We don't need to discuss Chipper's Hall of Fame case, so let's have fun instead

Dioner Navarro still hopes to return someday