NLCS Giants-Cardinals Game 4 preview: Tim Lincecum vs. Adam Wainwright
Following the Giants' Game 4 loss, San Francisco manager Bruce Bochy announced Tim Lincecum would make his first start of this postseason in Game 4 of the National League Championship Series.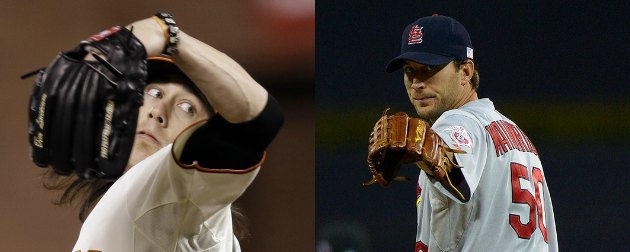 Tim Lincecum and Adam Wainwright face off against each other in Game 4. (AP/US Presswire)
ST. LOUIS -- Coming into Wednesday, the Cardinals had never lost a Game 3 of the National League Championship Series at home, and after a 3-1 victory over the Giants at Busch Stadium, they still haven't. In each of St. Louis' last two World Series runs, it entered Game 3 of the NLCS tied at a game apiece before heading home to win Game 3 and go on to win the series.
The Cardinals' Adam Wainwright will face off against San Francisco's Tim Lincecum on Thursday in an attempt to give St. Louis a 3-1 lead, and put them in a spot to close out the series at home on Friday.
More playoff coverage
ALCS: Tigers vs. Yankees
NLCS: Cardinals vs. Giants
Wainwirght vs. San Francisco
Wainwright, like most of the Cardinals, has been better at home this season. At Busch Stadium, he was 10-6 with a 3.73, as opposed to 4-7 with a 4.20 ERA on the road.
In two starts against the Giants this year, Wainwright was 1-1 with a 2.13 ERA, even though in his start at San Francisco in May, he allowed three unearned run in a loss. However, at Busch Stadium in August, he allowed just five hits and a run in seven innings on Aug. 9, striking out seven against the Giants. In his career against the Giants, he's 2-4 with a 3.04 ERA in six starts and eight total appearances.
While Xavier Nady hasn't started a game in right field this postseason, if Bruce Bochy is looking at matchups, he may look in Nady's direction. In 25 career plate appearances, Nady has nine hits and a a walk. However, he does hot have an extra-base hit against Wainwright. Hunter Pence is 11 for 38 lifetime against Wainwright with a home run and 11 strikeouts. 
Lincecum vs. St. Louis
Lincecum, of course, has been good in the postseason as a reliever, but was awful in the regular season as a starter. Manager Bruce Bochy hopes so, that's for sure.
Lincecum did not face the Cardinals in the regular season, but did throw two hitless innings in Game 1. In his career, he's 5-1 with a 2.89 ERA in seven starts against St. Louis and 3-1 with a 3.21 ERA in five starts at Busch Stadium. 
Only four Cardinals have more than 10 career plate appearances against Lincecum, but all four of those have had success against him. Matt Holliday is 10 for 34 with two doubles, Skip Schumaker is 7 for 23 with a  home run, Carlos Beltran is 7 for 14 with three doubles and a homer, and Yadier Molina is 7 for 18 against Lincecum.
For more baseball news, rumors and analysis, follow @EyeOnBaseball on Twitter, subscribe to the RSS feed and "like" us on Facebook.
Maxwell joins a growing movement across sports

The Yankees punched their ticket to the playoffs with a win over the Blue Jays on Saturday

Sabathia's stance seems to be an increasingly popular one among athletes
Plus the A's and Brewers have hope, Giancarlo goes deep again, and much more

Matt Chapman and Matt Olson give the A's hope

Despite an awful month, the Dodgers are again NL West champions