NLDS Braves-Dodgers Game 3 preview: Ryu vs. Teheran
For the first time since 2007, two rookie starting pitchers will meet in Game 3 of the NLDS on Sunday. Let's preview the matchup.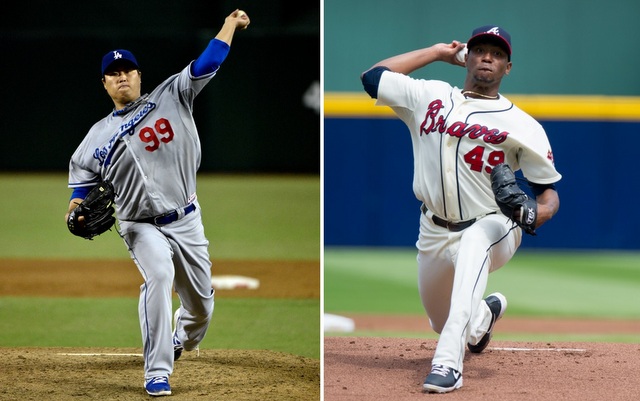 More: Game 1 quick hits | Game 2 quick hits | Who has the edge?
The Braves and Dodgers are in Los Angeles for Game 3 of their NLDS matchup on Sunday night. The clubs split the first two games of the best-of-5 series, so Game 3 is crucial. First pitch is scheduled for 8:07pm ET (5:07pm local time) and can be seen on TBS.
Tonight's starting pitchers both just completed their first full season in the big leagues. The Dodgers are going with high-priced South Korean import Hyun-Jin Ryu (14-8, 3.00 ERA, 1.20 WHIP and 3.14 K/BB in 192 innings) while the Braves will send out young Colombian-born Julio Teheran (14-8, 3.20 ERA, 1.17 WHIP and 3.78 K/BB in 185 2/3 innings). Obviously the two pitchers had very statistically similar seasons.
It's worth noting Ryu has been dealing with some tenderness in his elbow -- he's been wearing a compression sleeve all week and recently threw a bullpen session under the watchful eye on Dr. Neal ElAttrache -- but both he and the team insist he is fine and ready for the start. If there was any significant concern, I'm sure Game 4 starter Ricky Nolasco would be getting the ball instead.
As usual, the weather forecast in Los Angeles is damn near perfect. A few clouds, temperatures in the 80s, no humidity, and, most importantly, no threat of rain. You won't find weather any better for a postseason game. Let's break down the pitching matchup for the pivotal Game 3, which Bill Shaikin of the Los Angeles Times notes is the first meeting between two rookie starters in a postseason game since Franklin Morales (Rockies) and Micah Owings (Diamondbacks) in 2007.
Ryu vs. Braves
First and foremost, it's important to note Ryu was outstanding at Dodger Stadium this season. He posted a 2.32 ERA and 1.18 WHIP in 97 innings at Chavez Revine, and 13 of his 15 home starts qualified as a quality start. Having Clayton Kershaw and Zack Greinke lined up for Game 1 and 2 made it easy to start Ryu at home later in the series.
Although the Braves and Dodgers played just two series this season, Ryu managed to pitch in both of them. He held Atlanta to two runs in five innings at Turner Field in mid May and then one run in 7 2/3 innings in early June. He struck out 11 and walked six in the 12 2/3 total innings.
Ryu held players currently on the Braves roster to just two extra-base hits (both doubles) in those two starts. Freddie Freeman had one of those doubles as well as two singles and two walks in eight plate appearances. One the other side of the coin, both Evan Gattis and Brian McCann were hitless in three at-bats apiece. Andrelton Simmons is the only other Brave with multiple hits against Ryu.
Players currently on the Atlanta roster hit .225/.295/.275 in their two games against Ryu, but it's a super small sample size. I wouldn't expect Freeman to mash any less than I would expect Gattis to take an 0-fer. We don't have much information on this matchup.
Teheran vs. Dodgers
Teheran's home/road split this season was relatively small, though he did pitcher better at home. On the road, he had a 3.38 ERA and 1.21 WHIP in 14 starts, not all that different from his overall numbers. His K/BB ratio was significantly worse away from home, however (2.87 vs. 4.73).
Even though he spent part of 2011-12 and all of 2013 in the show, Teheran has never pitched against the Dodgers in his career. Not one single start (or relief appearance). The only player on Los Angeles' playoff roster with experience against Teheran is Michael Young, who took an 0-for-3 against the right-hander while with the Phillies earlier this year. That's it.
The old adage says the pitcher has the advantage when facing a lineup for the first time, and we caught a glimpse of that a few days ago when Gerrit Cole of the Pirates dominated the Cardinals. The Dodgers are going into Game 3 blind against Teheran and vice versa.
The Twins have already fortified the bullpen with Addison Reed, and now they want to address...

The Orioles likely want pitching, and the Indians have plenty of it

Halladay died in a November plane crash off the coast of Florida
The power-hitting outfielder is headed to Toronto

Martinez could add some power to a Boston lineup void of it

It's almost that time of the year again, time for the Tebow madness to return