NLDS Game 3 grades: Pirates, Dodgers both one win from NLCS
The Dodgers and Pirates moved closer to meeting in the NLCS with wins on Sunday.
by

Eye on Baseball staff

• 2 min read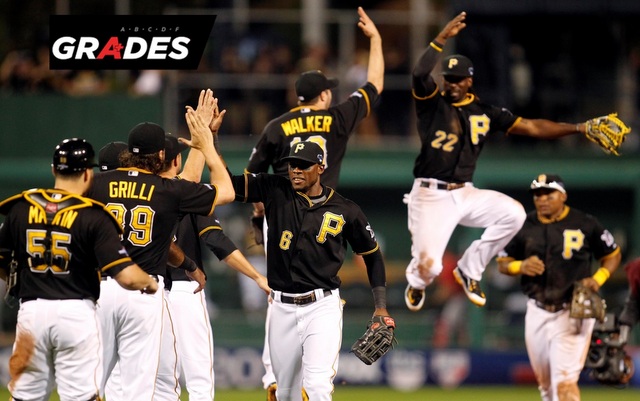 More NLDS: Pirates-Cardinals Game 3 quick hits | Dodgers-Braves Game 3 quick hits
With their Game 3 wins on Sunday, but the Pirates and Dodgers are on the verge of advancing to the NLCS. Both teams have a two games-to-one lead in their respective NLDS matchups but that doesn't guarantee anything -- Game 4 and Game 5 (if necessary) are hardly guarantees regardless of where they're playing or who is scheduled to pitch.
For the time being, it's time to hand out some grades for Sunday's playoff action. Both ALDSes had a scheduled off-day, so we're NLDS exclusive in this post.
| Team | Grade | Analysis |
| --- | --- | --- |
| | A+ | The Dodgers, specifically their offense, get the day's top mark. Hanley Ramirez, Yasiel Puig & Co. pounded rookie right-hander Julio Teheran and five relievers for 13 runs on 14 hits, three walks and one hit batsman in just eight offensive innings. They scored four runs in an inning twice and at least three runs in an inning on three occasions. The top six hitters in the Los Angeles lineup went a combined 12-for-28 (.429) with 11 RBI, and that includes Mark Ellis' 0-for-4 from the second spot. Relentless. - Axisa |
| | B+ | When Pedro Alvarez came to the plate in the eighth inning of Game 3 of the NLDS on Sunday, it was a tie game with runners on first and second and one out. He had struck out swinging twice on the day and been intentionally walked once. Opposing him was Kevin Siegrist, the hard-throwing young Cardinals lefty whom left-handed batters hit .118 against in the regular season. Alvarez, it should be noted, batted .180 against lefties in the regular season. No matter, though, as he laced a sharp single to right to plate the go-ahead run. Lucky? Perhaps. Clutch? Without question. - Perry |
| | C+ | Both starting pitchers in the Cardinals-Pirates game. Joe Kelly and Francisco Liriano weren't their sharpest on Sunday, but they avoided the big inning despite a number of tight spots. Combined they went 11 1/3 innings and allowed four earned on eight hits, struck out 10, walked five unintentionally. In particular, Kelly settled down nicely after an unlucky first inning, and Liriano blanked the Cards for the first four frames. - Perry |
| | D | Thirteen runs have a way of making you forget ugly starting pitching performances, but we're not going to let Hyun-Jin Ryu off the hook. The Dodgers southpaw allowed four runs on six hits and a walk in just three innings on Sunday, plus he directly contributed to the damage with two terrible defensive plays. First he was unable to complete a 3-6-1 double play because he missed the first base bag, then he threw home on a little squibber up the line even though there was no time for a play at the plate. To be fair, Ryu was reportedly pitching through a tender elbow and back pain, but his teammates definitely bailed him out in Game 3. - Axisa |
| | F | It's not easy to score six runs and still lose by seven. The Braves' pitching staff was a disaster on Sunday, but don't blame it all on Teheran (2 2/3 innings, 8 H, 6 R). Left-hander Alex Wood allowed four runs (all unearned because of his own error) in 2 2/3 innings to let the Dodgers pull away before Jordan Walden and Luis Avilan -- supposedly two of the team's top setup men -- retired just five of 10 batters faced and combined to allowed three runs in 1 2/3 innings (all charged to Walden). Ugly. Ugly ugly ugly. - Axisa |
Pawol is expected to umpire in the minors again come the regular season

No. 3 Texas Christian is looking to ruin Long Beach State's return home

Martinez's physical isn't taking much longer than usual
The Rangers have a lot riding on Mike Minor and Matt Bush

Though the process is far from complete, taxpayers got good news Thursday

Dickerson had been designated for assignment by the Rays last week