NLDS Grades: Cardinals slip past Pirates in five games
The Cardinals prevailed over the upstart Pirates in five hotly contested games. Now it's time pass out grades for the NLDS.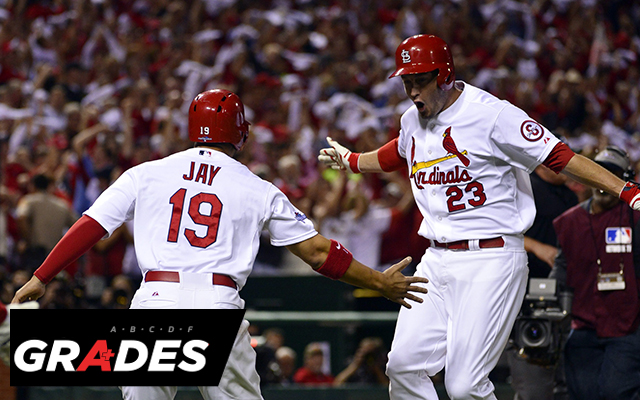 MORE: Game 5 quick hits | R.I.P., 2013 Pirates
The NL Central-champion Cardinals have edged the Pirates three games to two in the NLDS, and now St. Louis will advance to play the Dodgers in the NLCS. 
Before any of that happens, though, we must see to the business of passing judgment on the recently concluded Buccos-Cards series. So let's make with the report cards ... 
| Team | Grade | Analysis |
| --- | --- | --- |
| | A | Adam Wainwright. The hero of Game 5 was dominant in each of his two starts. Across those 16 innings, Wainwright whiffed 15 batters, walked only one and gave up one run. The Cardinals won the necessary three games in this series, and Wainwright was largely responsible for two of those victories. |
| | A | The home crowd at PNC Park. As we saw in the wild-card game against the Reds, the Pirates' hometown fans are not wanting for zeal, enthusiasm and raw volume. Standing room only crowds, deafening cheers, a raucous buzz in the air -- The folks at PNC in this series made it clear that baseball is back in the Steel City. Of course, that Busch Stadium crowd isn't so bad, either.  |
| | B+ | Pedro Alvarez. He was really the only Pirate who brought his bat on a consistent basis. For the series, he batted .353 and slugged .941. In Game 5, he drove in the Pirates' only run and kept the line moving in what could've been a big seventh inning for the visitors.   |
| | D- |  Lance Lynn. He fairly well imploded in Game 2, as he allowed five earned on seven hits in 4 1/3 innings of work. Since his earned runs tally exceeded his innings total for that particular outing, that qualifies as a "disaster start." To say the least, you don't want one of those in the postseason.  |
| | F | Starling Marte and Neil Walker. They're the Pirates 1-2 hitters -- the table-setters -- but in the NLDS they did precious little setting of tables. Combined, Marte and Walker went a foul-smelling 1-for-38 (1-for-38!) across the five games. With no one on base for the power bats in the middle of the lineup, the Pittsburgh offense was deeply compromised.  |
Five months is mid-to-late March, so this could impact the 2018 season

Cubs manager Maddon becomes the first manager ever ejected twice in one postseason series

Closer Wade Davis pitched two innings in Game 4 to help force a Game 5
Also, how much did the Cubs increase their chances?

Los Angeles will have another chance to close the series out on the road

They're alive in the NLCS after their Game 4 win over the Dodgers