NLDS on deck, Yasiel Puig energized the Dodgers in several ways in 2013
Yes, manager Don Mattingly has said since the outfielder's recall in early June that Yasiel Puig has supplied the Dodgers with energy. But, aside from the 19 homers, 42 RBIs and .391 on-base percentage, how, exactly, do you define that energy?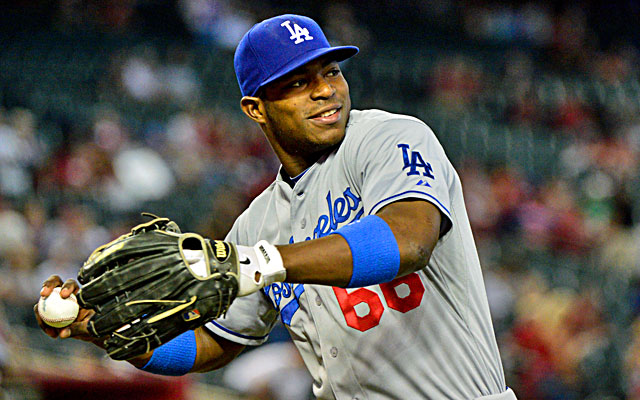 Yasiel Puig this season provided the Dodgers 19 home runs, 42 RBI, a .391 on-base percentage and the most hits during his debut month than any player since Joe DiMaggio.
But what he also provided, along with all of those black and white numbers, was enough wattage to help turn their season around. The instant they plugged him into the lineup on June 3, and it was as if the Dodgers suddenly became turbocharged.
Manager Don Mattingly has backed first baseman Adrian Gonzalez as the club's MVP for Gonzalez's season-long consistency. Others have nominated Hanley Ramirez and Clayton Kershaw.
What is most associated with Puig is the "energy" he's given the Dodgers since the moment he arrived, energy the Dodgers hope to draw from as their NL Division Series with the Braves opens with Game 1 Thursday.
OK. There is plenty of energy in a three-run homer. And in a rocket-launched throw from right field to nail a runner at the plate.
But beyond that … how, exactly, do you define this "energy" Puig has provided?
I recently put that question to Mattingly, given his frequent use of that word in conjunction with his new toy this summer.
"The way he plays is infectious," is the way Mattingly defined it. "Stadium-wise, there's an excitement among fans."
Granted, Mattingly said, you don't get that without producing. Which leads back to Puig's numbers. But, he said, it goes beyond that.
"He's created a lot of attention for himself and for the club with the way he's played," he said. "Within that, you've got guys who have played for six or eight years seeing a young guy like this with energy, and that's fun to see.
"I think he created a competition among guys: If you don't step up, you might not play.
"I think that's healthy. They didn't get somewhere without competition. It's not Little League where everybody plays. If you do well, you'll play.
"The whole frenzy there, it just kind of spreads."
Little more than a week before Puig's arrival, during the Dodgers' worst times and with his job in jeopardy, Mattingly opened eyes by benching Andre Ethier in Milwaukee.
With Puig, there was much talk during the summer about an overcrowded outfield that also included Ethier, Carl Crawford and Matt Kemp. But injuries pretty much ensured that none of the four were ever healthy at the same time, and Mattingly never did have to make a firm decision regarding which of the three would comprise his starting outfield.
Had Mattingly been forced to choose, there was little question all season that Puig would have remained a regular.
The energy he provided -- along with those productive offensive numbers -- sparked the Dodgers to a 66-38 record in games in which Puig appeared.
Since 1916, only DiMaggio (38 in 1936) and Ichiro Suzuki (38 in 2001) recorded more multi-hit games in their first 75 in the majors than Puig (36). His 44 hits during his first month also rank as the second-most in major-league history, behind only DiMaggio's 48 in May, 1936.
And Puig also this year became the first player since DiMaggio in 1936 with at least 70 hits and 10 homers in his first 50 major league games, according to the Elias Sports Bureau.