NLDS Pirates-Cardinals Game 2 preview: Lynn vs. Cole
The Pirates and Cardinals will play Game 2 of their NLDS matchup on Friday afternoon. Here's a breakdown of the pitching matchup.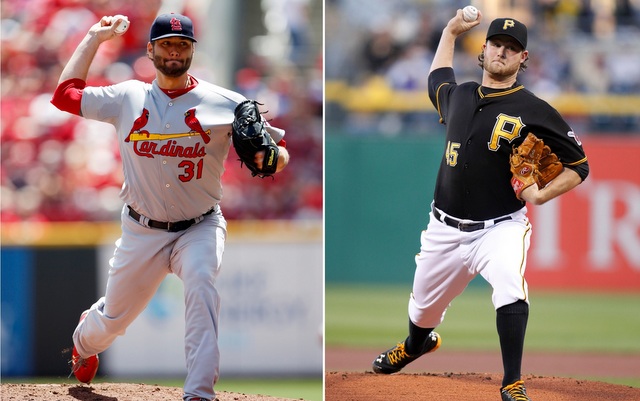 More: Game 1 Quick Hits | Game 1 Grades | Beltran a Hall of Famer? | Who has the edge?
Game 1 of the NLDS went exactly according to plan for the Cardinals. Adam Wainwright struck out nine Pirates in seven innings of one-run ball while A.J. Burnett allowed seven runs in just two innings of work. He allowed all seven runs with zero outs in the third before being lifted.
St. Louis comes into Friday with a one game-to-none lead in the best-of-five series, but they shouldn't expect the rest of the NLDS to be as easy as Game 1. The Pirates won 94 games this season and Burnett was very good all year. Thursday was an outlier.
Game 2 of the series will be played at 1:07pm ET (12:07pm local time) on Friday. The weather.com hourly forecast says it'll be a great baseball weather day for baseball in St. Louis, with temperatures in the 80s and enough clouds to keep the sun from being a significant factor. Most importantly, there is no threat of rain.
Friday's pitching matchup features two young right-handers: 26-year-old Lance Lynn (15-10, 3.97 ERA, 1.31 WHIP and 2.61 K/BB in 201 2/3 innings) for the Cardinals and 23-year-old Gerrit Cole (10-7, 3.22 ERA, 1.17 WHIP and 3.57 K/BB in 117 1/3 innings) for the Pirates. Let's take a closer look.
Lynn vs. Pirates
First things first: Lynn pitched substantially better at home (2.82 ERA and 1.18 WHIP) than on the road (5.15 ERA and 1.46 WHIP) this year. He was a bit more effective at night (3.83 ERA and 1.31 WHIP) than during the day (4.58 ERA and 1.32 WHIP), on the other hand.
Lynn has been around for a few years now, so he's familiar with the Pirates and they're familiar with him. They roughed him up a few times this season (5.60 ERA and 1.54 WHIP in five starts), including a disastrous four-inning, seven-run start at PNC Park in late August.
Believe it or not, the Pirates player with the least success against Lynn is likely NL MVP Andrew McCutchen. He's gone 4-for-26 (.154) with 10 strikeouts and zero walks in his career against the St. Louis righty. Baseball, man. You can't predict. On the other hand, Neil Walker has gone 5-for-19 (.263) with a double, a triple, a homer (.979 OPS) and more walks (five) than strikeouts (three) against Lynn.
Players currently on the Pirates postseason roster have hit .273/.349/.448 against Lynn in his career. Starling Marte leads the regulars with a 1.332 OPS in 16 plate appearances. Small sample size, obviously.
Cole vs. Cardinals
Cole, the first overall pick in the 2011 draft, made his big league debut in June and pitched much better on the road (2.38 ERA and 0.95 WHIP) than at home (3.75 ERA and 1.30 WHIP). Like Lynn, he was worse during day games (4.28 ERA and 1.35 WHIP) than at night (2.68 ERA and 1.07 WHIP).
As good as his overall numbers were, it's important to note Cole was at his absolute best down the stretch in September, when he went 4-0 with a 1.69 ERA and 39 strikeouts in 32 innings (11.0 K/9) across five starts. Prior to September, he had a 6.4 K/9.
The improved strikeout rate stems from increased usage of his slider. Cole threw his slidepiece just 10.6-percent of the time from his debut in June through August before ramping it up to 19.4-percent in the season's final month, according to PitchFX. Add a high-octane fastball that averaged 95.5 mph to a slider that averaged 93.6 mph and you've got a devastating combination.
Even though he made 19 starts and these two teams played 19 times in the regular season, Cole did not face the Cardinals at all this year. This will be his first look at the St. Louis batters and their first look at him. The pitcher tends to have the upper hand when it comes to seeing a team for the first time.
Ferrell somehow avoided going to the ground

Plus, we saw a possible AL Wild Card Game preview in the Bronx and lots more from around M...

The Pirates disappointed in 2017. Will 2018 be any different?
Let's see how SportsLine forecasts the race for MLB's 10 playoff spots

This has only previously happened twice in history in non-strike seasons

Plus the AL West champ has been crowned and more