No Bryce here, but still some big-time talent, led by Appel, Buxton, Zunino and Gausman
This year's amateur draft isn't all that deep, but the talent at the top is solid, led by some terrific college pitchers and a few multi-talented prep players.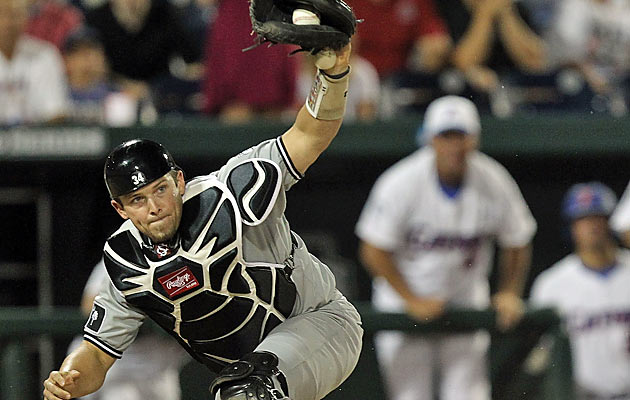 Florida's big-hitting catcher Mike Zunino is getting comparisons to Mike Piazza. (Getty)
There's no mega-talent like Stephen Strasburg or Bryce Harper this year. But there's still plenty of ability at the top of Monday's amateur draft. And plenty of intrigue.
This is the first year with new rules, and thus real slots, with real consequences. There's even more strategy now as teams with actual dollar limits may decide to save their bonus money for later.
The talent at the top of this draft is decent, though a lack of depth is suspected by baseball people. Despite the new rules, talent still rules, and here are the top eight players, with some thoughts about what their futures may hold for them, and who may take them:
1. Mark Appel, Stanford RHP. He combines a top-rated fastball with a legit changeup and curveball. The Astros pick first and have a decent chance to take him, but word was that as late as Saturday they were still talking to a few candidates in order to judge their greatest value and how best to spent their bonus allotment. The Houston-born Appel (a small bonus there) looks like the surest thing. If he goes No. 1, it will complete a banner quinella for Stanford, which had quarterack Andrew Luck go first in the
NFL draft
. Shouldn't go lower than second as Minnesota, which hold the No. 2 pick, badly needs pitching.
2. Byron Buxton. Ga. HS OF. He's a five-tool outfielder along the lines of a B.J. Upton or Dexter Fowler. His speed is his top tool, but his arm is pretty special, too. Could be "70s across the board'' said one scout referring to the second-highest grade on the 20-to-80 scale. Very nice kid from Mayberry-like town of Baxley, Ga. The one question might be a single-digit homer total in his senior season. Not a worry, though. Could go anywhere in the top three.
3. Mike Zunino, U. of Fla. C. Big-time offensive catcher. The bat is the best tool for a catcher to have these days, as it's the rarest commodity. Some say he's a Mike Piazza with a better arm. He performed in the SEC, which is a great indicator. Defensively, he probably won't be a star. But that's nitpicking. The son of a Reds scout who grew up playing at the Twins camp in Ft. Myers, Fla. He's also a possibility at No. 3 to Seattle, but could also drop a few spots, especially if Buston is there for Seattle.
4. Kevin Gausman, LSU RHP. The mid 90s thrower is said to have a great fastball-changeup combination and even better competitive instincts. He rejected a Dodgers deal as a 2010 sixth rounder out of his Colorado high school to play at baseball hotbed LSU. The one small issue is about whether his breaking ball well develop beyond an average pitch. There were rumors the Astros and Twins were considering him but he shouldn't last too long even if they pass.
5. Carlos Correa, Puerto Rico HS SS-3B. He's a shortstop now but he's got a huge bat, easily big enough to switch to third base at the big-league level. Also has a nice glove and an arm. May yet turn out to be the best player in the draft.
6. Albert Almora, Fla. HS CF. This five-tool athlete from Miami with great makeup shouldn't last too long. Some compare him to Carlos Beltran, which isn't too bad.
7. Kyle Zimmer, USF RHP. The converted third baseman has all the pitches, including a huge fastball that's reached into the upper 90s. Not a lot of innings on his arm, as he came to the University of San Francisco as an infielder.
8. Max Fried, Calif. HS LHP. Doesn't throw as hard as some of the others, but then he's a high school lefty. Some have compared the Los Angeles-area southpaw with the low-90s fastball and great changeup to a past Southern Calirfornia prep prospect, Cole Hamels. 
Baseball players forced to take pictures usually lead to fun for all of us

One of the most celebrated programs in baseball is looking to continue its run

A closer look at the teams in the Cactus League and Grapefruit League
Spring training baseball gets underway Friday

Christopher Crawford weighs in on all things prospects

Pawol is expected to umpire in the minors again come the regular season