No deficit seems too big for Rays (except this one is starting to)
The Rays know better than anyone that anything is possible in September. But they also know better than anyone how difficult (and how improbable) a comeback like that is. They were hoping they wouldn't need it, but after losing three straight in Baltimore, capped by Thursday's incredible 14-inning game, things are beginning to look dire again.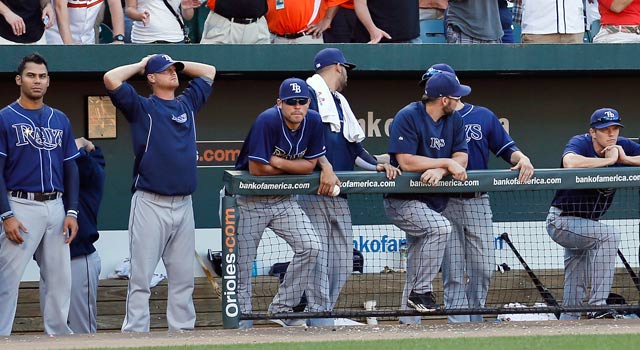 The Rays, even after a sweep in Baltimore, are in a better position than they were at this point in 2011.
(Getty Images)
BALTIMORE -- No team knows better than the Rays what's possible in September.

"Anything can happen in three weeks," Matt Joyce said Thursday morning.

Sure it can, but who wants to count on anything happening again? Who wants to count on repeating the comeback of the ages one year later?

"We do want to remember we've been there before," Rays owner Stuart Sternberg said this week. "But just because we've come back from deficits doesn't mean we're better at it."

Just because they did it once doesn't mean they'll do it again. Because if no team knows better than the Rays what's possible, it's also true that no team knows better than the Rays how difficult -- and how improbable -- September 2011 really was.


"I look back at it sometimes and I think, 'How did that happen?'" manager Joe Maddon said.

The Rays know that it happened because they played so well, but also because the Red Sox didn't. They were happy to begin this week knowing that they could still get to the playoffs simply by winning, simply by beating the two teams ahead of them and winning enough of their other games, too.

That's not as true now, after the Orioles swept them in a three-game series. It's not as true, after Thursday's crazy 3-2, 14-inning loss, a game in which anything did seem possible.

This was the game some Rays had labeled as "must-win," even though losing it only dropped them four games behind the Orioles with 19 games to play. They're actually closer to a playoff spot than they were after 143 games a year ago (they trailed the Red Sox by 5 1/2 games then), but they still had six head-to-head meetings remaining (and they would go on to win five of them).

Now, the Rays have just three games left with the Yankees (this weekend in New York), and three with the Orioles (the final three games of the regular season, at Tropicana Field).

"We've got a chance to return the favor, those last three games," Maddon said, doing his best not to sound devastated by this week's losses.

By this time a year ago, the Red Sox already had doubt in their minds. By contrast, the Orioles believe they can do anything, because they keep seeing games like Wednesday night's, and games like Thursday afternoon's.

The Orioles have now won 13 consecutive extra-inning games, and they own a 27-7 one-run record that is the best of any team ever. They have surprising stars, and they have the energy of a 20-year-old, helped by Manny Machado, whose game-winning hit Thursday capped an incredible 24-hour display.

And the Rays? They have the memories of last year, but what's stronger and more worrisome are the memories of last month and the month before.

"Same old story," Maddon said after Thursday's game. "We just can't score enough runs."

They're the perfect contrast to the Orioles, with losses in 8 of their last 10 one-run games. So many of them are like Thursday's (well, not exactly like Thursday's), with the opponent's bullpen coming away as the star of the game.

It's been a year-long problem. The guys that the Rays brought in to hit (Carlos Pena, Luke Scott, Hideki Matsui) mostly haven't. Evan Longoria missed months with a hamstring injury, and while he gave the Rays a lift when he returned, the hamstring still hampers him and the lift didn't last long enough.

They're still the Rays, so they still go at it hard, still do things like play a five-man infield -- in the 13th inning Thursday, when it worked! They still pitch well enough to keep themselves in most games, and they still have enough pitching to make a late playoff run possible.

They have the organizational memory that comes from having made last year's run.

"We've been in difficult moments in the past," Maddon said.

Until the Orioles series, the Rays actually had the exact same record as they did through the same number of games in 2011. They were in better position, because the Yankees and Orioles didn't have as good records as the Yankees and Red Sox did at that same point last year.

But last year, the Red Sox kept losing. Perhaps that starts happening with this year's Orioles (who now head out for a three-city trip that begins in Oakland), or for this year's Yankees (although they have a relatively easy schedule once the Rays leave town).

There's still almost three weeks to play. Anything still seems possible, especially for the team that made "Game 162" a theme.

"I don't expect anything less from this team than to keep fighting," Joyce said.

"We learned the lesson last year," Maddon said. "No matter how dire it may seem, just keep playing. They're all must-wins. Then you get to 162, and all of a sudden you're back in the playoffs again."

Sure it's possible. They know it better than anyone.

But they were hoping not to count on it happening again.


The Angels' Ohtani faced Milwaukee in Cactus League action on Saturday

New Mexico broke the school and WAC single-game run record with a 39-0 victory over Mississippi...

It's the first Saturday slate of spring training games, and Ohtani will be taking the mound...
The Tigers are very early in their rebuild and they're counting on Miguel Cabrera to rebound...

The Grapefruit League and Cactus League seasons started on Friday

Data will be collected and then used to determine whether humidors are necessary in 2019