No ending in sight: A-Rod, Yanks stuck with each other for 2013
Alex Rodriguez's appeal of his 211-game suspension in the Biogenesis case will stretch into the offseason.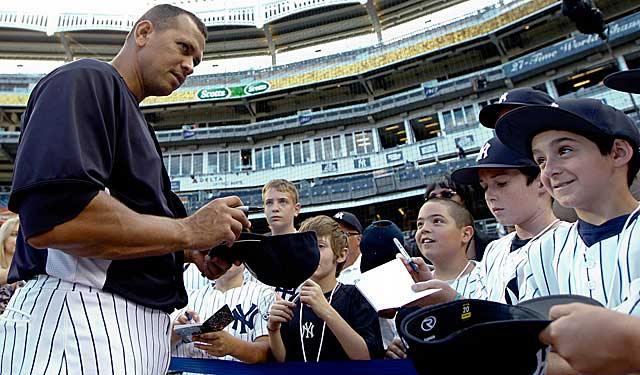 Embattled star Alex Rodriguez and the Yankees are stuck with each other, through the rest of this season and postseason.
Rodriguez's appeal of his MLB-imposed 211-game ban for performance enhancing drugs has no chance to be both heard and decided before the Yankees finish playing this season, even if they should make the postseason, people familiar with the case say.
While preliminary hearing dates have started to be discussed between Major League Baseball and the baseball players union, it has become clear to all parties that it's going to take the offseason before the complicated case is settled.
This might not be such a bad thing for the Yankees on the field, as Rodriguez has put his battles with MLB and his own team aside while playing, and is batting .319 with two home runs, sparking the team over his first 12 games.
Off the field, though, Rodriguez has helped turn things into a circus, with a rotation of high-paid carnival barkers and lawyers at his disposal.
This show -- described Tuesday on the back page of the New York Post as Bronx Zoo II --could be long-running. There is no sign it will let up anytime soon.
Baseball's Joint Drug Agreement calls for a panel "to convene a hearing as soon as practicable and, absent good cause shown, no later than 10 days after the grievance is filed." But while Rodriguez's appeal was filed Aug. 7, two days after his suspension came down, the phrases "as soon as practicable" and "absent good cause," leave quite a lot of room for flexibility.
Even after the case is heard, baseball arbitrator Fredric Horowitz would have 25 days to rule.
Players union chief Michael Weiner predicted at the All-Star Game press conference that Biogenesis-related hearings in general could take into November and December, and that looks like a very good estimate -- even though there is only once case left to be heard.
The sides need to exchange evidence in advance of the case, and the pace of the exchange hasn't always been what both sides desire. In any case, neither side appears to be rushing things.
MLB had been hoping to have all Biogenesis cases resolved during the 2013 season, and 13 players have signed off on and are serving suspensions. But Rodriguez's case is different because of the unprecedented number of games levied for a PED ban, plus many other complicating factors, including but not limited to what is said to be voluminous evidence. In addition to MLB charging A-Rod with procuring and taking performance enhancing drugs, his alleged attempt to impede and even "frustrate" the MLB investigation surely is another complicating factor.
MLB preferred to keep the entire Biogenesis case contained to one year because of the obvious negative nature of the story as baseball tries to rid itself of PEDs that were a major problem a decade ago, but less so now. It behooves Rodriguez, at least financially, to serve any possible penalty in subsequent seasons, as his record $275 million was somewhat front-loaded; his salary decreases from $28 million this year to $25 million next year and then to $21 million in 2015.
Rodriguez's side has pointed to a lack of credibility of MLB's chief witness, Tony Bosch, the former director of the Biogenesis "wellness" clinic, saying Bosch undeniably was a drug dealer who first denied serving that role. Despite Bosch's past occupation, MLB still was able to get 13 players to agree to non-analytical positive suspensions (failures without drug tests), with Ryan Braun accepting a 65-game ban and 12 others signing up for 50-game bans.
One concern for MLB potentially could be Bosch's willingness to testify if the federal government becomes involved in a case against him. The feds haven't done so for months as MLB's investigation has gone on since the Miami New Times' January report revealed A-Rod and others were Biogenesis customers. While it wouldn't be a positive development for MLB to lose Bosch as a witness, it is said that MLB still has other evidence, such as texts and possibly emails, plus other witnesses.
Rodriguez's ability and predilection to hire a succession of high-priced lawyers, such as the latest one in a long lineup, the swashbuckling New York attorney Joe Tacopina, could be an additional complication. The publicity friendly Tacopina has joined at least noted sports attorney David Cornwell and Jordan Siev from the firm of Reed Smith, Jay Z's legal team, in a current mix that no longer appears to include famed Miami defense lawyer Roy Black or well-known sports attorney Jay Reisinger, who represented Rodriguez when he made his 2009 admission to failing the 2003 MLB-issued survey test.
It's possible that Rodriguez's ever-changing lineup could potentially leads to more delays.
The Rodriguez case lately has been marked by massive publicity and legal sideshows.
The latest one involved Tacopina being caught in a surprise by Matt Lauer on the 'Today' show Monday, when Tacopina proclaimed that he'd "like nothing more" than to discuss the specifics of Rodriguez's case but was prevented from doing so by the confidential nature of MLB's drug rules, whereby Lauer immediately confronted him with a waiver letter from MLB agreeing to allow him to talk freely.
Stunned, Tacopina declined to sign the waiver. Later, he called MLB's offer a "publicity stunt,"which seemed like an odd charge from someone known for generating publicity. Tacopina had thrown barbs at MLB and the Yankees in a recent New York Times article, going so far as to suggest they were in an unholy alliance to rid the game of Rodriguez.
Tacopina reiterated on 'Today' that he believes he can make a case that Rodriguez not to be suspended for even one game, though he declined to give a specific answer as to whether Rodriguez had taken PEDs since failing the '03 test. Neither the union nor any of A-Rod's lawyers have suggested that Rodriguez hasn't used PEDs, and Tacopina is the first to suggest he shouldn't be suspended at all.
Rodriguez reportedly is also preparing a lawsuit against Yankees team doctor Chris Ahmad and a grievance against the Yankees for medical care related to his chronically injured hips. Tacopina claimed the Yankees didn't tell Rodriguez an MRI showed he had a hole in his hip last October, and sent him out in the playoffs to look like an "invalid," apparently suggesting they were trying to scheme their way out of his record contract rather than win a World Series.
The Yankees have said Rodriguez was aware of his ongoing hip issues and made no complaints during the postseason about them. He did not have his second hip surgery until more than halfway through the winter, mid January, which delayed the start to his season.
But that delay might seem like nothing compared to how long it may take to get a resolution in the case of A-Rod's 211-game suspension.
CBS Sports HQ Daily Newsletter
Get the best highlights and stories - yeah, just the good stuff handpicked by our team to start your day.
Please check the opt-in box to acknowledge that you would like to subscribe.
Thanks for signing up!
Keep an eye on your inbox for the latest sports news.
Sorry!
There was an error processing your subscription.
Louie Iacuzzi found the banner lying in the road

Dodgers have easiest strength of schedule among postseason contenders, but who has the tou...

The Phillies would've used Jones in a part-time role
It's the second time Puig's home has been burglarized this month

The Red Sox clinching the division feels inevitable, but the Yankees are trying to hold them...

A fan reached over the wall and took away a catchable fly ball from Stephen Piscotty