No longer surprising, now the A's are just good
Win once, and maybe it's a surprise. But now the A's are winning again, and doing it by beating the best.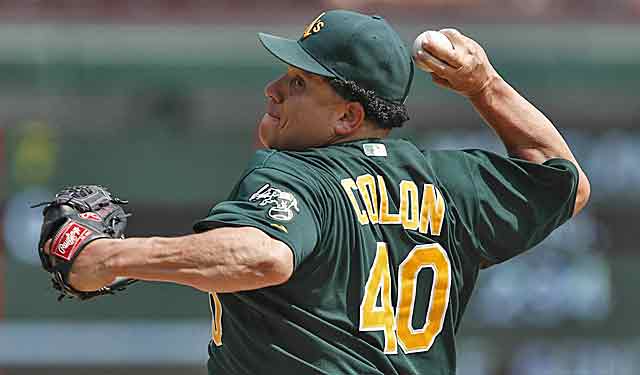 ARLINGTON, Texas -- The Athletics won 94 games last year, and it sure looks like they're going to win even more this year. They pitch well and they hit home runs and when they face the best teams and the best pitchers, they come out on top a whole lot more often than not.
Isn't it about time we stop thinking of them as something of a surprise?
"I don't think we are a surprise team," manager Bob Melvin declared Saturday.
He's right. If we're still surprised by these guys, we're the ones who are wrong.
If we're still looking at their lineup and calling it unimpressive, then we're not being fair. If we're still leaving them out when we talk about the elite teams in the game, then we're playing to our own biases against players who have been overlooked and guys who didn't sign huge contracts.
And now that we can say with a fair degree of certainty that the A's will again be playing in October -- their lead over the fading Rangers is up to 5 1/2 games, after Saturday's 1-0 win over Yu Darvish -- it's time to wonder if this is finally the Billy Beane team that can win in October.
Before you say no, remember how the A's got started on this 15-4 run that has basically won the West. Two and a half weeks back, the A's went into Detroit, took on Anibal Sanchez, Justin Verlander, Doug Fister and Max Scherzer, and scored 34 runs in four games.
Then they went home and beat David Price. They came here to Texas and beat Darvish, for the fourth time this year (yes, two of the wins were by 1-0).
This is the A's team they should have made a movie about. All this team does is win, and yet, how many A's players can you name?
"I mean, I know all these guys," Josh Donaldson said.
In case you don't know, he's the third baseman, the guy who scored the only run Saturday, the guy with a .301 batting average, 22 home runs and 87 RBI.
"You don't see a lot of our guys get the pub, except [Yoenis] Cespedes, when he won the Home Run Derby," Donaldson said. "But there's a lot of quality players here. I definitely feel we've been under the radar. You would think that after a while people would see it.
"I mean, they're going to have to realize it. This team's too good."
Donaldson was given away by the Cubs, in a long-ago trade for Rich Harden and Chad Gaudin. Brandon Moss, who couldn't stick with the Red Sox, Pirates or Phillies, has back-to-back 20-homer seasons with the A's (and has as many home runs as any American Leaguer over the last four weeks, tied with teammate Coco Crisp).
The young starting pitchers who carried the A's last year are carrying them again. The veteran starter who had his 2012 season ended by a PED suspension, came back and had an even better year this year (and avoided a Biogenesis suspension because he was ruled to have already served his time).
That single veteran starter, 40-year-old Bartolo Colon, worked eight shutout innings Saturday for his 16th win. He lowered his ERA to 2.73, now second in the American League behind Sanchez.
In three starts since coming off the disabled list, Colon has pitched 19 innings and allowed only two earned runs.
"If ever there's a time to find a second wind, this is it," Melvin said.
The A's seem to have found it as a team. They were 15 games over .500 before that late-August series in Detroit, but they'd lost 14 of 23 and at one point slipped to 3 1/2 games behind the Rangers in the division standings.
Then they went to play the Tigers, and Melvin reminded people that as good as the Tiger starters were, some teams had hit them and beaten them. Hitting coach Chili Davis said that there was no way Scherzer would beat the A's, "because it's August and nobody gets to 20 wins in August."
The A's scored twice off Sanchez in the first inning of the first game of that series, and in a sense they haven't stopped since then.
This run has been nowhere near as dramatic as the one the A's made last September, when they trailed the Rangers by four games with six to play (and at that point were still on the outside of the playoffs looking in). But in some ways this one feels more impressive and perhaps more meaningful.
"The teams we're going up against, they know we're good," Donaldson said. "I think we've had a target on our backs all year, and I feel we've responded well."
They have. It's not a surprise, not anymore. The A's have moved beyond that.
They're not surprising. They're just good.