No major red flags despite Craig Kimbrel's recent blown saves
Braves closer Craig Kimbrel has blown three of his last five save chances, but there should be only minor concerns at this point.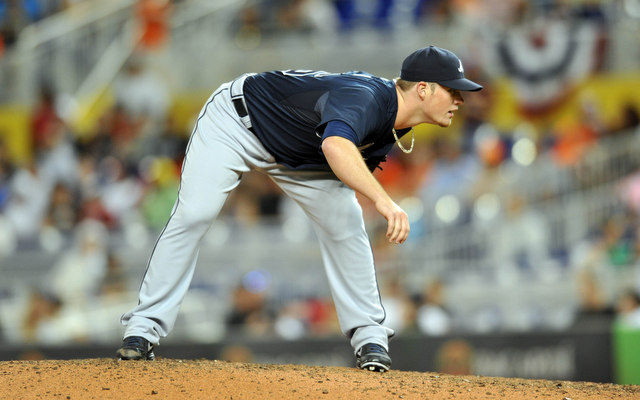 More MLB: Scoreboard | Standings | Probable Pitchers | Sortable Stats | Odds
After allowing back-to-back homers to Devin Mesoraco (game-tying) and Shin-Soo Choo (walk-off) on Tuesday night, Braves closer Craig Kimbrel has now blown three of his last five save opportunities over the last two weeks. He blew only three saves last year and has now allowed just two fewer runs in 2013 than he did in 2012 while throwing 49 1/3 fewer innings.
Despite the blown saves, there are only minor red flags in Kimbrel's performance so far. His strikeout rate (40.4 percent of batters faced) is still astronomical and his walk rate (5.8 percent) is a career-low. PitchFX confirms his fastball still sits in the mid-to-high 90s and his slider has its usual bite. Those are the most important things right there, and everything checks out fine.
The only red flags so far involve his ground-ball rate and general strike-throwing ability. After getting a ground ball on 49.0 percent of balls in play last year (44.8 percent in 2011), he's down to just 33.3 grounders in 2013. The result has been three home runs allowed, the same number he allowed in each of the last two seasons. One out of every four fly balls Kimbrel allows is leaving the park this year, and that's a number that will definitely come down. His homer-to-fly ball rate should be closer to 10.0 percent or so based on the rest of his career.
As for throwing strikes, Kimbrel is throwing fewer first-pitch strikes (63.5 percent) and fewer pitches in the zone overall (48.3 percent), plus hitters aren't chasing stuff off the plate as often (30.3 percent). Last year those numbers were 70.6, 51.4 and 34.6, respectively. Not huge differences, which is why these are minor concerns only. It's not like he stopped striking batters out or anything; that would be a bigger red flag.
Kimbrel, 24, has thrown all of 13 1/3 innings this year, facing only 52 batters. It's still super early. If he had come in and allowed some runs with a three-run lead instead of a one-run lead these last two weeks, the blown saves wouldn't have happened and his performance wouldn't be as newsworthy. Kimbrel was outrageously dominant last year, one of the best relief seasons in history, and that's a performance he's unlikely to ever repeat. He's had some early hiccups this year but nothing worth sweating just yet.