No reason to worry about Halladay; Phillies yes, but not Roy
Roy Halladay had another rough outing against the Nationals, but it's too early to be concerned about the Phillies' ace.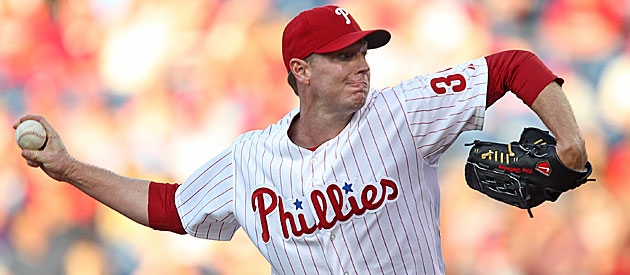 Halladay is 4-4 with a 3.58 ERA. That's not exactly what we're used to seeing. (Getty Images)
PHILADELPHIA --
Phillies
manager Charlie Manuel read off
Roy Halladay
's mundane pitching line to start his postgame press conference following Halladay's 5-2 defeat to the
Nationals
here, but those not-great numbers didn't tell the whole story. Not even close. The Phillies are pressing, and they are overanxious at times, both Manuel and Halladay conceded.
More on Phillies
Column

Related content
They are anxious about being in last place, no doubt about that. But they don't admit to being anxious about the overall performance of Halladay through nearly two months. That's the case even though his underperformance is as clear as his line score; it's not nearly like usual.
No one will say they are worried about Halladay, whose total numbers so far only amaze for their average-ness. He is 4-4 with a 3.58 ERA, and that seems pretty concerning in itself.
"I'm definitely not happy with the results,'' Halladay allowed. "But I've always tried to prepare as well as I can and accept the results. But that's all you can.''
Halladay's preparation is never a concern. But the Phillies as a team aren't accepting of the results right now, and that is their issue right now. They are not used to losing, and they are definitely not used to being in last place. So naturally they aren't used to dealing with it.
"It's just a matter of going out and enjoying it,'' said Halladay. "The more we press ... it's not going to take care of itself.''
Hallady also said, "I think guys are trying to carry the weight of the team, and you can't do that.''
If Halladay is feeling extra pressure to perform because the offense is sagging without stars Ryan Howard and Chase Utley (and Jimmy Rollins) on this day, he isn't saying for sure. "I think the first two months have been tough for all of us,'' Halladay said.
They've been uncharacteristically bumpy for Halladay, who was burned by a few bad pitches Tuesday night in his six innings of nine-hit, four-run ball (as Manuel said). Halladay especially lamented a bad curveball to rookie
Bryce Harper
, who hammered it into the right-centerfield gap for a triple to the dismay of the Harper-hating crowd and "set the tone.'' Halladay also gave up home runs, to
Rick Ankiel
and
Ian Desmond
.
Halladay admitted he's thrown a few more bad pitches this year but also said that the other teams have hit his mistakes more, too, symptomatic of the way things are going. The opponents no longer seem psyched out by Halladay or the Phillies.
If Halladay's tone for the season has been set, it doesn't feel like it will be his usual year. But as Leslie Gudel of Comcast Philadelphia pointed out on Twitter, Halladay started similarly in 2008, when he began 4-5 with a 3.49 ERA yet still finished 20-8 with a 2.78 ERA.
Halladay's velocity is down a tad like a lot of star pitchers around the league (Manuel mentioned
Tim Lincecum
,
Matt Cain
and King Felix). So there are other bad signs.
But it's too early to worry. At least not about Halladay. Maybe the Phillies, but not Halladay.
Keep it locked right here for everything you need to know about the world of baseball Tues...

There have been several racially charged incidents at Fenway Park this year

Washington's right fielders have sputtered offensively since Harper went down
The good news? Wichita still has a chance to win the series Tuesday night

The 2017 season is going to shatter the all-time collective home run record

Ferrell somehow avoided going to the ground