No replay on boundary call miffs Athletics
A late foul ball call cost the A's a chance at having the tying run in scoring position with two outs in the ninth inning. And they believe it should have been called fair, bringing up once again the topic of instant replay.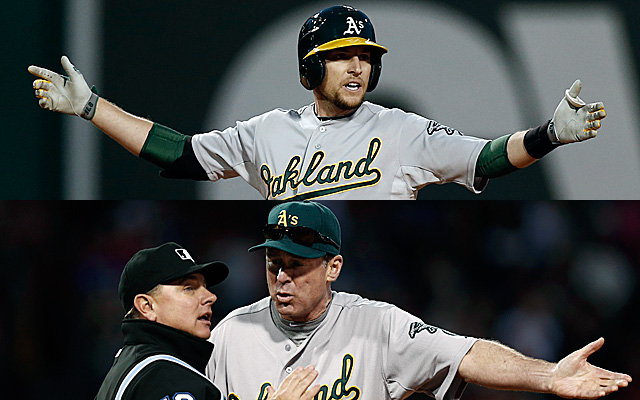 More MLB: Scoreboard | Standings | Probable Pitchers | Sortable Stats | Odds
If you only look at the play-by-play of the last out recorded by Andrew Bailey and the Boston Red Sox Wednesday night against the Oakland Athletics, you'll see this:
Jed Lowrie :Ball, Foul, Foul, Ball, Foul, Ball, Lowrie struck out swinging.
If you saw the game, however, you saw the A's possibly get screwed out of a Lowrie double with in a one-run game. And just as we've done so many times in the past few seasons, we're left wondering why baseball can't review such plays.
MLB.com has a video of the play, albeit with a difficult camera angle.
"I saw him call it, but I kept running because I couldn't believe it,'' Lowrie said (ContraCostaTimes.com). "It's easy to say in retrospect, but I have been in favor of more replay. That wouldn't change the way I feel about this one. It's about getting the call right.''
Many on the scene said they saw chalk kick up when the ball hit the ground, including A's manager Bob Melvin.
"I saw the chalk fly,'' Melvin said (ContraCostaTimes.com). "that call makes a huge difference. Now we've got a man in scoring position with one of our hottest hitters [Josh Donaldson] up. I wish we had more replays for boundary (fair/foul) calls.''
Here's the screen-grab shown on MLB Network, via loyal reader Jeremy:
@mattsnyder27 here is a still. Video next. twitter.com/fpraven4/statu…

— Jeremy Bourque (@fpraven4) April 25, 2013
Remember, if any part of the ball touches any part of the foul line, that's a fair ball.
We're not talking about robots calling balls and strikes or having an extended delay after every single out or safe call. We're talking in this case about a boundary call. It's fair or foul. Or fan interference.
The umpires are human beings and they are invariably going to mistakes on calls with a small little sphere flying down a line at a high speed. Not only that, but this particular crew was down a man, as Home plate umpire Jerry Layne left the game after being hit on the left hand by a foul tip in the third inning. Second base umpire Mike Estabrook took over behind the plate and they continued with a three-man crew.
Why not get better camera angles -- how about one going down each line with the ability to slow things down frame by frame? -- and use modern technology? And even if the technology doesn't give us definitive evidence, as will happen at times, at least the play was given a second look.
Maybe Lowrie's ball was foul. Maybe it was fair and the A's still would have lost. It's all possible. I just don't understand why we can't find a better way of doing things when it's so close.
Keep it locked right here for everything you need to know about the world of baseball Tues...

There have been several racially charged incidents at Fenway Park this year

Washington's right fielders have sputtered offensively since Harper went down
The good news? Wichita still has a chance to win the series Tuesday night

The 2017 season is going to shatter the all-time collective home run record

Ferrell somehow avoided going to the ground