No, the Rays shouldn't trade David Price
David Price trade rumors haven't been hard to come by this offseason, but the Rays should hang on to their lefty ace.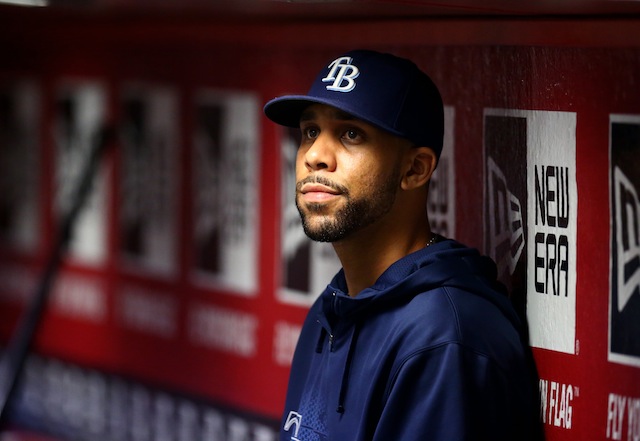 MORE: FA tracker: position players | FA tracker: pitchers
Rays lefty ace David Price is into his arbitration years and eligible for free agency after the 2015 season. His service-time status in tandem with the Rays' tight budget has yielded many a trade rumor this offseason. While there well may come a time in which the Rays would be wise to move Price, that time is not now, at least not this offseason. 
Partly, that's because the Rays are squarely in contending mode. They're coming off a 92-win season and a spot in the AL Division Series, and they've made the playoffs in four of the past six seasons despite a great deal of roster churn. That is, they're accustomed to succeeding despite the loss of front-line talents, even in the remorseless AL East. With that said, Price, at least insofar as the Rays' 2014 goals are concerned, might be a loss they can't paper over. 
Last season, Price, one year removed from an AL Cy Young award, pitched to a 3.33 ERA, 114 ERA+ and AL-leading 5.59 K/BB ratio in 186 2/3 innings of work. As well, the further he got from the triceps strain that cost him a month and a half, the better he pitched: Before he hit the DL, Price had a 5.24 ERA and 3.50 K/BB ratio in nine starts, and after he returned he posted a 2.53 ERA and 7.85 K/BB across 18 starts. Price also boasted improved velocity after his return from injury. All of that bodes well for the immediate future, as does his "prime" age of 28. 
On that point, let's turn to the 2014 ZiPS projections for the Rays' rotation and see how Price may wind up comparing to the rest of his mess-mates in the season to come ... 
As you can see, ZiPS not surprisingly tabs Price as the Rays' top starter in terms of run prevention, workload and overall value. While ZiPS is my go-to forecasting system, I actually think it's a little bearish on Price for the upcoming season. Prior to 2013, Price had ripped off three straight seasons of at least 208 2/3 innings pitched, and his strong finish last year leads me to believe a sub-3.00 ERA is a likelihood. 
Also, let's recall that Price recently settled on a one-year, $14-million pact for 2014. Pitching on the free agent market this offseason is going for about $6 million or so per win of WAR. Based on that, the Rays will very likely receive a substantial bargain on Price in the upcoming season relative to what he'd get on the market. That, of course, is the naturual consequence of the cost controls built into the system, even the higher-priced arbitration years. The point is that the Rays, when it comes to a talent like Price, need to take advantage of whatever below-market opportunities they can, and that includes eight-figure "bargains" like Price.
To be sure, the Rays have organizational depth, what with Jake Odorizzi, Alex Colome and Enny Romero in the upper rungs of the system. However, there is, to state the bleedingly obvious, little guarantee they'll come close to replicating the innings of an established frontline pitcher like Price, at least right away. And even if they do come close, any drop-off at all could be enough to knock the Rays out of playoff position in a division like AL East.
On another level, that depth may become necessary even with Price still in the fold. After all, teams almost never use just five starters in a season. Even teams blessed with a stable rotation need reinforcements throughout the six-month long-haul that is the MLB regular-season calendar. In very real sense, "rotation depth" merely means "rotation adequacy," and the Rays should bear that in mind before dipping into what may be a necessity disguised as a luxury. 
For future concerns, the Rays, in the unlikely event that they crater in 2014, can always shop Price at the July 31 non-waiver deadline, when the crowded fray of contenders may be willing to pay more for him. Mostly, though, the Rays need to keep Price because he gives them their best chance to win the World Series in 2014, and he does so at a very reasonable cost. Tight finances, bad ballpark and spotty attendance aside, that remains the ultimate goal for the Rays. 
Our Latest Stories
In the last two votes, Clemens has gained nearly 17 percent in Hall of Fame voting

The results of the BBWAA Hall of Fame vote are revealed Wednesday, Jan. 24

Does the Jackson signing mean the Giants are out on Lorenzo Cain?
Acuna edged out Shohei Ohtani and Vladimir Guerrero Jr.

There's no reason to run over the cases for and against Bonds, so let's have fun instead

The coveted right-hander would certainly be a fit in Milwaukee