No 'touchdowns,' no pennant-race comfort for either White Sox or Rays
The out-of-town scoreboard provided no help for either the White Sox or the Rays Saturday, and now both teams are in some trouble as they chase a playoff spot with the regular-season days dwindling.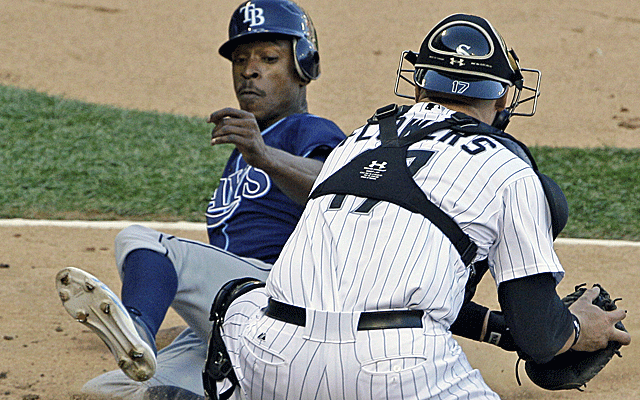 The Rays win, but don't gain any ground, while the White Sox fall back.
(Getty Images)
CHICAGO -- The Bears never scored Saturday.
Neither did the Bucs.
The out-of-town scoreboard didn't give the White Sox any comfort. It didn't help the Rays, either.
We began the weekend asking if either of these teams could make an improbable run to the playoffs. We'll begin Sunday thinking that probably neither one of them will.
Saturday's game here, a 10-4 Rays win, hurt the White Sox greatly, because they fell back to two games behind the Tigers in the American League Central, now with just four games to play.
More on Rays, playoff races
Related links
But Saturday's game wasn't as big a help to the Rays as they would have hoped, because the A's comeback win over the Mariners in Oakland kept Tampa Bay's deficit in the wild-card race at three games, with just four to play.
The Rays still have three games remaining with the Orioles, but they trail the O's by 3 1/2 games, pending Baltimore's Saturday night home game against the Red Sox. They still trail the Angels by half a game, too.
"We do need some help," manager Joe Maddon said. "But we've got to believe that's going to happen."
"You just need a chip and a chair," catcher Chris Gimenez said, using the poker analogy.
Maddon said he was unaware during the game that the A's were trailing the Mariners. He said he only found that out from bench coach Dave Martinez, after the A's had already rallied.
The White Sox were no doubt aware that the Tigers were winning in Minnesota. They knew that there was never a big roar from the crowd, the way there was when the scoreboard posted the news that the Twins had defeated the Tigers on Friday night.
"I thought the Bears scored," White Sox manager Robin Ventura quipped. "Knowing it's Friday and they're not playing, I figured it was the Detroit game."
Things change fast in a pennant race. The White Sox seemed close to done after Thursday's loss, felt a little life Friday and look to be in more trouble than ever now.
Sunday's pitching matchup here isn't favorable for them, either, with Jose Quintana facing David Price.
And if they don't win now, it's hard for the out-of-town scoreboard to save them.
Same goes for the Rays.
Plus the Cubs can clinch the NL Central title. Keep it locked right here for the latest from...

The club is expected to part ways with Collins after the season

Here is a preview of what's on the line Tuesday
Jerry Dipoto will have his hands full

Otani is said to be coming over this offseason, though nothing has been made official yet

What do the Mets need to do to get back to the postseason next year? Well, a lot