Nobody should question Nats GM Mike Rizzo now, not even on Strasburg Shutdown
Rizzo has had such a sterling season with his decisions, why assume he's wrong about his unselfish call to shut down ace pitcher Stephen Strasburg?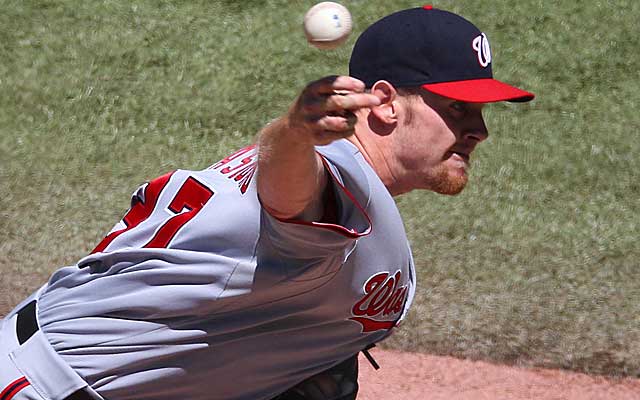 The Nationals say that Stephen Strasburg's final start of the season will be September 12 against the Mets.
(US Presswire)
Nationals GM Mike Rizzo is taking a lot of hits nationally for his call to limit young phenom  Stephen Strasburg to two more starts, tonight's start plus one more, his Sept. 12 finale at Citi Field against the Mets, before the Great Strasburg Shutdown. But here's something to consider: Rizzo has been right about just about everything else this year, so why not give him the benefit of a doubt about this?
While he is getting killed nationally, Rizzo is receiving mostly support locally for his bold decision to shut down one of baseball's best pitchers three weeks before the playoffs -- for a franchise that almost never experiences October, no less.
There's a good reason for that local backing, and it's not that folks in and around the Beltway are distracted by politics. It's that they've seen Rizzo's plan unfold.
They've seen the unexpected rise of the Nationals. They are excited, and they aren't about to let one call outside-the-box ruin it for them.
"They trust the plan,'' Rizzo said by phone. Yeah, that too.
Can't blame 'em, frankly. The Nationals hold a shocking 7 1/2-game lead in the NL East with a baseball-best 85-52 record only a couple years after being a laughingstock.
So, by the way, the plan is working.
The dissent isn't a shock, of course, since the call is so unusual for an old-time baseball person like Rizzo, who was around seemingly forever before getting his first GM shot in Washinton a couple years back. But in some ways, to stand up and shout about the Strasburg call might fit somewhere between rude and selfish.
The other obvious reason to accept the plan is this: Rizzo is doing it for the right reasons. He is doing it to save the kid's career.
Some have said that Rizzo is only sparing Strasburg for his expected future as a rich Yankee or a richer Dodger. But Rizzo can't worry about that now. Strasburg, 24, has a long and terrific future, and at least three more of those years will be with the Nats.
The naysayers may be right that Strasburg might survive a 200-plus-inning season even though he had less than 100 major-league innings combined going into the year, and we may never know it. But the Nats know that the plan of care has worked this year for Jordan Zimmerman in his year after Tommy John surgery -- though his last two starts haven't been his best, he's been generally excellent this year, a year after he, too, was held to the 160-inning limit.
Even so, it's no surprise Rizzo's call has upset a lot of folks, Strasburg included. "Stephen was disappointed about it. He was mad about it,'' Rizzo said. "But at the end of the day, he understands we were doing it with his best interests in mind.''
Many have taken shots at Rizzo. But Tommy John, who is one who has loudly second-guessed the shutdown decision, shouldn't talk because he doesn't know. He was already a veteran when he became the first to have the surgery and very likely had a different level of tolerance. John also threw in the mid-80s and was a totally different type pitcher than Strasburg, who has a jerky delivery and throws in the high 90s.
More to the point, John isn't a doctor but rather only a talkative ex-ballplayer. Strasburg's doctor is the esteemed Lewis Yocum. He prescribed the innings limit.
There's enough history to suggest pitching Strasburg beyond the 160 innings might be a risk. There are enough pitchers like Steve Avery who flamed out too soon after big early workloads.
But put all that aside.
Consider the year the Nats have had. They should get the benefit of the doubt.
Although they haven't had their full starting nine together for even one game this season, the Nationals are the best team in baseball to date. That's thanks largely to the work of Rizzo and manager Davey Johnson.
Rizzo's trade for Gio Gonzalez was huge. His signings of Adam LaRoche and Edwin Jackson were pretty big, too.
The callup of Bryce Harper turned out to be a worthwhile, albeit much smaller risk. Even at 19, Harper could handle things. They were right about that, too.
Rizzo's team is so good they have a shot even without Strasburg, though I don't believe they'll be better without him, as one or two have written. Their lineup is still balanced, their health is the best it's been this year (Wilson Ramos is the only one still out) and their rotation is still above average, even for a playoff team. Gonzalez, Zimmerman, Jackson and Ross Detwiler is still pretty darned good.
"We feel good about or chances,'' Rizzo said. "We think we're going to be a formidable playoff opponent, if and when we get to the postseason.''
Rizzo has been right so often this year, he might have overstepped his bounds at least once. He and Johnson were overheard getting into a shouting match recently, and someone who heard it said Johnson told Rizzo something along the lines, "If you think you can do a better job managing this team, you should do it!'' (Rizzo didn't dispute that version, though he preferred not to go over the putdown by putdown.)
Rizzo, who staged a joke about their confrontation in front of the Nationals media afterward by acting like he and Johnson were still at odds,  recalled that the argument came after a three-game sweep to the Phillies. "He was upset, I was upset. We had a discussion,'' Rizzo recalled.
It's hard to imagine anyone doing a better job than Johnson, who should be the National League manager of the Year, but considering Rizzo's run it's no wonder he offers his input, and even occasionally may overstep his bounds.
Rizzo's confrontation with Johnson (the real one, not the staged one), may have been a case of overstepping things. But on the really big decision, the Strasburg shutdown, Rizzo's heart is in the right place. And no one should fault him for that.
Marcell Ozuna figures to be the next Marlins star on the move

Several relievers have signed in the last two days

Several teams are interested in the switch-hitting first baseman
Neshek and the Phillies are closing on a two-year contract

And the team that first drafted Cole is interested

This scout was SUPER into Jeter