Noise is nice, but pitching is better, and Rays beat the Indians
The Indians' story is great, but the Rays' pitching is better. So the Rays won Wednesday's American League wild-card game, and move on to face the Red Sox.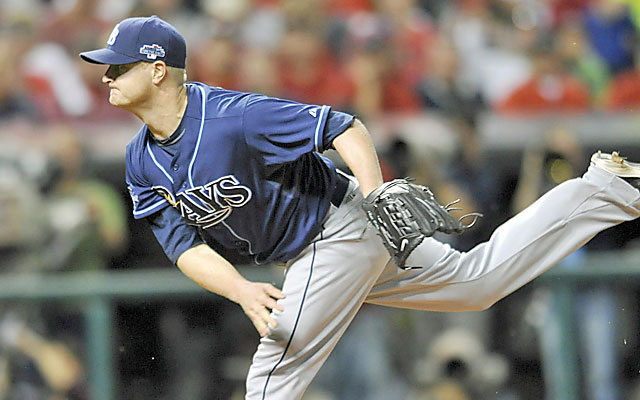 CLEVELAND -- The Indians had the cool storyline. They had the fans who showed up at a great ballpark that has too often sat empty, all dressed in red and all ready to make Cleveland rock, as the song goes.
They were the Pirates, one day later and 130 miles northwest.
One problem. Alex Cobb isn't Johnny Cueto. The Rays aren't the Reds.
Cobb is yet another outstanding Rays starter, one more reason this team without money keeps getting to play in October. And one more reason the Rays have a real chance against the Red Sox.
Terry Francona isn't headed back to Fenway Park, but the Rays are, to begin the Division Series on Friday afternoon. Francona won't be there, but you can bet the Red Sox would rather see him than Cobb and David Price and Matt Moore and the rest of the Rays rotation.
After winning 97 games, the Red Sox aren't exactly going to fear anyone. But if there was one team they'd rather not face in a five-game series, it was always going to be the Rays.
Price beat the Red Sox twice this year, allowing four runs in 24 1/3 innings in his final three starts against them. Moore threw a two-hit shutout in June, in his last start at Fenway.
And the Rays, who stumbled last weekend against the Blue Jays, now have every reason to feel like they're back on track after three consecutive must-win wins in three different cities.
They've gone from Toronto to Texas to Cleveland this week, and now they go to Boston, after a 4-0 win that ended the Indians' dream season Wednesday night.
The defense was outstanding and the offense produced enough, with big hits from Delmon Young and Desmond Jennings. But the Rays' story usually comes back to pitching, as it did Wednesday.
Cobb stayed calm, even when the Indians loaded the bases with one out in the fourth inning, even when the first two batters reached in the fifth. Pitching coach Jim Hickey came to the mound, not so much to settle him as to just allow him to reset.
"He doesn't need to slow him down," second baseman Ben Zobrist said. "[Cobb] never seems fazed by anything."
Cobb said he learned from watching Price, just as Price once learned from James Shields. Cobb watched Price handle the playoff-like atmosphere Monday in Texas, and figured he could do the same.
"From the second I stepped out on the field to go warm up, this crowd was electric," Cobb said. "I  mean, I haven't experienced anything like that in the past."
It didn't show.
"He didn't pitch like a young pitcher," Francona said. "It was like as the stadium got louder, he could take something off, spin a breaking ball, throw a changeup."
Francona's team has nothing to be ashamed of. They accomplished tons this season, going from 94 losses to 92 wins, making the playoffs for the first time in six years and maybe even bringing fans back to the ballpark.
But even though the Indians won one more game than the Rays in the regular season, the Rays fully earned their chance to move on. And as good as the Francona returns to Boston story would have been, a Rays vs. Red Sox series looks better than Indians vs. Red Sox would have.
The Rays will bring with them a deep rotation, so deep that last year's Cy Young winner could say in all seriousness that it doesn't matter who pitches.
"[Chris] Archer and Cobb and Moore have had better seasons than I have," Price said last week. "The wild-card team might rather face me."
Price could hardly have been tougher on the Indians than Cobb was Wednesday. The 25-year-old right-hander, who came back this season after taking a line drive off his right ear in June, put a few Indians runners on base but never allowed any to score, while getting the Rays two outs into the seventh inning.
It was nothing less than the Rays expected, and really nothing less than we expect from them.
At its best, their rotation gives them a chance against anyone -- including the Red Sox.
Judge for yourself whether that's a cool story or not.
The free agent first baseman may be a fit in St. Louis

The front office changes in Atlanta continue

The Marlins are more likely than you think on our list
Judge finished a distant second in the balloting and he paid respect to the winner

Stanton just won the 2017 NL MVP award but could wind up being dealt this offseason

Altuve is the second Astros player to win a league MVP award