Nolan Arenado of the Rockies: Emerging star in 20-something set
Rockies third baseman Nolan Arenado has the makings of a special player, with the bat and with the glove.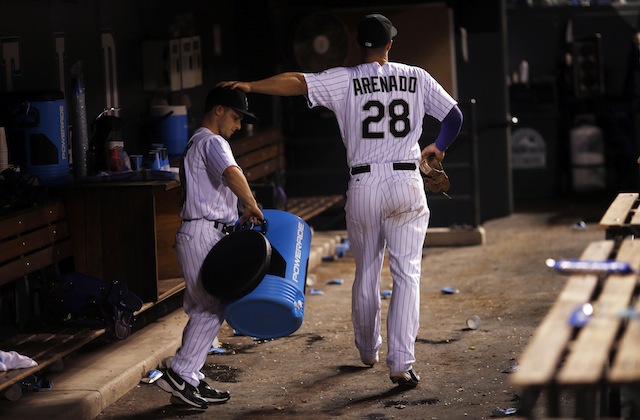 More MLB: Power Rankings | Expert Picks | Latest news & notes | Fantasy news
Given the notable early-20s positional talent around the league -- Mike Trout, Manny Machado, Bryce Harper, others -- it's easy to overlook Rockies third baseman Nolan Arenado. However, given Arenado's skills and skills growth, it's time we start thinking of him as one of the top young performers in the game today. Indeed, he's emerging as a star, and he's proving himself to be a core contributor with the bat and glove. 
First, the defense. Arenado won the Gold Glove last season, so it's not as though his fielding chops are any kind of secret. Still, calling him a "mere" Gold Glover may actually undersell how special he is defensively. Per Ultimate Zone Rating, Arenado in fewer that 1,400 defensive innings has saved 21.9 runs relative to the average MLB third baseman. 
Arenado particularly excels at making the impossible and near-impossible play. Over at FanGraphs, the Inside Edge scouting service grades players on their ability to make plays of varying difficulty. When it comes to plays that between 10 percent and 40 percent of major-leaguers would make, Arenado leads all third baseman since 2013 (minimum 1,000 defensive innings) with a success rate of 63.2 percent. In terms of those plays that 10 percent or less of MLBers would make -- i.e., the "impossible" snare -- Arenado, with his percentage of 14.3, ranks behind only Manny Machado since the start of last season. 
Indeed, Arenado, like the best third basemen, can make the "instinct" play to his right ...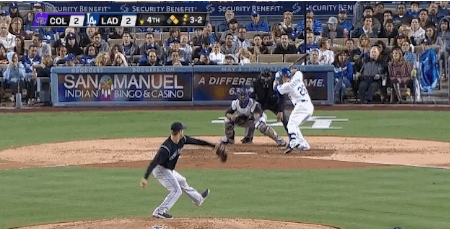 He can range to his left ...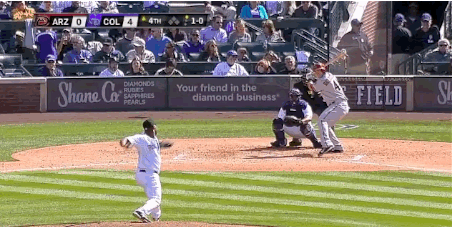 He can make the barehanded play coming in, even against a fast runner like Yasiel Puig ...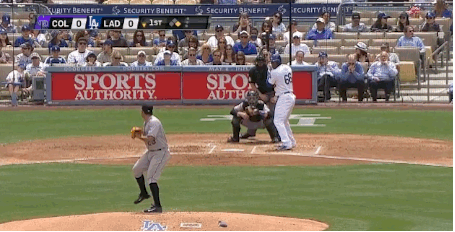 And this throwing arm is among the very best in the game today ...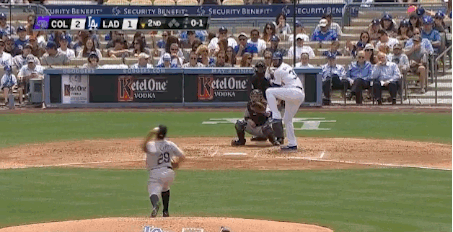 And the people say: "Golly."
That's the full complement of defensive tools, and, as highlight packages reveal, it's on display pretty much every game. The numbers and the eyeballs render Arenado as an elite glove man, and that's precisely what he is. 
Believe it or not, Arenado early in his professional career was widely regarded as a defensive liability. That he's now a defensive standout speaks to his dedication to craft. We're talking about more than raw talent here. The talent is obviously there -- he's a major-leaguer, after all, and major-leaguers are, ipso facto, talented in the extreme -- but there's also a major-league work ethic present in what you see above. 
Offensively, Arenado is still developing, but developing he is. This season vs. last, he's increased his OPS+ from 82 to 104 while also lowering his strikeout percentage, showing stronger fly-ball tendencies and, per Jeff Zimmerman's data, increasing the angle on those fly balls. As well, his gains in BABIP and home runs as a percentage of fly balls aren't so extreme as to suggest that luck is the driver. 
Let's also keep in mind that Arenado showed lots of offensive upside in the minors despite being younger than his peer group at every stop. He turned 23 just a couple of weeks ago, and he's showing signs of what's a more typical offensive aging curve. That is, the best with the bat is almost certainly yet to come. 
Taken together, Arenado's offensive ceiling and his present defensive exellence make him one of the more intriguing young players in the game. As for the hype he deserves, the column inches will come soon enough. 
The projections continue to favor an Astros-Dodgers World Series

The story centers around a building in Chicago, where Billy Jurges was shot by a jilted lo...

From 1 to 25, the L.A. Dodgers have the squad to overcome the pitfalls of October baseball
After Tuesday night's win over the Cubs, the Dodgers are now 6-0 in the 2017 playoffs

Los Angeles beat Chicago once more in Game 3 of the NLCS in Chicago

The 2017 World Series begins Oct. 24