Nolan Ryan doing the Rangers no service with his silent treatment
A pall has been cast over Rangers camp since his friend Randy Galloway dropped the bomb that the iconic chairman Ryan might quit over a power shift.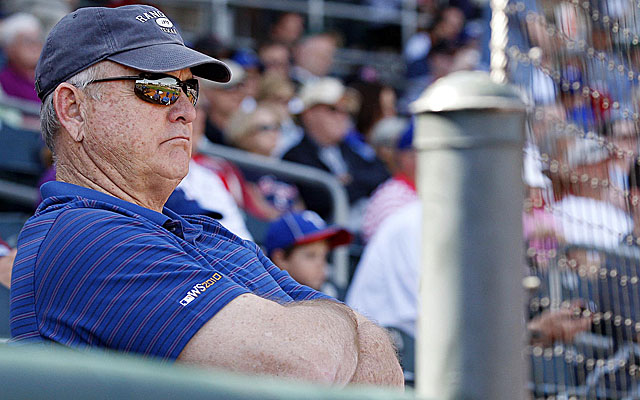 SURPRISE, Ariz. -- Time is up for Nolan Ryan. Time to decide whether he wants to stay as Chief Executive Officer of the Texas Rangers, whether he wants to continue making many millions of dollars a year to head the team's depth chart, provide wise counsel and remain the iconic face of an organization that's having the greatest success in its history.
It's been five days since Dallas Metroplex media star Randy Galloway, who is described as one of Ryan's best friends and loyalist supporters, reported from anonymous sources that Ryan is upset by the decision to shift some of his power to wunderkind general manager Jon Daniels.
A pall has been cast at Rangers camp, which isn't good for anyone involved. The initial report said Ryan would decide by "the end of spring training'' whether to quit. That's another three weeks where Ryan's silent tantrum (and he is quite upset, people connected to the club confirm) may linger.
Ryan hasn't said a thing publicly, but many folks around the scene suggest he is anything but happy with the new set-up, that he is acting angry. Until he says something publicly, one way or the other, the pall has little chance to be lifted.
Until Ryan decides whether he wants to keep one of the best jobs in Texas, he takes precedence over all the actual baseball storylines -- above the development of 20-year-old wunderkind shortstop Jurickson Profar, who's trying to make the team; above the race for the No. 5 starter after top pitching prospect and presumed winner Martin Perez suffered an unfortunate broken arm; and above all the other happenings here for the team that's made the playoffs three straight seasons but is in for a fight again with the Angels and A's and maybe even the improved Mariners in a very difficult AL West.
Until Ryan, who's not just a pitching icon and untouchable man in Texas but a very smart person, puts an end to the guessing game about whether he stays as chairman, he remains the story of the Texas Rangers. This is not good for anyone involved, maybe even Ryan himself.
And the guesses will go on.
"I think he will (quit)," one close confidant of Ryan speculated to me. "He was a figurehead before with the Rangers under Tom Hicks and he won't go back to that."
At this point, Ryan is no longer the innocent guy who saw two guys below him on the team masthead promoted to take the lower part of his title. Seven days ago, Daniels was named president of baseball operations, and Rick George, a former PGA Tour executive, was named president of business affairs. And two days after that everyone found out from Galloway that Ryan was upset to the point of maybe quitting.
Ryan has been through this drill before. He was maybe the greatest power pitcher of all time, and he knows about being a power player, as well.
Ryan basically ensured the current ownership group would win the team when he announced he would quit if longtime agent and baseball executive Dennis Gilbert's group was selected as the new owner. This came after a meeting, according to sources, when Gilbert honestly informed Ryan he would not be the guy making the final baseball calls. Ryan wasn't making them under Hicks, but he wanted to start making them. And Gilbert told him no.
As soon as the iconic Ryan said he couldn't work with Gilbert, Gilbert was a goner. He had been the leader to win the team. But suddenly, he was history. Just like that.
With the two ultra-rich Texas oil men Ryan preferred, Ray Davis and Bob Simpson, installed, Ryan gained power but was still beneath Chuck Greenberg, the new managing partner, on the masthead. Though not for long. When Ryan decided Greenberg was an overbearing annoyance, he went to Davis and Simpson with the request that the one person above him be removed.
Of course it was no choice for Davis and Simpson since Greenberg was annoying others with his off-the-cuff approach, not just the more methodical Ryan. Greenberg was a Pittsburgh interloper who did nothing but put together the deal, so he was sent away with a stack of money for his troubles. Ryan was the all-time strikeout king, an untouchable icon. And Greenberg was history.
This time when Ryan wants the power (and really, the final call on baseball-related decisions), it's a little trickier. Simpson and Davis just promoted Daniels. And Simpson and Davis, while baseball neophytes, already get what some owners never get. And that is the idea that the final baseball call should rest with the general manager, not the owner or even an icon.
This is especially true when you have one of the best two or three general managers in the game. And the Rangers have that. Even if the GM is just average, most folks have figured out that the teams where the owner or someone else above the general manager makes the ultimate call on baseball-related decisions don't succeed anymore. Teams are run by bright young executives, not former playing greats, for a reason.
It's great to have someone as smart, savvy, accomplished and beloved as Ryan to provide smart counsel on all the big calls, but to think Ryan should pick the players and make the majority of baseball calls, and not Daniels, is just plain folly. Of course on the really big calls, like whether to give Yu Darvish $100 million-plus, the folks at the top of the flow chart, Ryan and especially the owners have to provide final approval.
But when it comes to day-to-day baseball calls, to have anyone beside Daniels make the call would just be silly. Ryan helped bring credibility back to the Rangers, and he knows a player when he sees one. But he hasn't spent the last decade inundating himself with all the pertinent info. He couldn't provide the names, or the strengths and weaknesses, of all 30 teams' rosters, and all the minor-league teams, too.
Ryan may win again, as he usually does. But it's hard to see how. Daniels is no Greenberg, who entered the baseball scene assuming he knew everything when the opposite was true.
Daniels built the team that won two straight American League pennants. He hired the great front office that includes Thad Levine, A.J. Preller, Don Welke and a lot of other terrific and dedicated baseball people.
Daniels made the Mark Teixeira trade that brought Matt Harrison, Elvis Andrus and Neftali Feliz, the best baseball trade made in a quarter century. He and Preller established a powerhouse operation in Latin America. He and the guys he hired rebuilt the farm system.
Daniels isn't one to waste money, though he may not be as conservative as Ryan. Sources indicate the Rangers have plenty of loot left in the coffers, but Daniels is patiently waiting for the right opportunity. He hasn't jumped at Band-Aids. Daniels takes chances but hasn't made any glaring mistakes since an early trade or two at the very beginning of his tenure.
Daniels also doesn't reveal it when he and his bosses disagree, so he's a good employee, not a power player. Word from other sources is he wanted Prince Fielder so badly he would have gone longer than the six-year offer they made (that was ultimately blown away by the Tigers' winning nine-year bid), but when confronted with this info by text, he wouldn't answer one way or the other. Good for him.
Daniels may actually better fit what Simpson and Davis are trying to do now. Ryan had the last word for some big deals that didn't happen. He's seen as a conventional businessman in an unconventional business. He draws his line, and as you can imagine, he doesn't like to deviate.
The Rangers lost out on main targets Cliff Lee, Fielder and Zack Greinke (and even their own guy Josh Hamilton), and there's speculation Simpson and Davis may want to move away from the guy who draws the lines in the sand. "Those guys aren't used to coming in second," one baseball person said. "Maybe they got tired of watching (big-time players) walk out the door.''
Word was, Ryan was more hesitant about Darvish, though Daniels did get that one completed, at just over $100 million. Daniels' big deals have worked, at least the ones they've gotten done. The Adrian Beltre contract, for $80 million guaranteed (with the potential to be $96 million) is even more than they could have hoped. They pegged him as an All-Star, and he's a perennial MVP candidate.
So it's no surprise Daniels has built up considerable baseball capital in a fairly short period. If he becomes free, he is snapped up immediately. It's not hard to imagine the Queens, N.Y., native being courted by one of the major markets immediately. No one else is paying Ryan $6 million-plus, except maybe new celebrity-loving Astros owner Jim Crane, who brought in Roger Clemens, though of course he isn't paying Clemens anywhere near $6 million-plus. (Ryan's exact salary is unknown, but sources say it was $6 million a few years back.)
Daniels also is no dummy. He became GM when he was 28 (he is 35 now), and that doesn't happen by accident. So naturally he is saying the right things, which are that he still reports to Ryan, which is true. And also that Ryan has told him he has no issue with him, which is presumably at least what Ryan told him.
Of course we don't know exactly what Ryan is thinking since he hasn't said a thing publicly since his friend wrote how upset he is. We can assume that much is true since others say it is, and he hasn't bothered to correct it. But at this point, even if Ryan didn't intend this as another power play, that's sure as heck what it looks like. Anyway, this silent fit surely is not what this team that's trying to get back to the World Series needs.
The good news? Wichita still has a chance to win the series Tuesday night

Soon more home runs will have been hit in 2017 than in any other season in MLB history

Ferrell somehow avoided going to the ground
Plus, we saw a possible AL Wild Card Game preview in the Bronx and lots more from around M...

The Pirates disappointed in 2017. Will 2018 be any different?

Let's see how SportsLine forecasts the race for MLB's 10 playoff spots