Nolan Ryan helped the Rangers by coming, and also by going
Nolan Ryan's tenure as a Rangers executive will go down as a success, but his decision to leave as CEO could help the organization move forward.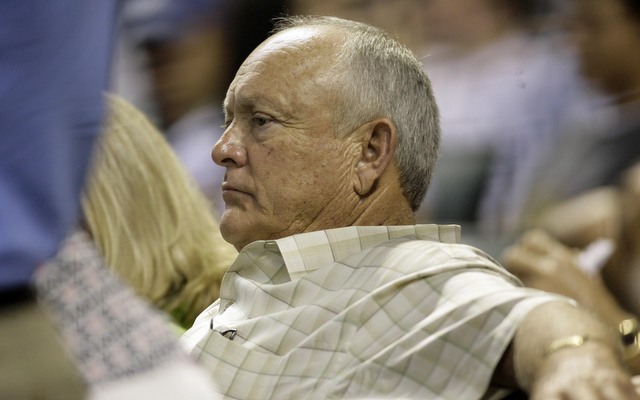 Nolan Ryan's arrival as club president helped the Rangers move forward.
His departure as CEO could well do the same.
Ryan might well be the most popular man in the state, and his presence at the top helped change the image of a team that had never won consistently. His influence on Rangers decision-making was often overstated, but there's no doubt that he contributed to taking the Rangers to back-to-back World Series.
There's also no doubt that life in the Rangers front office will be smoother now that he's gone.
Ryan either retired (that's what the Rangers said) or resigned (that's what he said) as Rangers CEO on Thursday. The distinction may not be as significant as it sounds, since the 66-year-old Ryan insisted that this decision was more about him and less about them.
But the difference in wording hints at a bigger difference in the front office. Too often over the last year (or more), Ryan and others in the Rangers hierarchy haven't been on the same page.
It wasn't always terrible. When I was in Texas in September, at a time when the Rangers were struggling, I was talking to general manager Jon Daniels when Ryan stopped by for a short conversation that gave no hint of tension between the two.
The tension was often there, though, and it could always flare up. There were reports that it did in the last month, when the Rangers' coaching changes included the decision to fire bench coach Jackie Moore, a Ryan favorite.
Front office executives don't need to agree on every decision. It's probably healthier for an organization if they don't. But it became perfectly clear over the last year that Rangers ownership had full confidence in Daniels and his staff, and wanted them to have the biggest say on the big baseball decisions.
Ryan didn't always seem willing to accept that, and there was a time during spring training when he seemed prepared to leave the organization because of it. As colleague Jon Heyman wrote then, the resulting uncertainty cast a pall over Rangers camp, which didn't do anyone any good.
Ryan eventually agreed to stay on for this season. Now he leaves, and there's no shame if he really does want to retire at age 66.
He didn't guarantee Thursday that he won't work again in baseball, but he did rule out taking another job with the title and responsibility he had with the Rangers.
"This might be the final chapter of my baseball career," Ryan said.
If so, it's been overwhelmingly a good one, both for Ryan and for the team. He got to the World Series, something he did only once in his brilliant 27-year playing career (as a 22-year-old kid reliever with the 1969 Mets). The Rangers became a force in baseball, and a hit with a fan base that had tended to ignore them once Cowboys camp opened (or even when high school football began).
The Rangers co-chairmen, Ray Davis and Bob Simpson, said at Thursday's press conference that they tried to talk Ryan out of his decision to leave. Ryan said that he had sold his interest in the team to Davis and Simpson.
"He'll always be part of this family," Simpson said.
That's as it should be. There's no player who meant more to the Rangers organization than Ryan, and his time as a Rangers executive will go down as a success, too.
But no one should feel sad that it's come to an end.
The Rangers will move on. It remains to be seen how involved in baseball decisions the owners now plan to be (they indicated they won't name a new CEO to take Ryan's place), but Daniels and his staff should find it more comfortable to carry through with what they want to do.
It's an important time for the franchise, with two years of disappointment following the two World Series years. The Rangers need to find a way to get better, and there's pressure on Daniels (and on manager Ron Washington and the players) to make that happen.
It's all on them now, and it's easy to believe that's exactly how they wanted it.
The Red Sox and Cardinals are expected to make trade offers next

The free agent first baseman may be a fit in St. Louis

The front office changes in Atlanta continue
The Marlins are more likely than you think on our list

Judge finished a distant second in the balloting and he paid respect to the winner

Stanton just won the 2017 NL MVP award but could wind up being dealt this offseason