Nolasco's a start, but Dodgers need more help at the trade deadline
The Dodgers already shored up their rotation by acquiring Ricky Nolasco, but they still have needs to address to make a second-half push.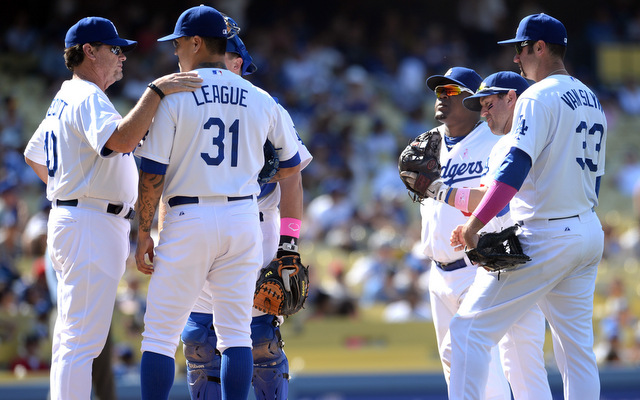 More MLB: Scoreboard | Standings | Probable Pitchers | Sortable Stats | Odds
Nineteen games ago, the Dodgers were in last place in the NL West and 9 1/2 games back of first. A 15-4 run has moved them into second place and just 2 1/2 back of first. In fact, they climbed as close as 1 1/2 games before losing on Friday night. They're starting to play like the team that they appeared to be on paper coming into the season.
Despite their star-laden roster and gaudy $200+ million payroll, the Dodgers are far from a perfect team. Injuries to Ted Lilly and Chad Billingsley (among others) have taken a bite out of their starting rotation, which they addressed by acquiring right-hander Ricky Nolasco from the Marlins last week. Their needs do not stop there.
With two weeks and four days remaining before the non-waiver trade deadline, let's take a look at the biggest needs in Hollywood and try to identify some possible trade targets.
NEED: SECOND BASE
Perfect Fit: Chase Utley, Phillies
Mark Ellis has an 80 OPS+ in the second year of his two-year contract, making this position a prime spot for an upgrade. Utley is a Southern California native and, as Jon Heyman of CBSSports.com reported earlier this month, there is a belief the Dodgers have interest in acquiring the UCLA product. He is due to become a free agent after the season, and his 126 OPS+ would look splendid in the middle of the lineup.
An alternative to Utley could be his teammate, Michael Young (108 OPS+), who has not played second regularly since 2003 but has reportedly drawn some trade interest at the position. Rickie Weeks (95 OPS+) of the rebuilding Brewers could almost certainly be had in a trade, but he's owed nearly $16 million through the end of next season and has been below-average (94 OPS+) the last two years. Placido Polanco (69 OPS+) of the Marlins is not an upgrade over Ellis at this point.
NEED: STARTING PITCHER
Perfect Fit: Matt Garza, Cubs
Even after acquiring Nolasco, the Dodgers could still use one more starting pitcher to replace the serviceable Chris Capuano (79 ERA+). Granted, another starter is not a huge priority, but the rotation is something that can be improved. Besides, Capuano has been on the DL twice this year already.
Garza is the biggest name on the pitching trade market now that Nolasco has been moved. He's an impending free agent like Utley, and he's put up a 123 ERA+ in 10 starts since coming off the DL. A lat strain delayed the start of his season. Garza brings power-strikeout stuff and postseason/World Series experience, two things that every club is looking for in a trade-deadline pickup.
Bud Norris (114 ERA+) of the Astros and Phil Hughes (90 ERA+) of the Yankees could be two other pitching options at the deadline. Norris will remain under team control as an arbitration-eligible next season while Hughes will be a free agent this coming winter. Again, the rotation is not a big need following the Nolasco pickup, but GM Ned Colletti should keep his ear to the ground for a Capuano upgrade.
NEED: LATE-INNING RELIEVER
Perfect Fit: Many
The Dodgers have a great young closer in a dynamite Kenley Jansen (154 ERA+) and two excellent lefties in Paco Rodriguez (148 ERA+) and J.P. Howell (158 ERA+), but righties Brandon League (59 ERA+) and Ronald Belisario (98 ERA+) are generally unreliable. League has been a huge disappointment after signing a three-year, $22.5 million contract this past winter. Finding another quality arm (or two) to pair with Jansen and the lefties is a necessity.
The bullpen trade market always offers plenty of help, and the top reasonably available relievers this year are Jesse Crain (601 ERA+) and Addison Reed (116 ERA+) of the White Sox, Jose Veras (130 ERA+) of the Astros and Steve Cishek (142 ERA+) of the Marlins. Crain is on the DL but is expected back soon after the All-Star break. The Mets and Twins could make closers Bobby Parnell (150 ERA+) and Glen Perkins (219 ERA+) available at a moment's notice. Any and all of these guys make sense for Los Angeles.
Among the reclamation project types -- the good stuff but not good results guys -- are Joba Chamberlain (Yankees) and John Axford (Brewers). The Dodgers do have Carlos Marmol working on some things in Triple-A, though, so they might not want to roll the dice on another pitcher like that. If they look for relief help, and they are expected to, they figure to seek someone a little more reliable.
* * *
For a while, it appeared the Dodgers had too many outfielders for too few spots, but Matt Kemp's latest shoulder-related DL stint and Yasiel Puig's nagging hip trouble suddenly make Andre Ethier indispensable. Juan Uribe's surprising production (116 OPS+) makes third base much less a priority heading into the deadline. The bullpen is the biggest need at the moment; that much is clear.
With some interesting pitching prospects to offer and the ability to absorb what seems like a limitless amount of salary, the Dodgers are in a position to make more moves leading up to the deadline. They didn't fire their only bullet to get Nolasco. Now that they're right back in the thick of the NL West race, expect Colletti to be aggressive and add upgrades in the coming weeks.
Does the Jackson signing mean the Giants are out on Lorenzo Cain?

Acuna edged out Shohei Ohtani and Vladimir Guerrero Jr.

There's no reason to run over the cases for and against Bonds, so let's have fun instead
The coveted right-hander would certainly be a fit in Milwaukee

We rate the best mustaches from random baseball cards because, why not?

Colon wants to break a Dennis Martinez record