Norris lives up to big-stage rep, which should matter more if traded
Bud Norris pitched a beauty in the baseball season opener, helping Houston to an 8-2 victory.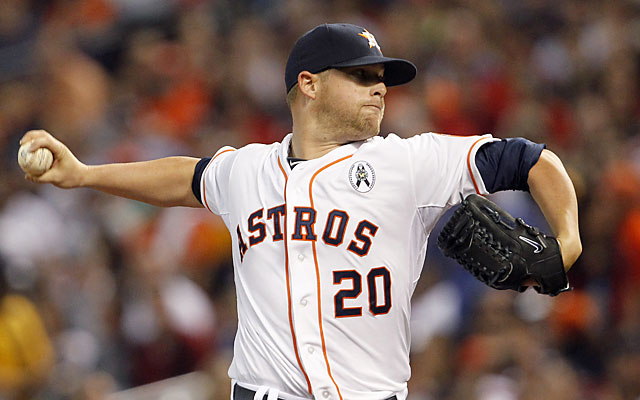 HOUSTON -- Astros starter Bud Norris said he was talking to himself the entire 5 2/3 innings he was out there. Between his nonstop chatter and a juiced-up sellout crowd at Minute Maid, it all had the potential to distract anyone.
But Norris likes it that way, apparently. Someone once remarked that he's at his best when the "lights go on.'' The unfortunate part for the 28-year-old is that the lights have been dimmed in Astro-land for much of his four-year career.
"I guess it brings the best out of me when I get the adrenaline going,'' the affable pitcher said.
Norris was so good on Opening Night, in fact, one questioner wanted to know if it meant he was earning a trade out of here. Norris, smiling as he answered said, "I don't know. I can't focus on that. It's out of my control. I just got to go out there and give skipper everything I got.''
More on Rangers-Astros
Column

Related links
Later, with good humor, Norris remarked to the questioner, "You would have to ask that.''
Fair enough, on Day One Norris should get a few moments to enjoy his impressive outing in the 8-2 victory over the rival Rangers, which included a scoreless first five innings, then a sixth inning where he should have been pulled a batter or two earlier. He would allow two runs, the second coming when Nelson Cruz rocketed an 0-and-2 pitch into center field.
Norris' night did not surprise ex-Astros star Lance Berkman, who knows Norris better than most. Berkman provided a testimonial that could serve as a scouting report.
"The guy has a great arsenal. People have been waiting for him to take the next step,'' Berkman said of Norris.
For his part, Norris, the winner, said, "I think it's in there. I know it's in there. It doesn't come overnight.''
On this night, there was a lot going on, between it being Opening Night in baseball and also the Astros' first game as an American League entry. Minute Maid was abuzz. Norris said he needed to work on his breathing during a night he deemed "special.''
"I was talking to myself the entire night,'' he said. "It was all kind of a rush.''
Norris' biggest moment came when he snared a liner to his glove side off the bat of Adrian Beltre to temporarily halt the Rangers' sixth-inning rally. Run-scoring hits by David Murphy and Cruz followed, though Norris should have been out by then.
He marveled at the "playoff atmosphere.'' Yet, he handled it.
"I've faced him a number of times, and he's awfully tough,'' Berkman said. "He's got great stuff. For him, it's just a matter of location.''
Norris' stuff is reflected in his near a strikeout-an-inning ratio over his brief career. He took a half-step back last year, going 7-13 with a 4.65 ERA.
Some wondered whether he drew the Opening Night assignment over Lucas Harrell because it might make him look better to potential trade partners. The reality is, he probably got it as much because he was built for nights like these.
Gallardo spent the first eight years of his career in Milwaukee

MLB revenues are at a record high right now, but teams aren't spending it on players

Chicago added Tyler Chatwood earlier this offseason but might not be done adding to the ro...
The Dodgers and Braves pulled off a whopper on Saturday

Sabathia will reportedly spend a 10th season in the Bronx

Fowler suffered a knee injury at Chicago's Guaranteed Rate Field