Nov. 8 offseason roundup: Yankees set to heavily woo Tanaka
A summary of all Friday's notes, rumors and reports, from CBSSports.com and around the baseball world.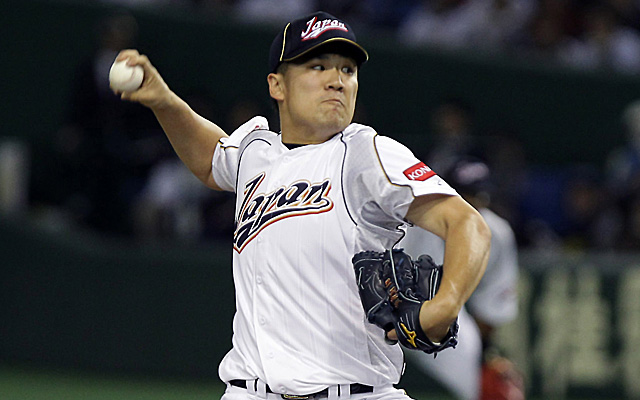 Another early offseason day, another slow day in terms of moves actually being made. So we have speculation, rumors and sourced reports to pass along. Let's dive in with our one-stop shop, chock full of links for the full story.
•Our own Jon Heyman reported that the New York Yankees appear ready to spend heavily again this winter after a brief hiatus from the big-time free agency scene. He named Japanese ace Masahiro Tanaka as one of the many top-echelon free agents at whom they are "looking closely." 
Later, Jeff Passan of Yahoo Sports reported that if Robinson Cano was priority No. 1 for the Yankees this offseason, Tanaka is "1a."
Tanaka, 25, went 24-0 with a 1.27 ERA, 0.94 WHIP and 183 strikeouts in 212 innings this past season for the NPB champion Tohoku Rakuten Golden Eagles.
•The Minnesota Twins appear to be considering a reunion with Johan Santana . I checked out if that would be a good fit. Don't worry, though, Twins fans. It's not like they are planning on just grabbing Santana and hoping he fills the top of the rotation. La Velle Neal of the Star Tribune reports that the Twins are also eyeing Ervin Santana , Scott Feldman and Ricky Nolasco , though it can't yet be determined how serious they are about anyone. Still, it appears the net the Twins are planning to cast on finding starting pitching is rather large. 
•Some Texas Rangers notes from their MLB.com beat writer: They've gotten calls from other teams looking to buy low on first baseman Mitch Moreland , they have made an offer to free agent pitcher Colby Lewis and are not making it a secret that, yes, they will entertain offers for one of their big-league middle infielders. Earlier this week I speculated the Cardinals could be a match here.
•Per Heyman, Stephen Drew will reject the Boston Red Sox 's qualifying offer, as he's shooting for much more.
•Via Heyman, the New York Mets love Shin-Soo Choo , but may not be able to afford him. Is that actually supposed to happen to a team from New York? Nice work, Wilpons.
•Also from Heyman, the Red Sox have interest in Tim Hudson . If they sign him, it could signify a trade to shore up a different position, because if you include Felix Doubront with the season-ending rotation, they already have six starting pitchers.
•Looks like Mike Napoli isn't a sure thing to remain in Boston, as he'll shop around and test the market.
•More Red Sox: They are pursuing Carlos Beltran .
•The Los Angeles Dodgers are reportedly open to dealing one of the following trio: Matt Kemp , Andre Ethier and Carl Crawford . Eye On Baseball's Mike Axisa breaks it down. Andy Martino of the New York Daily News notes that the Mets could be a fit for Ethier.
•The Cincinnati Reds signed catcher Brayan Pena to a two-year deal, which Axisa says makes Ryan Hanigan trade bait.
•Martino also reports that the Mets are having preliminary talks about possibly extending an offer to Curtis Granderson .