Now closing for the Orioles ... Tommy Hunter?
According to one report, the Orioles may look within to find a closer now that Grant Balfour is off the list.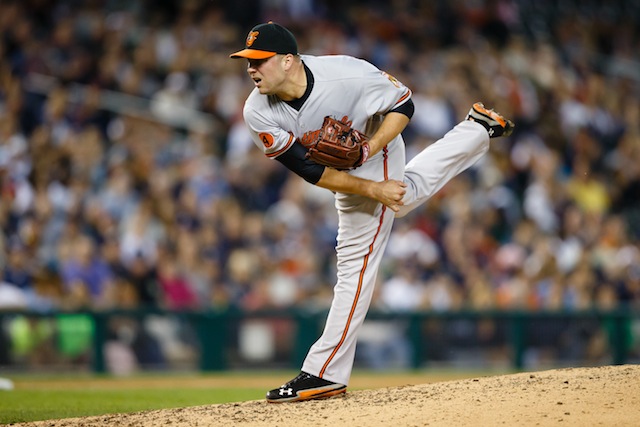 MORE: FA tracker: position players | FA tracker: pitchers
You'll recall that the Orioles had a deal and then didn't have a deal with free agent closer Grant Balfour. Now, reports Roch Kubatko of MASN, the Orioles may look within to find someone to protect those ninth-inning leads. Specifically, they may look to right-hander Tommy Hunter. 
The 27-year-old Hunter has made 91 career relief appearances in 166 games overall. In those 91 appearances, he's pitched to a 2.99 ERA (versus a 4.88 ERA as a starter) and 4.13 K/BB ratio. While Hunter does have some platoon issues overall, that would become much less of a concern in a full-time relief role, as he wouldn't need that third pitch versus the opposite side. 
Hunter has just four career saves -- all recorded last season -- but as any number of teams have proved of late, there's nothing magical about closers. If you've got the skills and poise to be a good reliever at the highest level, then you'll almost certainly make a good closer. Hunter may become the latest example of that truth. 
Maxwell joins a growing movement across sports

The Yankees punched their ticket to the playoffs with a win over the Blue Jays on Saturday

Sabathia's stance seems to be an increasingly popular one among athletes
Plus the A's and Brewers have hope, Giancarlo goes deep again, and much more

Matt Chapman and Matt Olson give the A's hope

Despite an awful month, the Dodgers are again NL West champions