Now the Red Sox need Game 4, but can Clay Buchholz deliver?
The Red Sox stuck with Clay Buchholz to start Game 4, despite all the doubts. Now, after Saturday's crazy loss, they need him to be good.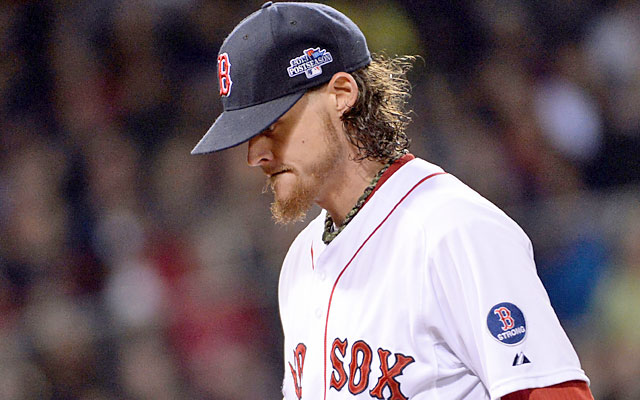 ST. LOUIS -- And now they need him. Now, they really need him.

The Red Sox can hardly be certain what they'll get from Clay Buchholz when he starts Game 4 on Sunday night. But now they really need him.
They need him to help them get past Saturday night's crazy 5-4 loss to the Cardinals in Game 3. They need him to even up a World Series that could be slipping away from him.
They need him, but how can they count on him?

For days, Buchholz's status as the Game 4 starter has been in question. The Red Sox have maintained that he will start, and manager John Farrell even expressed some guarded confidence that he's ready for the assignment.
And for one more day, baseball people from outside the Red Sox organization watched Buchholz play catch and listened to him talk and remained skeptical that he would even make it to the mound.
It certainly appears that he will, given that the Red Sox used Felix Doubront (their other Game 4 option) out of the bullpen Saturday night. They still have Ryan Dempster available, and he'll likely be the pitcher ready to follow Buchholz.
But how soon will he be needed, and what will the score be when he is?
Buchholz admitted Saturday that he's not 100 percent, and that he altered his routine after starting Game 6 of the American League Championship Series against the Tigers. He admitted that he had problems with what he called "tightness" in his right shoulder beginning in the second inning of that start.
Farrell said he thinks Buchholz can give the Red Sox something like what he gave them in that game. Buchholz didn't allow a run in the first five innings against the Tigers, but his velocity dropped dramatically by the sixth inning, and Farrell pulled him after just 85 pitches and two batters (both of whom eventually scored).
"It might be a little bit shorter of an outing that maybe we've seen back in April and May," Farrell said. "But he's also been very effective. And we're fully anticipating that to be the case [Sunday]."
About four hours before gametime Saturday, Buchholz was in the Red Sox bullpen, throwing off the mound. He wouldn't normally do that the day before starting, but said he went to the bullpen Saturday because he hadn't been able to throw off the mound in the week since facing the Tigers.
"That was more or less basically to just go through the motions," Buchholz said. "And that's how I took it. Overall, everything went good. Obviously, there's a little bit of rust there."
As long as it was just rust.
Buchholz's throwing sessions have been scrutinized through the first few days of the World Series, and there has been much speculation that he won't pitch.
One former major-league pitcher who watched Buchholz's bullpen session said it appeared that he couldn't extend his arm at the end of the delivery, and said it suggested that the shoulder is hurting him more than he has let on.
Buchholz missed three months this season with what was variously described as soreness in his neck and shoulder. The Red Sox maintained for most of that time that Buchholz would be fine, but they eventually traded for Jake Peavy (their Game 3 starter) in part because of the uncertainty about Buchholz.
Buchholz returned for four September starts, and he has started three times in the postseason. The performances haven't been bad, but the questions have lingered.
Some people in Boston have even gone so far as to question whether Buchholz can pitch through pain. But as with any player, it's virtually impossible to know what he is really feeling.
"There's not a whole lot of discomfort," he said Saturday. "The ball is not really coming out of my hand like it does in spring training or at the beginning of the season."
That certainly doesn't sound encouraging, but neither Buchholz nor Farrell said anything to indicate that Buchholz's status as the Sunday Red Sox starter is still in doubt.
The most either would say is that his pitch count or innings could be limited.
We'll see. We're running out of time to speculate.
Game 4 is Sunday, and we'll all see how Clay Buchholz pitches.
Or whether he pitches.
Where might the Orioles third baseman land?

Kinsler will slot in at second base for the Angels

The Marlins got a better return for Ozuna than Stanton or Gordon
The two teams are going about things in very different ways

The Marlins are indeed in teardown mode under new ownership

The Marlins still have more attractive pieces