Numbers prove Red Sox, Cardinals wise to retain rotation depth
The reigning AL and NL champs have starting pitching to spare. Or do they?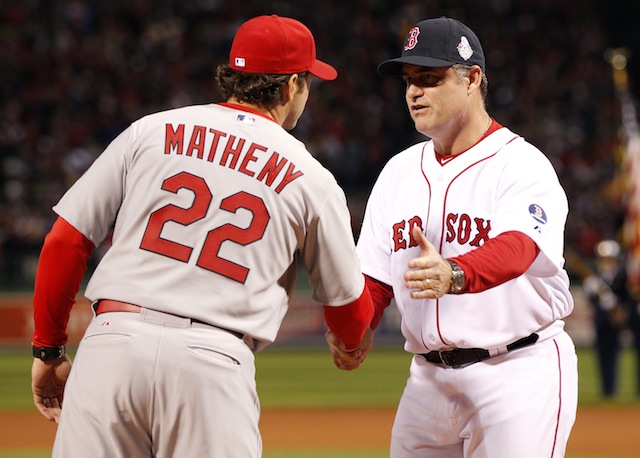 MORE: FA tracker: position players | FA tracker: pitchers
One of the very reasonable expectations this offseason has been that the Boston Red Sox and St. Louis Cardinals -- last year's World Series combatants, you'll recall -- would this winter trade away some starting pitching depth in the service of addressing weaknesses elsewhere.
After all, the Red Sox have in the fold Jon Lester , John Lackey , Clay Buchholz , Jake Peavy , Ryan Dempster and Felix Doubront . As well, Brandon Workman , Rubby De La Rosa , Allen Webster , Drake Britton and Steven Wright are likely ticketed for Triple-A and capable of helping out the big-league club right away. That's to say nothing of highly regarded prospects like Matt Barnes and Henry Owens, who should be ready at some point in 2014. 
As for the Cardinals, rotation stalwart Adam Wainwright will be the ace, and the remaining four starters will likely come from a group that includes Michael Wacha , Jaime Garcia , Shelby Miller , Lance Lynn and Joe Kelly . Additionally, Trevor Rosenthal and Carlos Martinez can be high-ceiling starters if transitioned and stretched out in time. Providing more depth are minor-league arms like Tyler Lyons and John Gast. There's a surfeit in both organizations, to say the least.
Of course, it's getting late out there, and the Sox and Cardinals have yet to part with any of these extras. We've been treated to many a rumor that suggested such moves were forthcoming, but pitchers and catchers report in less than a week, and here we are. So, front-office stasis or a wise tack on the part of both teams? The latter, I'd argue.
The reality -- and this is something that FanGraphs' Jeff Sullivan recently did an excellent job of demonstrating -- is that teams almost never, ever make it through a full season with just five starters. The all-but-immutable law is that you're going to need that depth, even if your team is among the very best.
On this point, let's turn to the numbers and consider how many starting pitchers the 2013 playoff teams used last regular season ... 
Starting pitchers used by 2013 playoff teams during regular season
Team
No. of starters used
No. of starts after top five
Red Sox
11
28
Tigers
6
6
Athletics
7
15
Rays
10
31
Indians
9
24
Braves
10
22
Cardinals
10
30
Dodgers
11
36
Pirates
12
37
Reds
8
17
The second column, as you've already surmised, lists the total number of pitchers used by the playoff team in question during the 2013 regular season. The column on the far right lists the total number of starts for each team after the five pitchers with the most starts -- i.e., the number of starts by pitchers not part of an ideal rotation, in most cases (although not all cases, obviously). 
As you can see, rotation depth matters quite a bit for even these very good squads. The Tigers, not surprisingly, enjoyed rare stability last season, but every other playoff team had a significant number of starts made by, generally speaking, stop-gap pitchers. Also, 2013 was in no way an outlier, as any season in the modern era will yield similar results. Whether because of attrition via injury or ineffectiveness or the mounting fatigue that results from facing power up and down the opposing lineup, even the best teams are going to cycle through starters over the course of the six-month haul. 
By way of another example, think back to after the 2012 season, when many were wondering aloud what the Dodgers would possibly do with all those starting pitchers. Well, what they did was give them important starts en route to a division title. 
Circling back to the Red Sox and Cardinals, they, as you can see, leaned heavily on reserve starters last season. Those starts almost certainly aren't going to absorbed by pitchers of first resort in 2014 -- that's the nature of these things. When you toil in the AL East or the NL Central, which, let us remember, churned out three playoff teams in 2013, those starts can't be taken for granted. That's in large part why the Sox and Cards, despite rumor and even wish-casting to the contrary, are poised to open the season with what looks like too many rotation hopefuls. 
What we've seen time and again, though, is that "too much" starting pitching is in practice a necessity and not a luxury. It's likely no coincidence that the two best teams in baseball seem to keenly understand that.