NY newspaper wants to rename street in honor of Mariano Rivera
With Mariano Rivera's career coming to an end, the NY Post wants the City of New York to rename a street after the future Hall of Famer.
More MLB: Scoreboard | Standings | Probable Pitchers | Sortable Stats | Odds
Assuming the Yankees do not mount a miraculous late-season comeback to qualify for the playoffs, Mariano Rivera's Hall of Fame career will end in 12 days. He's been on a farewell tour all season, receiving gifts and congratulations from every team on his final trip through their city. In turn, Rivera has met with fans and team employees at each stop.
The Yankees have their big going-away ceremony planned for this upcoming weekend. It's sure to be a blast, but Mike Vaccaro of the New York Post says the City of New York should also step up and do something to honor Rivera. He wants the city to change the name of River Ave. -- the street right outside Yankee Stadium -- to Rivera Ave. going forward. Here is the Post's cover: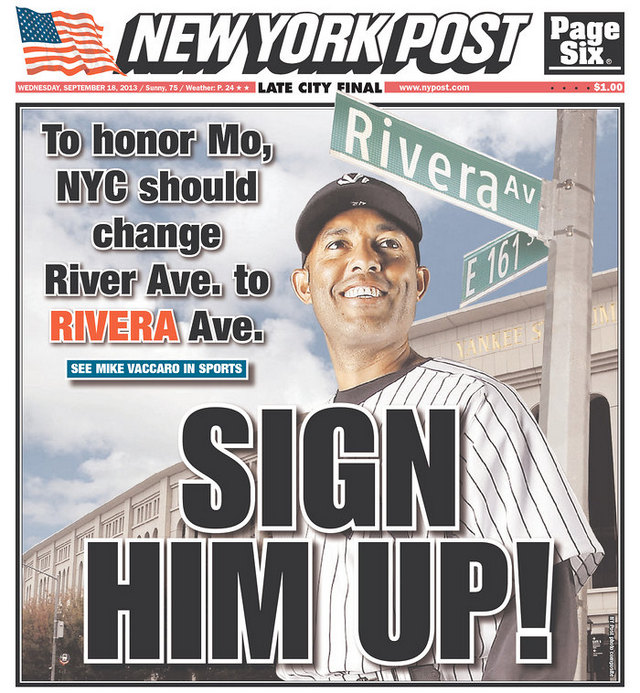 Renaming a street after an all-time great athlete is hardly a ground-breaking concept but it is definitely cool. I don't think the people of New York or (especially) Yankees fans will need a street sign to remind them of Rivera's greatness, but that doesn't mean it wouldn't be a neat gesture on the part of the city.
(Wink of the CBS eye to the appropriately named @RiverAveBlues)
Gonzalez was reportedly killed in a car crash in Cuba

Our Black Friday FA shopping guide includes a starting pitcher, slugger, super sub, and re...

Get 15 percent off any order of more than $75 at CBS Sports Shop
Need a gift for someone who loves baseball? We're here to help as the holidays approach

Several prominent Japanese-born Mariners and ex-Mariners have said they will help as well

Get your sports fans something that they'll wear all year