Oakland Athletics clinch second straight AL West title
For the second straight season, the Oakland A's are your AL West champions.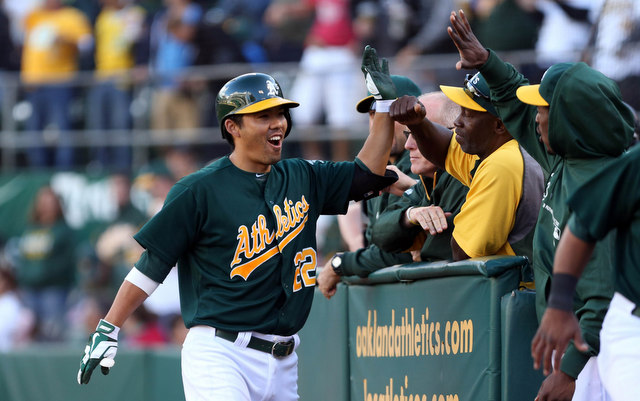 More Athletics: Perry: Secret to the A's success? An underrated offense
Despite a payroll that is dwarfed by most of baseball, the Oakland Athletics clinched their second consecutive AL West title on Sunday afternoon. They owe a thank you to Justin Maxwell and the Royals for their 4-0 walk-off win over the Rangers, which is what did the trick. Maxwell hit a walk-off grand slam against Joakim Soria.
This year's division title was much less dramatic than last year's, when the A's mounted a big late-season comeback to grab the AL West crown from Texas on the final day of the regular season. The lack of drama might be a bummer for fans, but you can be sure manager Bob Melvin & Co. are happy to know the final week of the year will be stress-free.
The Athletics have won 20 of their last 26 games to go from 2.5 games back in the division to eight games up. They've managed to gain eight games in the standings on the Rangers in their last 16 games. Just remarkable. Oakland stormed to the finish and left no doubt they are the best team in the AL West.
Melvin's team has done it with an underrated offense that has scored the fourth most runs (723) in baseball. Their pitching staff has a 3.57 ERA overall, the seventh best in the game. Their starters have been solid (3.69 ERA), their relievers electric (2.93 ERA). The A's have a legitimate MVP candidate in Josh Donaldson and fringe Cy Young candidate in Bartolo Colon.
Billy Beane's misfit toys roster has now won back-to-back AL West titles for the first time since 2002-03. They've also won 92+ games in back-to-back years. The Athletics came into Sunday two games back of the Red Sox for the best record in the AL, and, for that matter, all of baseball.
Our annual look back at the preseason predictions and rankings shows lots of good and bad

Keep it locked right here for everything you need to know about the world of baseball Tues...

There have been several racially charged incidents at Fenway Park this year
Washington's right fielders have sputtered offensively since Harper went down

The good news? Wichita still has a chance to win the series Tuesday night

The 2017 season is going to shatter the all-time collective home run record