More MLB: Power Rankings | Expert Picks | Latest news & notes | Fantasy news
I don't know much about Astros left-hander Rudy Owens, but there is a good chance Friday is the best day of his life. He was called up to the big leagues for the first time and is making his MLB debut. It's a day no player forgets.
Owens, for whatever reason, is wearing uniform No. 99. The first batter he faced as a big leaguer? Mariners outfielder James Jones. What number is Jones wearing? No. 99 of course. To the fortuitous screen grab: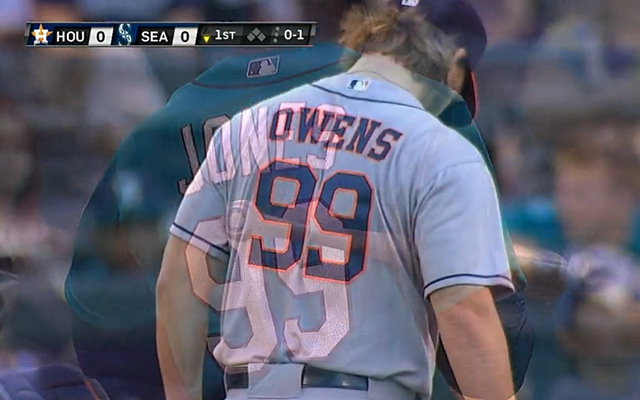 According to Baseball-Reference, Jones and Owens are the 13th and 14th players in history to wear No. 99. Dodgers lefty Hyun-Jin Ryu wears the number as well, and so did Manny Ramirez a few years ago.
How many times has a No. 99 pitched to a No. 99? According to the Mariners television broadcast, never. At least not until Friday. Owens vs. Jones was the first time a No. 99 faced a No. 99 in the history of the universe. Baseball is great sometimes.
By the way, Jones flew out to center in his first at-bat, so the pitcher No. 99 won the battle.