Oddity: Rangers sign Rougned Odor's brother Rougned Odor
The Odor family gets to experience the sweet smell of success in pro baseball.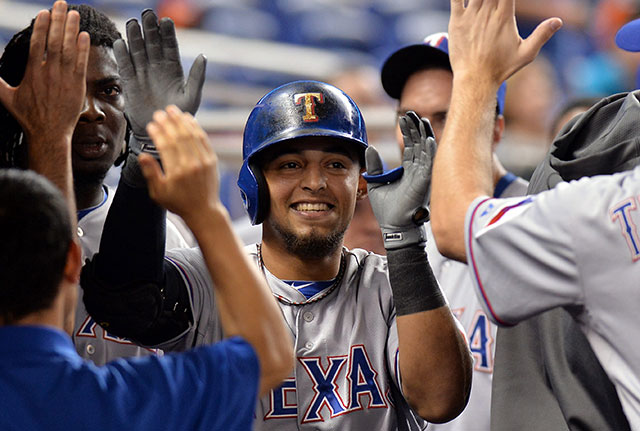 Back in the '90s, Doritos took advantage of George Foreman naming each of his sons "George" in a legendary TV commercial featuring them all. It probably seemed odd to most outsiders that a household would purposely include five male kids (not to mention a dad) all named George, but the Foremans made it work. 
With the signing of 17-year-old Rougned Odor to a contract Thursday, the Texas Rangers have started a similar phenomenon within their organization. Because they already have a Rougned Odor playing for their team, a 21-year-old who also happens to be Rougned Odor's brother. It sounds like a prank, even smells like one, but Ben Badler of Baseball America wouldn't do that:
The Rangers have signed Rougned Odor's younger brother. He is also an infielder, and he is also named Rougned Odor. pic.twitter.com/GRX7JvRRz2

— Ben Badler (@BenBadler) February 19, 2015
Young Rougned Odor has pretty big steps to follow, consdering big bro Rougned played pretty well as a 20-year-old rookie in 2014 — .259/.297/.402 with nine homers and seven triples in 417 plate appearances. Both players are infielders, so if Young Rougned turns into a shorstop and reaches the majors, it's possible we'll see a double-play combination of Rougned Odor and Rougned Odor (whose middle name is Roberto, so that's how he could distinguish himself).
Meanwhile, MiLB reporter Jake Seiner adds this:
Rougned Roberto Odor and Rougned Odor have an uncle Rouglas Odor, who has sons Rouglas Odor and Rouglas Odor and Roberto Odor. No typos here

— Jake Seiner (@Jake_Seiner) February 19, 2015
Uncle Rouglas Odor played eight seasons in the minors and one of his sons who is named Rouglas Odor has a shot to make it in professional baseball. It might never happen, but we could have two sets of brothers in the majors someday named Rougned Odor and Rouglas Odor.
Others have tried to sort this out already. Writing for The Classical in 2013, Tepid Participation noted that older Rougned Odor didn't really like the nickname applied to him in the minors— "Roogie":
No one, it should be noted, is less enamored with his unique moniker than Roogie himself. One afternoon, Double-A Frisco's intrepid play-by-play man Alex Vispoli lightheartedly asked Roogie what his parents call him when he and his brother are back home. Rather confused, and somewhat indignantly, Roogie replied, "Rougned."

When I first discovered Rougned the Younger through an internet training tape, I asked the older Rougned if it was his kid brother or just another young Venezuelan shortstop with the same name. "What is the problem if my brother and I have the same name?" he asked me, somewhat heatedly. I told him absolutely nothing was wrong, I just wanted to confirm it was his brother. He said, yes, it was his brother. Then he laughed at me.
What is the problem? Nah, this wouldn't be confusing in the least:
CBS Sports HQ Daily Newsletter
Get the best highlights and stories - yeah, just the good stuff handpicked by our team to start your day.
Please check the opt-in box to acknowledge that you would like to subscribe.
Thanks for signing up!
Keep an eye on your inbox for the latest sports news.
Sorry!
There was an error processing your subscription.
The Mariners are denying the allegations

Ohtani made an impact on the mound and at the plate in his first MLB season

Acuna flashed the skills that will make him a superstar
The AL Rookie of the Year still won't be able to pitch in 2019

Six players turned down a one-year, $17.9 million deal in order to hit free agency

There are no Angel Berroas in this group