Oddsmaker pegs Dodgers as favorite to win World Series
The Dodgers, followed by the Red Sox and Tigers, respectively, are the top favorites to win the World Series, per Bovada.lv.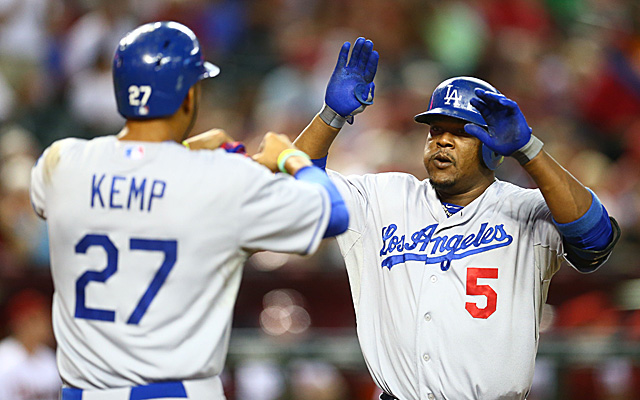 More MLB: Scoreboard | Standings | Probable Pitchers | Sortable Stats | Odds
Some updated odds to win the 2013 World Series have been released by Bovada.lv. Here they are:
Los Angeles Dodgers 15-4
Boston Red Sox 9-2
Detroit Tigers 5-1
Atlanta Braves 8-1
St. Louis Cardinals 10-1
Pittsburgh Pirates 11-1
Cincinnati Reds 14-1
Cleveland Indians 20-1
Tampa Bay Rays 20-1
Texas Rangers 20-1
Baltimore Orioles 28-1
Washington Nationals 33-1
New York Yankees 40-1
Kansas City Royals 50-1
Also, here are the updated odds for each individual league champion and the NL Central winner:
Odds to win the 2013 AL Pennant
Boston Red Sox 2-1
Detroit Tigers 5-2
Oakland Athletics 9-2
Tampa Bay Rays 10-1
Texas Rangers 10-1
Cleveland Indians 12-1
Baltimore Orioles 14-1
New York Yankees 18-1
Kansas City Royals 25-1
Odds to win the 2013 NL Pennant
Los Angeles Dodgers 7-5
Atlanta Braves 13-4
St. Louis Cardinals 9-2
Pittsburgh Pirates 5-1
Cincinnati Reds 13-2
Washington Nationals 20-1
Odds to Win the 2013 NL Central
St. Louis Cardinals 2-3
Pittsburgh Pirates 9-4
Cincinnati Reds 3-1
It's not too surprising to see the larger markets -- when things are equal or at least close to being equal -- be ranked higher on the list. Remember, these aren't predictions. Oddsmakers are looking to get the most amount of action possible, so if there are more betting fans, the odds will be a bit higher than for smaller market clubs.
In a quick glance, I feel like the Tigers are the best bet here, but would be open to other arguments.
Get 15 percent off any order of more than $75 at CBS Sports Shop

Get your sports fans something that they'll wear all year

No, you're not imagining things. This MLB offseason has been very slow compared to the last...
Francesa will retire from radio next month, so he'll have plenty of free time next summer

The Twins need help in the rotation, and they may look to the trade market to find arms

Here are the bullet-points of what went down Tuesday regarding MLB and the Braves' punishm...