Offense leads Tigers to ALCS Game 4 win over Red Sox: Quick hits
For the first time in the ALCS, a starting pitcher didn't have it. Jake Peavy got pounded in Game 4 and the Tigers tied the series at two wins apiece.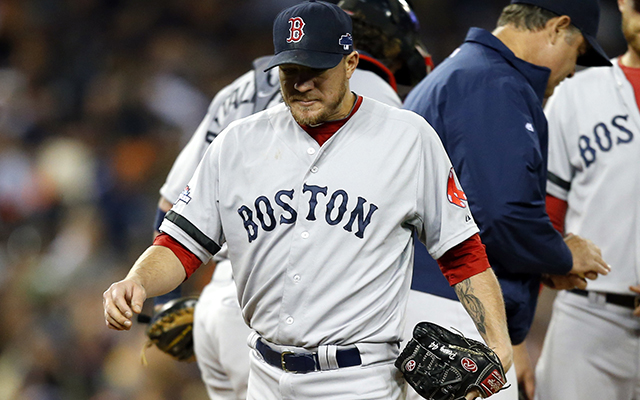 More ALCS: Game 4 box score | Who has the edge?
DETROIT -- Game 4 of the ALCS was wildly different than the other three games of the series. There was no dominant pitching performance, not a ton of strikeouts, and not many 1-2-3 innings either. The Tigers knotted the series at two games apiece with an oddly uncomfortable 7-3 win on Thursday night. Let's break it down:
Hero: The Tigers offense as a whole. I don't think there's one individual worth singling out. This was a huge game for them for obvious reasons, and the slightly revamped lineup responded with seven runs in the first four innings. They took some pressure off starter Doug Fister and showed some signs of life, something they hadn't done since knocking Clay Buchholz out of Game 2 three days ago.
Goat: Pretty clearly Jake Peavy. It's not just the seven runs in three innings plus two batters that was bad, it's the way he did it. He cracked open the floodgates by walking Austin Jackson -- dropped to eighth in the lineup because he came into game 3-for-33 (.091) with 18 strikeouts in the postseason -- on four pitches with the bases loaded to force in Detroit's second run. That was the beginning of the end. Peavy really dropped the ball in Game 4.
Turning point: Torii Hunter's two-run double in the third inning. The Tigers had scratched across two runs against Peavy on Jackon's bases loaded walk and a fielder's choice, but Hunter's double down the line was the first big hit of the inning. He really broke it open. It was only the third, but a 4-0 lead is much more comfortable than a 2-0 lead. Win probably data at FanGraphs says it was the biggest play of the game by a decent margin.
It was over when: When the Red Sox had two on with one out in the sixth and failed to score. Well, failed to score more, I should say. Boston did push their first run across that inning, but Stephen Drew struck out and pinch-hitter Mike Carp grounded out to end the inning. The Red Sox have a great offense, but making up a seven-run deficit in four innings it tough. They needed a few more runs that inning to really have a chance.
Next: The ALCS is a best-of-three series now. The Tigers and Red Sox will wrap up the Comerica Park portion of their series on Thursday, with a rematch between Game 1 starters Jon Lester and Anibal Sanchez. They're heading back to Boston for at least one game at Fenway Park no matter what after that.
Boston wants to add two big bats to their lineup, not just one

Even more relievers signed on the final day of the Winter Meetings

Keep tabs on the top 50 free agents right here
The league is not happy Ohtani's medical information leaked

Kansas City and Baltimore were quite busy at the Rule 5 Draft

Piscotty's mother was diagnosed with ALS earlier this year