Offensive decline continuing in 2014
MLB offense is in a decline. So far in 2014, the league-wide batting average and on-base percentage are the lowest since 1972.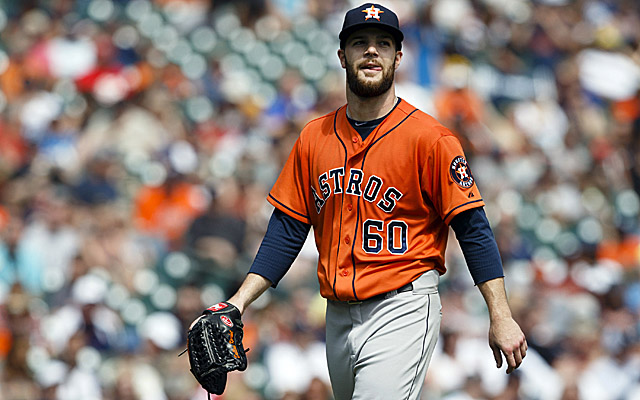 Snyder: Time to add the DH to the National League
With a new crop of uber-talented power pitchers, the cyclical nature of the game and, probably -- though we couldn't prove this and pitchers were using the juice, too -- the major crack-down on performance-enhancing drugs, offense continues its decline in baseball.
Heading into Tuesday's action, MLB hitters were posting the lowest batting average and on-base percentage since the 1972 season. That year has some historical significance, which we'll get to in a bit.
The 4.19 runs per game clip is actually up ever-so-slightly from last season, but both 2013 and 2014 to this point rank as well-below-average offensive seasons in baseball history, post-Dead Ball Era.
This continues a trend we've been seeing for the past several years. Offense is clearly in decline as the pitchers become more dominant. Here are the MLB-wide averages for the past five seasons compared to where we are so far in 2014:
Offensive decline (2009-2014)
Season
AVG
OBP
SLG
RPG
ERA
2009
.262
.333
.418
4.61
4.31
2010
.257
.325
.403
4.38
4.07
2011
.255
.321
.399
4.28
3.94
2012
.255
.319
.405
4.32
4.01
2013
.253
.318
.396
4.17
3.86
2014
.251
.317
.393
4.19
3.81
Key:
AVG: Batting average
OBP: On-base percentage
SLG: Slugging percentage
RPG: Average runs per game by an individual team
ERA: Earned run average
Everything is down except runs per game, but considering the ERA drop, we can probably safely point that to defensive miscues as at least part of the 0.02 increase in runs per game.
The drops overall might seem slight, but a more accurate term would be gradual. The numbers are headed downward and appear set to continue that way -- unless the rash of Tommy John surgeries becomes so overwhelming that the hitters can help but re-take control of the game.
Then again, we're seeing pitchers like Dallas Keuchel, Tom Koehler, Jesse Chavez and Alfredo Simon dominate good hitting (at least by the standard of 2014) ballclubs.
The last two times Major League Baseball saw such dramatic domination by the guys on the hill, action was taken. After the 1968 season, the pitcher's mound height was lowered. Check out the numbers from the previous two seasons:
Offensive decline (late 1960s)
Season
AVG
OBP
SLG
RPG
ERA
1967
.242
.306
.357
3.77
3.30
1968
.237
.299
.340
3.42
2.98
The mound lowering didn't have the desired effect, because after the 1972 season, the AL adopted the designated hitter. Here are the previous two seasons.
Offensive struggles continue (early 1970s)
Season
AVG
OBP
SLG
RPG
ERA
1971
.249
.317
.365
3.89
3.46
1972
.244
.311
.354
3.69
3.26
So we aren't quite there yet, but things are getting closer -- perhaps even a bit close for comfort.
On the flip-side, remember when offense was booming and the position players were putting up what I've called in the past "video-game numbers" in this very space? Let's sample just these two years -- from the seven to nine where offense was king in this era -- and compare to everything above:
Offensive boom (late 1990s-early 2000s)
Season
AVG
OBP
SLG
RPG
ERA
1999
.271
.345
.434
5.08
4.70
2000
.270
.345
.437
5.14
4.76
Just for fun, here are the best and worst offensive seasons, in terms of runs scored per game, post-1900:
Best/Worst RPG
Season
AVG
OBP
SLG
RPG
ERA
1908
.239
.297
.305
3.38
2.37
1930
.296
.356
.434
5.55
4.81
As a bit of an aside, let the drastic difference in eras serve as an illustration as to why we use the "plus" stats here frequently. For example, Pedro Martinez's 1.74 ERA in 2000 might not look as good as Bob Gibson's 1.12 ERA in 1968 but it's actually more impressive. Scoff if you wish, but the league ERA in 2000 was 4.76 -- or a ridiculous 3.02 higher than Pedro's mark. Gibson's 1.12 ERA was outstanding, as it was 1.86 better than league average, but was it as much better than average as Pedro's? Gibson's 258 ERA+ shows it as one of the best seasons in MLB history, but Martinez's 291 is the best in MLB history since the mound was moved back to 60 feet, six inches.
We should be applying this line of thinking when examining numbers this season, too. If there's someone hitting, say, .265 and you hear someone scoffing about the guy being "only a .265 hitter," maybe let that person know this is pretty well above average right now. Meantime, there are 17 starting pitchers with an ERA of better than 2.50. Thirty-four are below 3.00. Only 26 qualifying starters are at 4.50 or worse.
Contrast that to just a decade ago and it's easy to see how much context the raw stats -- rate or counting -- need in any given era.
Baseball right now is a hell of a lot closer to the worst offensive season than the best. If things continue on this path, we'll need to re-adjust how we define the best pitchers and hitters based upon the traditional stats. Again. Because the offensive numbers right now are downright offensive.
The Tigers essentially fired Brad Ausmus on Friday, but things are going to be ugly for a...

The club made the announcement on Friday

Plus the Tigers will make a change in the dugout and all of Friday's action
The Rockies are clinging to the second NL wild card spot at the moment

Plus Matt Olson and Kevin Kiermaier heroics, a look at Zack Greinke's dominance and more

Plus the Indians are now 27-1 in their last 28 games. Here is everything you need to know from...