Olde Towne Team has new manager, new players and ... a new attitude?
After two abrupt managerial firings of two good men in two years, there are high hopes that a familiar face -- their old pitching coach John Farrell -- can avoid a similar fate.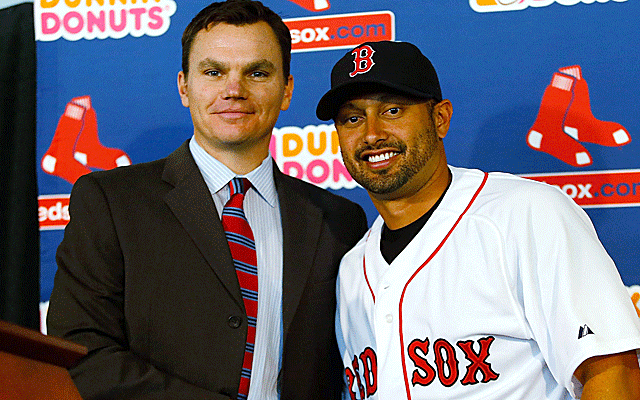 The biggest acquisition by the Red Sox this offseason has been OF Shane Victorino. 
(Getty Images)
FT. MYERS, Fla. -- Last year at this time, the Red Sox all declared it was a new era in Boston. But this really is a new one.
There's no Josh Beckett, no Adrian Gonzalez, no Carl Crawford. Many of the so-called "sexy'' stars are gone, excised in that late-August trade with the Los Angeles Dodgers that bought them a $250-million do-over.
 So is, most noticeably, Bobby Valentine, the brilliant baseball mind and manager who was unceremoniously booted out of Boston faster than an Old Towne cabbie barrels down Storrow Drive.
A year earlier the players helped hasten the end of the tenure of Terry Francona, an alltime players manager and the most successful one in Red Sox history, at that. Then they didn't adapt well to the stark change that was Valentine, and he is gone now, too.
Failures aren't normally given free passes around here, and whether the players realize this or not, two departures of good baseball men two straight years doesn't reflect well on the players in the clubhouse (those who remain, anyway). And they know that many folks, least of all the close and passionate watchers in Red Sox Nation, are not apt to count another failure as a free pass.
If Boston's nucleus wants folks to think it's not them, they need to turn it around in a hurry. The reality is, between September of 2011 and last year, no one was as disappointing as them. As one rival GM put it, "As much as they may want to blame Bobby Valentine forever, they should be a very motivated team.''
They are a different team, that's sure.
The Red Sox power brokers seemed to eschew any past tendency to go for the big score and instead imported several nice but not-overwhelming pieces. They certainly didn't reach for the stars as they did previously with Crawford and Gonzalez, who it turns out didn't belong in Boston. The biggest name in the new group is Victorino, who still may be overpaid at $39 million over three years (that's the consensus, anyway).
Nonetheless, the players Boston bought should only help a clubhouse that ran amok that fateful September of 2011, then rebelled against Valentine's iron hand last year. Victorino is nothing if not scrappy, Ryan Dempster is a clubhouse cutup, Mike Napoli is a rock who'll play through anything (that will rep will be tested with the hip infirmity that caused the cutting of a three-year, $39-million free-agent contract down to a one-year deal),and  Jonny Gomez a plus for any locker room.
And yet, the names aren't big enough to take the focus off the revolving door in the manager's office. The last guy, we all know by now, was run out, at least in part by the inmates.
"With hindsight,'' Red Sox owner John Henry puts it kindly, "(Valentine) didn't match up with the players.''
 Maybe even more so, Valentine wasn't a match for the coaches he mostly inherited (though he did approve them all, including Tim Bogar and Gary Tuck, a mistake he admitted later). Word is, Valentine asked that three of his coaches be fired when the team was 52-51 last year, but was told no, that next year they'd re-evaluate.
And so they have.
Between the long roster of injuries ("half our team was on the D.L.'' Henry recalled, not exaggerating) and talent-purging second-half deals, it isn't surprising the Red Sox finished last. But Valentine thinks more supportive coaches might have helped start them off right.
Valentine doesn't mention this, but Henry, too, unintentionally contributed, agreeing to conduct that now infamous midsummer meeting with many of the players, who aired grievances. Today, Henry doesn't blame Valentine or the players, he blames the contrast from one regime to the next.
"Maybe the transition from one type of manager for a completely different type manager was part of the problem,'' Henry said. "But I don't blame Bobby Valentine for what happened, just as I don't blame Terry Francona for what happened in September, 2011.'' (I believe Henry. But it's worth noting both men got canned soon after.)
Reached by phone, Valentine expressed no hard feelings, either. It seemed like he never got a chance, but he didn't mention that. After Valentine criticized third-base stalwart Kevin Youkilis' early effort, team leader Dustin Pedroia remarked derisively that that isn't how they do things in Boston. A few months later, Pedroia was acknowledging a culture change was needed. But it was too late for Valentine.
 "I wish him luck,'' Valentine said of Henry. "I didn't wow them with wins and losses. But I think they're better because of (the tough year).''
Valentine predicted things will be better. The team has a whole new coaching staff in addition to the new manager, and maybe a new culture.
Farrell and the front office are buddy-buddy, at least at the start. "John is an ideal fit,'' said former Red Sox executive Jed Hoyer, now the Cubs' GM. "He is universally respected and has excellent relationships with the front office and players alike.'' Josh Byrnes, another ex-Red Sox exec who's now the Padres GM, said Farrell could be the "stabilizer'' Boston is looking for,
 There are no resentments, no hard feelings, only remembrances of past successes from the days when Farrell was Francona's bear of a pitching coach. It's doubtful Henry or the other decision makers will take a meeting with only the players anymore. They've all learned a lot.
Valentine has a non-disparagement clause and a reported $2.5 million coming to him this year but said that isn't what's causing him to hold back. "I could say things negative if I wanted to, I'm a big boy,'' he said. "The feelings are what they are.'' 
Things never warmed up between Valentine and the front office.  It's no secret Cherington wanted John Farrell to be the manager a year earlier, and after that, a procession of unproven and untested in a search that seemed aimed at ABB (anyone but Bobby). For whatever reason, the two just never hit it off. The one who gets the job isn't always the first choice of the supervisor, but sometimes that weighs on a relationship. Whatever it was, the dynamic didn't work.
 Valentine was that acquired taste Cherington never really got. Right from spring training, the two just never hit it off.
Others inside the organization point to what they saw as unnecessary "firestorms. (Though Henry is careful not to say anything negative.) Valentine, shall we say, likes to keep things interesting. Maybe it was just too interesting for them.
Then there were the players. They weren't used to hearing any criticism, and they didn't take well to even one comment here or there, especially that one early one about Youkilis.
And, fair or not, for all intents and purposes that was almost the beginning of the end of the Bobby V Era.
Enter Farrell to a big sigh of relief by Cherington and his guys. Farrell, like Valentine, is known as  an extremely bright guy.  But unlike Valentine, he doesn't make waves – or at least he didn't as Red Sox pitching coach or Red Sox front office person back before he went to Toronto to manage.
Farrell, for all the plaudits thrown his way around here, really didn't have a very good year with the Blue Jays. While Toronto people won't say it publicly, word all along was that they weren't all that broken up about losing him (as evidenced by letting him go to an archrival without too much trouble).
"He's a known quantity,'' is the way owner John Henry puts it about Farrell. "He's someone we respected during his tenure here … He had some roots here.''
Henry doesn't say it, but Valentine was an outsider, which may have been his greatest weakness. Henry gets that the disaster that was 2012 wasn't Valentine's doing.
"I think he's a tremendous manager,'' Henry said about Valentine. "And he should manage again. He's a likable, passionate, brilliant guy. But it just didn't work out last year. It would be a shame if Bobby didn't get another job. This doesn't deserve to be his swan song. He's a tremendous baseball guy, and as far as I'm concerned a great person.''
Henry said he wasn't just saying great stuff about Valentine because it would be poor form to say otherwise. Beyond the fact this wasn't really a resume builder, Valentine is disallowed from saying anything bad about his Red Sox bosses by the non-disparagement clause. So Henry probably knows that should probably work both ways; it wouldn't be right to hit a punching bag.
"I really liked him,'' Henry insisted. "One of the things with the Boston writers, they think we're doing p.r. when we're being honest.''
Henry, it turns out, blames the contrast between Valentine and his predecessor. Francona's relaxed style worked marvelously for a long time, right up until the month where he lost them all. But that didn't mean they were prepared for what came next.
As teams do, they swung back over again, going to Farrell, who surely picked up on some of what made Francona a hit here. Asked about their similarities, Farrell joked, "God, I hope I'm not similar.'' Then, he paused, and added, "except the success.''
When he got serious, Farrell said about Francona, "He did such a good job of blending many different personalities that walked through that door.''
Farrell's hiring was sigh of relief and cause for celebration in the front office, and the evidence is that he got a four-year deal (two more than Valentine) even though his time looked about up in Toronto. Blue Jays people didn't say it aloud as they negotiated long and hard to extract talent back from Boston, but things weren't working there between Farrell and that front office. They had expectations, too, and their 79-83 record wasn't all that much better than Boston's 69-93 mark.
Maybe Francona was simply the right man for the times. He made it look easy for a while.
But even when they go well around here, they don't often end well.
 It's a little bit funny that Boston bigwigs have nicer words for Valentine at the moment. Although, Francona's new unpopularity might have something to do with his new bestselling book, "Francona: The Red Sox Years,'' by Boston Globe columnist Dan Shaughnessy, in which he complains about some of his bosses' desire to buy "sexy'' players and other assorted misdemeanors.
For 85 years it wasn't easy in Boston, and for the last year and a month no team has experienced a greater gap between expectation and reality. Now they've brought in seven free agents, changed the whole coaching staff, the manager, and they hope, the culture.
Farrell first opined that the "roster is filled with talent'' when asked about it, sounding a bit like every other manager at this time. But he knows there's been a lot of disappointment in these parts over the last season and a month.
Farrell spoke very optimistically. But he is a smart man, and he knows the score. It won't be easy.
"We have to get some guys on track,'' Farrell said. "We have to rebuild some confidence.''
The culture may be better here. But indeed, there's a lot of work to do.
Our Black Friday FA shopping guide includes a starting pitcher, slugger, super sub, and re...

Get 15 percent off any order of more than $75 at CBS Sports Shop

Need a gift for someone who loves baseball? We're here to help as the holidays approach
Several prominent Japanese-born Mariners and ex-Mariners have said they will help as well

Get your sports fans something that they'll wear all year

No, you're not imagining things. This MLB offseason has been very slow compared to the last...